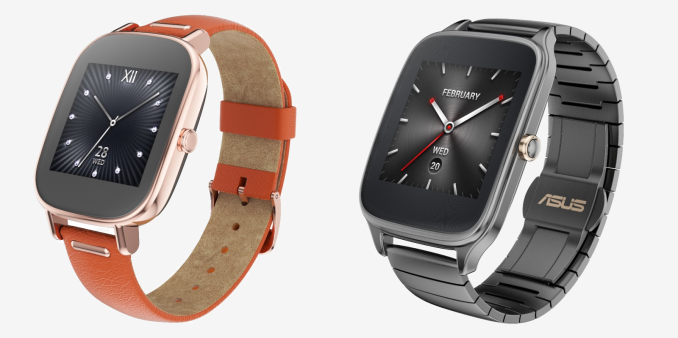 Today ASUS updated their Android Wear smartwatch offering. It wasn't long ago that we saw the original ASUS ZenWatch at IFA, but it's now being superseded by the ZenWatch 2. Unfortunately, details are fairly scarce about ASUS's new watch. It's powered by an unnamed SoC from Qualcomm, and sports a 2.5D AMOLED display of unknown size. More details about the ZenWatch 2 should come out over the course of Computex.
One area where the ZenWatch 2 is clearly improved over its predecessor is the water and dust resistance. The original ZenWatch had an IP55 rating, and this has been improved to an IP67 rating for greater water submersion protection.
The ZenWatch 2 comes in two sizes, and both models come in silver, gunmetal, and rose-gold finishes. Straps are available in rubber, leather, and metal. One interesting feature on the larger model is that it can be used as a tiny battery power pack to charge your phone, but with the limited battery capacity of smartwatches this seems like something to only be used as a last resort.