Features and Exercises
Microsoft has packed a lot of fitness features into the Band 2, making it one of the most comprehensive fitness wearables around. In addition to the myriad of sensors, they offer the standard features in a fitness wearable like tracking your runs, steps, calories, distance, biking, and a generic exercise option. The latter increases the heart rate tracking frequency and calculates calories burned during any exercise, like weights or yoga. All the information gathered is then sent to the cloud via the phone app, and can also be accesed on the phone.
Running
As you'd expect, the Band will track running. It features a built-in GPS, which can be enabled when starting a run which means that you won't need your phone at all in order to accurately track runs. This gives it a leg up over a smartwatch that isn't as focused on fitness.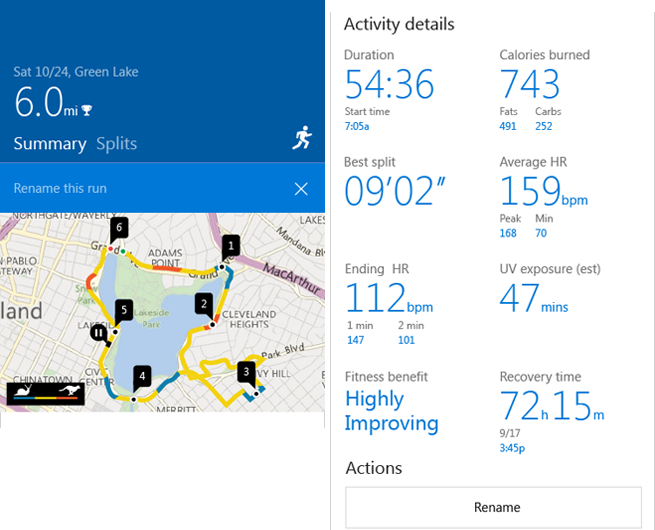 Biking
Similar to running, you can use a Biking app to track rides. The GPS can be used to plot the route, as well as see speed, distance, and elevation.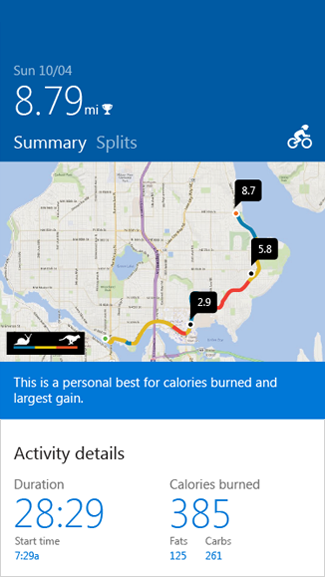 Guided Workouts
The Band can be used as a pseudo-fitness coach as well, with guided workouts which can be downloaded from third parties, assuming they have joined up with Microsoft Health. Right now there are 106 different workouts listed in the Microsoft Health Dashboard from Benchmark WOD, Gold's Gym, Starting Strength, and Microsoft. The workouts can be customized after they have been downloaded to personalize them, and once one of them is activated, the Band will give you a timer and an activity to complete, and the haptic motor will alert you when the current activity is done. If you finish the reps before the time has expired for an activity, you can press the action button to move to the next activity.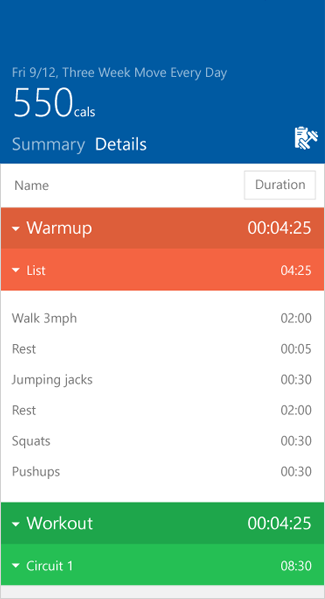 Goal Setting
As with any fitness band, you can set daily goals for steps and calories. Out of the box, the Band has a modest 5000 steps, and calculates calories based on your sex and weight. These can be tweaked to bump up the challenge.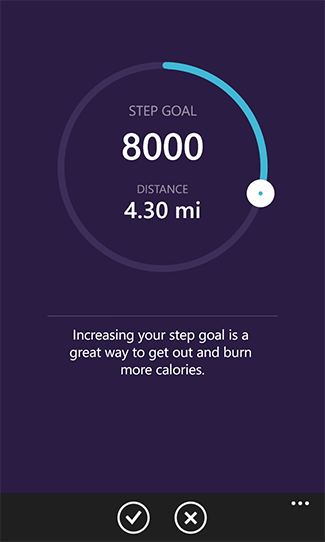 Golf
The Golf tile is pretty interesting if you are an avid golfer. You can download courses to the Band using the app on your phone. Once downloaded, the Band will leverage GPS and its many sensors to not only give you information about the course, such as distance to the front, middle, and back of the green, but it can also calculate drive distance, and work as an automatic score card. The Band can sense your swing, and it will know if there is an impact with a ball, so practice shots don't matter. As someone who enjoys golf, I think this would be a great tool to track your game. Microsoft partnered with TaylorMade to bring the courses and experience of the company to golf. For those that are maybe not pros (like me) you can also factor in gimmies and mulligans.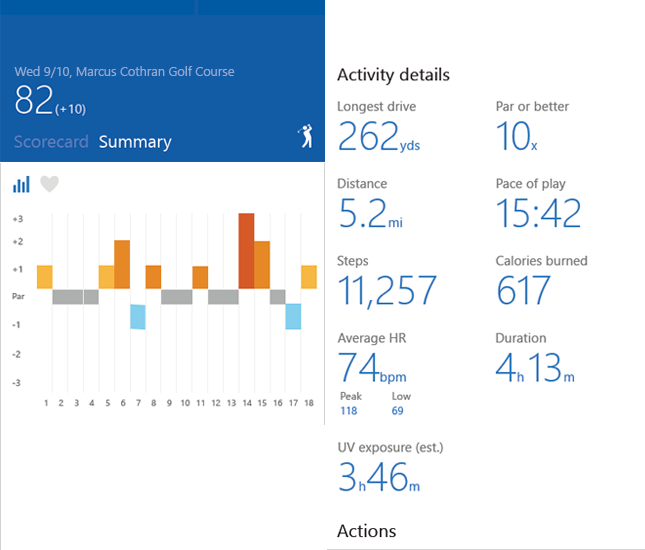 These are just the built in functions, so they are available out of the box to all Band owners. The Band is also able to have apps downloaded to it from the store. The selection varies by which smartphone OS you have, with the majority being available for Windows Phone users.
Notifications
The other aspect of the Band is for notifications. This is one of the obvious use cases for wearables, and since they tend to be tied to our smartphones they serve as an easy way to move notifications from your pocket to your wrist, where they can more easily be looked at. The Band handles notifications with a haptic motor, which buzzes on your wrist. The intensity can be adjusted on the Band itself through the settings tile.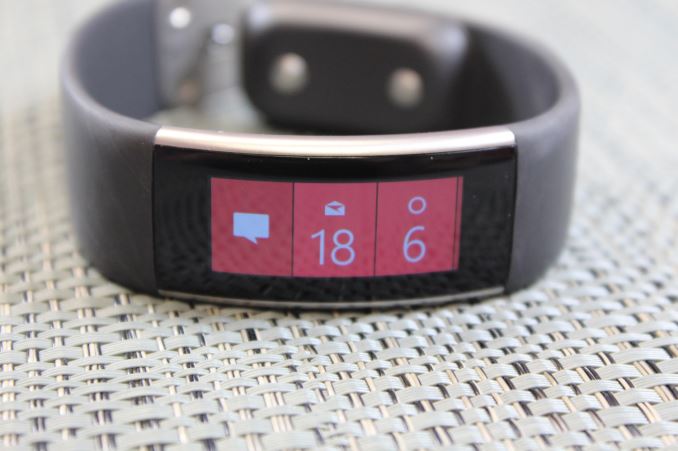 For basic notifications, the Band works fine. Notifications can be adjusted to be disabled on an app by app basis, so you can allow through most of what you want only. If you get an email, you can quickly see who it's from, and you can read the message too, or by pressing the action button the Band will turn on reading mode where each word is displayed on the screen quickly, which makes the font larger and you don't need to scroll. You can also limit emails to those from a pre-approved list, which is very handy if you get a lot of unsolicited email.
That's about where the notifications end, at least for me. Microsoft has some work to do here to make these more useful, and to provide the functionality where it makes sense to use the Band for this rather than get out your phone.
The first, and biggest issue, is that the notifications themselves are truncated. If you get an email, unless it's a very short message, it's going to get cut off. To read the entire email you have to use your phone. This may sound like a nit pick, but it's especially inconvenient when there is only one or two words left on the email that didn't get moved over to the Band. When you can't see the entire message, you start to question why are you getting notifications on your wrist.
The next issue with notifications is that there is no sense of notification sync between the Band and the Lumia 930 phone I had it paired with. If I read a text on my Band, that same text would still be sitting as an unread text on my lock screen. Clearing all of the notifications on the Band does nothing on the phone. Perhaps this is by design to avoid accidentally missing notifications, but it got tiresome. The reverse is also true. If I clear all of the notifications on my phone, they will still be on the Band. There is no "clear all" option so you have to go into each tile and clear them individually, which gets tedious. The Band is missing that real connection where it makes it feel like an extension of the phone. Instead, it feels like it's just yet another place that I need to deal with notifications, which takes away a lot of the enjoyment.
My final issue with notifications is that the Band ignores them when my phone is in Quiet Hours or Driving Mode, and I get notifications on my wrist during these times. You can put the Band in do not disturb mode itself, but once again, it feels like it is less of an extension of the phone and more of a separate entity all together.
When you set the Band to sleep mode, it thankfully does disable notifications, however once you say I'm awake, you may get some of them that have been queued while you were asleep. This in and of itself is not that bad, but I use my smartphone as an alarm clock, so shortly after I tell the Band that I'm awake after my alarm has gone off, I'll get a notification on my wrist that I had an alarm set for 6:00am. Except it's not 6:00am anymore and I'm already up, so please, just stop.
It may sound like I'm being harsh on the Band, but after wearing it for about a month now, the notifications have gone from interesting to a burden. It doesn't need to be this way, and adding something to your person to help with a task should not then make the task more complicated.