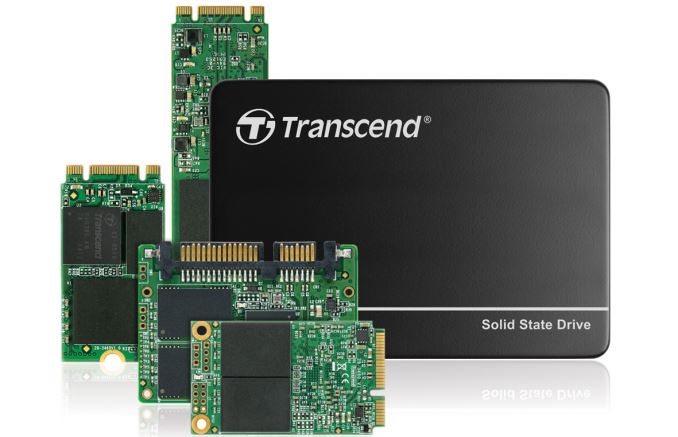 Transcend offers one of the broadest ranges of SSDs and flash memory cards, with products for almost every form factor and even some legacy interfaces like IDE. Part of the variety comes from products intended for industrial use, with features such as extended temperature ratings or the use of SLC NAND for improved write endurance and performance. However, trends in flash memory technology and the SSD market over the past few years have led to SLC products all but disappearing from the market as MLC-based SSDs have demonstrated sufficient performance and durability for even the most demanding enterprise customers. Many of Transcend's SLC-based products have now been outclassed by their MLC-based counterparts using newer controllers and reaping the performance benefits of higher capacities and more flash chips.
For these reasons, Transcend has announced that their next generation of industrial-grade SSDs will be taking a new approach to providing high durability. What they are calling SuperMLC will consist of premium-binned MLC flash memory that is operated as SLC flash, with only one bit stored in each flash cell instead of two. We've seen this sort of pseudo-SLC operating mode used by many TLC-based SSDs and a few MLC drives to provide a small but fast write cache, but we haven't previously seen this used for an entire drive.
For the cost of halving usable capacity relative to normal two bit per cell MLC, Transcend claims their SuperMLC can provide four times the sequential write speed and an effective Program/Erase Cycle rating of 30,000. Flash manufacturers are increasingly reluctant to disclose specifics of durability, but based on whole-drive endurance ratings and wear indicators we've been able to estimate that even the 3D NAND used in Samsung's 850 Pro consumer MLC drive is only warranted for 6,000 P/E cycles, and most recent planar NAND MLC is rated for around 3,000 P/E cycles. Selective binning often means that enterprise drives have higher durability, but using the flash as SLC is guaranteed to add even more to its endurance.
By starting with the same MLC flash memory used in mainstream SSDs instead of the niche product that is SLC NAND, it's likely that Transcend will be able to cut costs significantly as they're buying from a market with much greater supply and MLC dies that don't make the cut for their SuperMLC products can still be sold in their consumer-grade products.
Transcend plans to introduce SuperMLC drives over the course of 2016. The products announced so far are SSD510K (2.5" SATA), MSA510 (mSATA), HSD510 (half-slim form factor; essentially a 2.5" drive PCB that's only half as long as a 2.5" drive case), and MTS460 and MTS860 will be two sizes of M.2 (presumably also using a SATA interface rather than PCIe).
Source: Transcend