Testbed Setup and Evaluation Methodology
Evaluation of DAS units on Windows is done with the testbed outlined in the table below. For devices with a USB 3.1 Gen 2 (via a Type-C interface) connections (such as the SanDisk Extreme 900 1.92TB that we are considering today), we utilize the USB 3.1 Type-C port enabled by the Intel Alpine Ridge controller. It connects to the Z170 PCH via a PCIe 3.0 x4 link..
AnandTech DAS Testbed Configuration
Motherboard
GIGABYTE Z170X-UD5 TH ATX
CPU
Intel Core i5-6600K
Memory
G.Skill Ripjaws 4 F4-2133C15-8GRR
32 GB ( 4x 8GB)
DDR4-2133 @ 15-15-15-35
OS Drive
Samsung SM951 MZVPV256 NVMe 256 GB
SATA Devices
Corsair Neutron XT SSD 480 GB
Intel SSD 730 Series 480 GB
Add-on Card
None
Chassis
Cooler Master HAF XB EVO
PSU
Cooler Master V750 750 W
OS
Windows 10 Pro x64
Thanks to Cooler Master, GIGABYTE, G.Skill and Intel for the build components
The full details of the reasoning behind choosing the above build components can be found here.
Evaluation involves running synthetic benchmarks such as ATTO and CrystalDiskMark. We also process custom test-suites (transfer of a set of photographs and video files) from a RAM disk on the testbed. Finally, we also run PCMark 8's storage bench on the external device.
The power consumed by the bus-powered device is measured using the Plugable USBC-TKEY interposer. The USBC-TKEY was plugged into one of the Thunderbolt 3 / USB 3.1 Gen 2 Type-C ports enabled by the Alpine Ridge controller. While the USBC-TKEY acts as a transparent interposer for the host's port, it is connected to a Ubuntu system for data gathering purposes via its micro-USB port. The power consumption is tracked while CrystalDiskMark processes its traces.
The Extreme 900 turned out to be a very interesting DAS unit to review. In our initial trials on the Skylake testbed (specified above), the performance numbers turned out to be very inconsistent. While performance was definitely better than any USB 3.0 flash drive for most tests, there were a few with very disappointing numbers. Assuming that it was a compatibility issue for the ASM1352R with the Alpine Ridge controller, we tested out on our Haswell testbed with an ASRock PCIe card (sporting an ASMedia controller). The results were similar. To complicate matters further, it turned out that none of our testbeds could process the PCMark 8 storage bench on the drive. All attempts failed with a workload initialization error.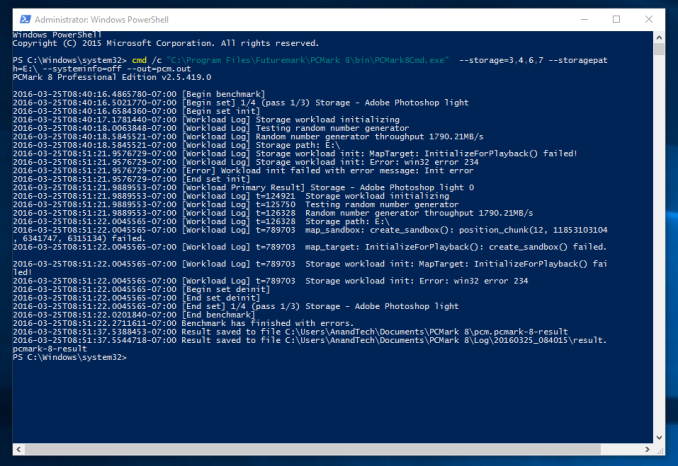 While trying out various trials, we decided to completely get rid of any partition information on the drive. Using 'diskpart', 'select disk X' and 'clean' commands, we reinitialized the drive and formatted it afresh in exFAT (the drives had originally come pre-formatted in exFAT along with SanDisk's software encryption app). After this process, the PCMark 8 storage bench started working without issues. Benchmark numbers from ATTO and CrystalDiskMark also became consistent from run to run.