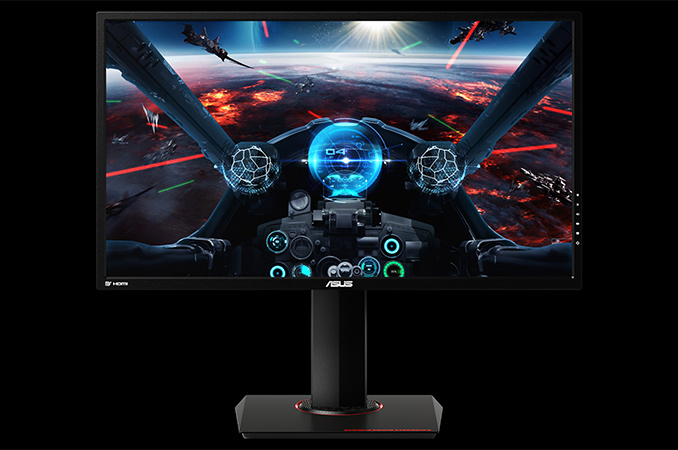 ASUS has introduced three new inexpensive displays for gamers with full-HD and 4K resolution: the MG248Q, the MG28UQ and the MG24UQ. The new monitors support VESA's Adaptive-Sync technology and thus should be compatible with video cards that feature AMD's FreeSync dynamic refresh rate technology. While the monitors do not carry the FreeSync badge just now, they will likely gain it eventually.
Specifications of ASUS MG-Series Displays
MG248Q
MG24UQ
MG28UQ
Panel
24" TN
23.6 IPS
28" TN
Resolution
1920 x 1080
3840 x 2160
Refresh Rate
40 Hz - 144 Hz
30 Hz - 60 Hz
Adaptive-Sync
Range
unknown
40 Hz - 60 Hz
Response Time
1 ms gray-to-gray
4 ms gray-to-gray
1 ms gray-to-gray
Brightness
350 cd/m²
300 cd/m²
330 cd/m²
Contrast
True contrast ratio unknown
Viewing Angles
170°/160° horizontal/vertical
178°/178° horizontal/vertical
170°/160° horizontal/vertical
PPI
92 ppi
186 ppi
157 ppi
Pixel Pitch
0.276 mm
0.136 mm
0.16 mm
Colors
16.7 million
1.07 billion
Color Saturation
Unknown
Inputs
DisplayPort 1.2
HDMI 1.4
DVI-D
DisplayPort 1.2
HDMI 2.0
HDMI 1.4 x 2
Audio
2 x 2 W
The biggest display among the novelties is the ASUS MG28UQ, which is based on a TN panel with 3840×2160 resolution, and a 330 nit max brightness. The MG28UQ has default refresh rate of 60 Hz and supports dynamic refresh rates between 40 and 60 Hz, which is typical for 4K monitors. The display is equipped with one DisplayPort 1.2 and three HDMI inputs, a dual-port USB 3.0 hub with quick charge support as well as two 2 W speakers. The unit also features tilt, swivel, pivot and height adjustment and is compatible with VESA display wall mounts.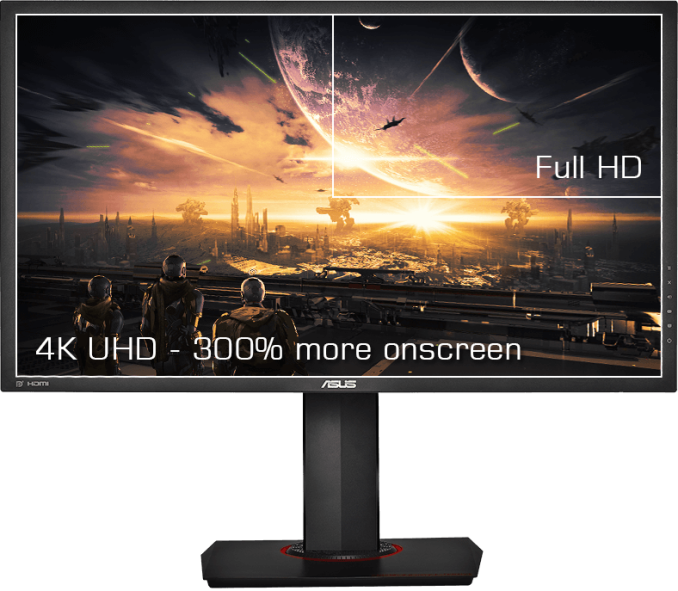 The ASUS MG28UQ is available now for $549 from Amazon. The product does not seem to be very affordable for a TN-based display, possibly because ASUS charges premium for the Adaptive-Sync feature. Nonetheless, the monitor is not too expensive either.
Next up, the MG24UQ is not as big as its large brother (it has 23.6" diagonal), but it will be a more interesting option for those, who prefer IPS panels with high pixel density. The monitor sports 3840×2160 resolution with up to 60 Hz refresh rate and a peak brightness of 300 nits. Adaptive-Sync works for refresh rates between 40 and 60 Hz, just like in case of the MG28UQ. The monitor features one DisplayPort 1.2, three HDMI inputs as well as two 2 W speakers. The design of the MG24UQ display is very similar to that of the MG28UQ (hence, it sports the same set of adjustments and VESA mounts) with the exception of dimensions and the lack of a USB hub on the smaller one.
The ASUS MG24UQ can be pre-ordered now for $399 on Amazon.
Finally, the ASUS MG248UQ is designed for gamers who value high dynamic refresh rates most of all other features. This display will be the first 24" monitor from the company which supports up to 144 Hz refresh rate as well as Active-Sync technology. The monitor uses a TN panel with 1920×1080 resolution and a peak brightness of 350 nits, offering slightly better specifications and a more aggressive visual design compared to the VG247H and the VG248QE. The display supports dynamic refresh rates between 40 and 144 Hz, according to ASUS, which is a very decent range. As an added bonus, thanks to the extremely high refresh rate, the MG248UQ could be used with NVIDIA's 3D Vision stereo-3D kit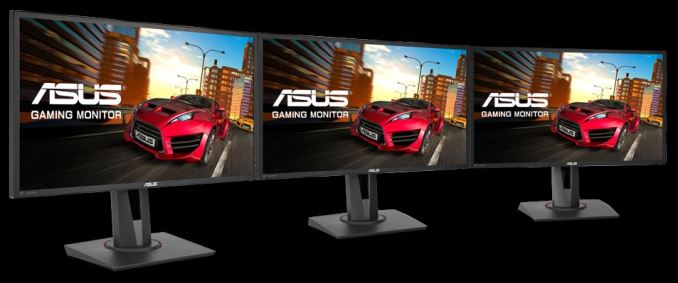 ASUS plans to start selling the MG248UQ in the coming weeks for an undisclosed price. Typically, such monitors are not expensive, thus, the MG248UQ could be used to build relatively affordable ultra-fast multi-monitor setups with Adaptive-Sync.
ASUS is one of the leading suppliers of displays for gamers with a huge market share, according to the company. The new MG-series monitors should help ASUS to better address the segment of affordable displays for gamers.
Source: ASUS