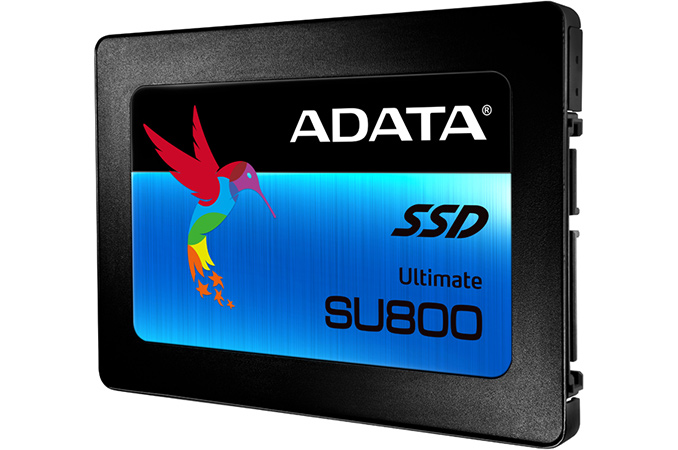 ADATA has formally introduced its first SSDs based on 3D NAND flash memory. The Ultimate SU800 drives are designed for price-conscious market segments and use SATA interface, which means that they do not offer very high performance. Nonetheless, usage of high-capacity 3D NAND chips helps the manufacturer to increase its MTBF rating and could eventually help ADATA to offer very competitive pricing for these drives.
The family of ADATA's Ultimate SU800 SSDs includes models with 128 GB, 256 GB, 512 GB and 1 TB capacity. The drives are based on Silicon Motion's SM2258 controller (which has four NAND flash channels and LDPC ECC technology) as well as 3D TLC NAND flash memory from an unknown manufacturer (either IMFT or SK Hynix). The drives come in 2.5"/7 mm form-factor and use SATA 6 Gbps interface.
The manufacturer claims that the Ultimate SU800 SSDs support sequential read performance up to 560 MB/s as well as sequential write performance up to 520 MB/s when pseudo-SLC caching is used. The 128 GB model is naturally slower than its brethren are when it comes to writing (up to 300 MB/s), but its read speed is in line with higher-capacity SKUs. ADATA did not mention random performance of the SSDs as well as their power consumption, but the SM2258 controller is capable of up to 90,000 read and up to 80,000 IOPS.
ADATA Ultimate SU800 Specifications
Capacity
128 GB
256 GB
512 GB
1 TB
Model Number
ASU800SS-128GT-C
ASU800SS-256GT-C
ASU800SS-512GT-C
ASU800SS-1TT-C
Controller
Silicon Motion SM2258
NAND Flash
3D TLC NAND
Sequential Read
560 MB/s
Sequential Write
300 MB/s
520 MB/s
Random Read IOPS
Up to 90K IOPS
Random Write IOPS
Up to 80K IOPS
Pseudo-SLC Caching
Supported
DRAM Buffer
Yes, capacity unknown
TCG Opal Encryption
No
Power Management
DevSleep
Warranty
3 years
MTBF
2,000,000 hours
MSRP
$59.99
$79.99
$139.99
$269.99
Thanks to higher endurance of 3D TLC NAND compared to planar flash memory made using thin process technologies, ADATA declares 2 million hours MTBF and offers three-year limited warranty on its new SSDs. While the warranty is standard for modern solid-state drives, the MTBF rating 0.5 million hours higher compared to current-generation entry-level SSDs from the company.
At present ADATA already has a number of affordable SATA SSDs (e.g., Premier SP550 and SP580) based on planar TLC NAND flash memory. The company specifically noted in its press released that the new Ultimate SU800 will be faster than its existing entry-level models (and will provide higher MTBF). As a result, the new SSDs will be positioned above the currently available inexpensive models.
Now, about the retail pricing. ADATA plans to charge $60, $80, $140 and $270 for 128 GB, 256 GB, 512 GB and 1 TB versions of its Ultimate SU800 SSDs, but they are not the cheapest in the company's model range (even though the price of the 256 GB SKU seems very competitive). Moreover, next month the company plans to introduce another family of 3D NAND-based drives (the Ultimate SU900) with higher performance.
Source: ADATA