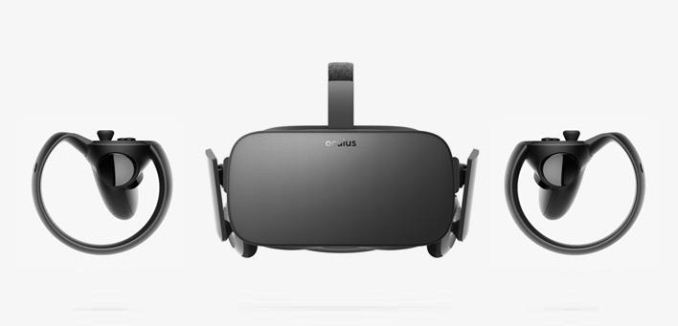 Update: On 7/14/17, Oculus permanently reduced the cost of the Rift + Touch bundle to $499. Meanwhile, the bundle is still available for $399 for the next six weeks.
In the spirit of summer sales and their own "Summer of Rift," Facebook subsidiary Oculus VR has announced that the Rift + Touch bundle is now on sale for $399. The bundle includes the headset, a pair of Touch controllers, two sensors, an Xbox One wireless controller, a remote, and cables, including connectors for Rock Band VR guitar controllers.
Oculus also offers seven free games for the Rift: Lucky's Tale, Medium, Toybox, Quill, Dead and Buried, Dragon Front, and Robo Recall. For those lacking Rift-compatible titles, these selections provide a simple way to game on the Rift immediately.
The sale will take place for six weeks and follows the permanent price adjustments in March that cut the Rift + Touch bundle from $798 to $598. This competitively positions the Rift + Touch bundle against the $799 HTC Vive headset/controllers bundle and the $499 Sony PlayStation VR headset/controllers bundle. As it stands, Rift's shipments, cumulatively as well as for 2017 Q1, lag behind the Vive's according to SuperData, while both are behind the PSVR; at the top of the heap is the more affordable Oculus-powered Samsung Gear VR.

According to Fortune, Oculus vice president of content Jason Rubin stated that "This is a good time to test a mass-market price," where Oculus is considering whether to permanently drop the price. If so, the Rift would finally arrive at the "$350 ballpark" that was originally targeted. As PC-based high-end VR devices, both the Rift and Vive require VR-capable computers, which carry a hefty price of their own.
As a reminder, Oculus offers the following recommended and minimum PC specifications to power Rift:
Oculus Rift PC Specifications
Recommended
Minimum
CPU
Intel i5-4590 / AMD Ryzen 5 1500X
Intel i3-6100 / AMD Ryzen 3 1200, FX4350
GPU (AMD)
Radeon RX 480 / R9 290
Radeon RX 470 / R9 290
GPU (NVIDIA)
GeForce GTX 1060 / 970
GeForce GTX 1050Ti / 960
Memory
8GB+ RAM
Video Output
HDMI 1.3
USB Ports
3 x USB 3.0
1 x USB 2.0
1 x USB 3.0
2 x USB 2.0
OS
Windows 7 SP1 64 bit or newer
Windows 8.1 or newer
On the HTC side of matters, a new Google Daydream supported Vive was announced only a few months ago, aimed at a 2017 release. Pricing was not revealed at that time.
Time will tell how much the Rift's bundle sale will help bring high-end VR to the masses.
Related Reading
Source: Oculus (via Fortune)