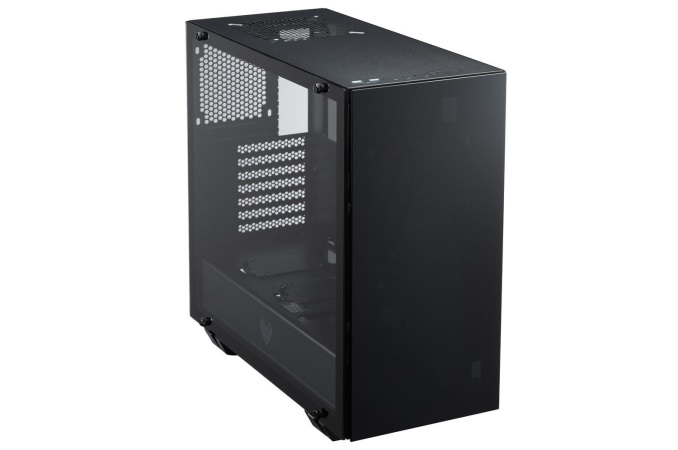 FSP released a new mid-tower case adding to its CMT line, the CMT510. The CMT510 features three panels made of tempered glass designed to show off the system inside. The case supports ATX, Micro ATX and Mini-ITX motherboards, video cards to 400mm in length, and supports up to a 360mm radiator for water cooling.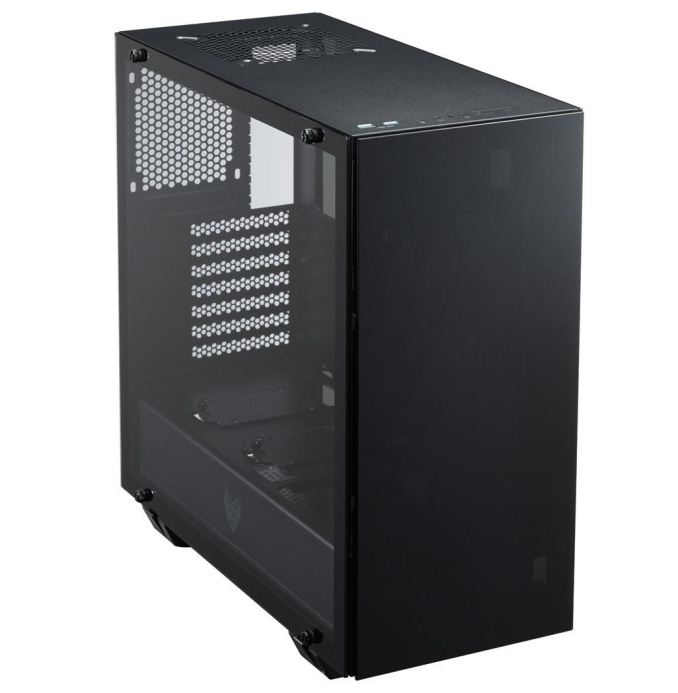 The chassis is all black with a matte coating on the aluminum parts of the case. The tempered glass is tinted to 50% and covers the front, left and right panels displaying what is inside. I have to admit, I am not sure why any case would want to show off what is generally a wild world of wires behind the motherboard. That aside, the front panel IO sits on top of the case and includes a power and RGB buttons (cycle through several lighting effects), two USB 3.0 ports, microphone and headphone jacks, as well as LEDs for power and HDD activity.
The case includes four pre-mounted 120mm RGB LED fans with three in the front and another on the rear. The top 120/1400mm fan location is not occupied. These plug into a simple fan controller mounted on the back of the motherboard tray.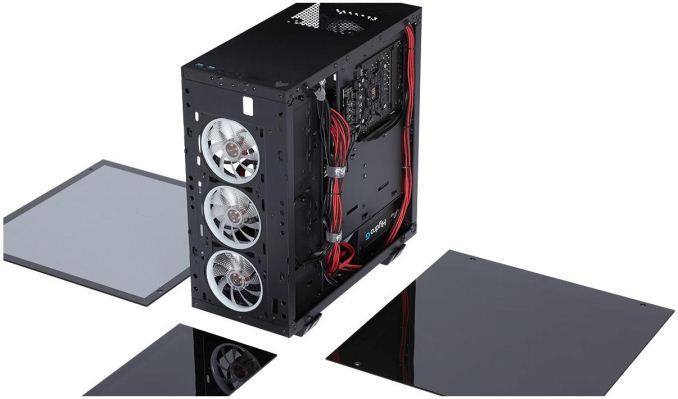 Cable management should be easy with a large pre-drilled slot running the vertical length adjacent to the motherboard. Below there is room for an ATX sized power supply sitting under a dust cover running the length of the case. This hides the cables and should keep that area cleaner. On top of the PSU, shroud are two locations to mount 2.5-inch drives along with two more locations on the back for two 3.5-inch or two 2.5-inch drives. dust filtered airflow is to enter the PSU space fed by most of the bottom fan. The CMT510 supports CPU coolers up to 165mm and video cards to 400mm in length without losing drive capacity. Watercooling is also possible inside with support for either a 2x140mm radiator or a 3x120mm radiator on the front of the case.
The CMT510 is available now at an MSRP of $100.
FSP CMT510 Mid-Town Chassis
Model
CMT510
Case Type
ATX Mid-Tower
Dimensions
491 x 208 x448mm (19.15 x 8.11 x 17.57-inches)
Color
Black
Body Material
SECC, Tempered Glass
Net Weight
N/A
External Drive Bays
None
HDD/SSD Bays
2 x 3.5" (or 2 x 2.5") and 2 x 2.5"
Expansion Slots
7
Motherboard Type
Mini-ITX, MicroATX, ATX
System Fan
3 x 120mm RGB LED Included
I/O Ports
2 x USB3.0
3.5" HD Audio
VGA Card Support
400mm
CPU Cooling Support
165mm
PSU Support
ATX
Radiator Support
1 x 360mm (Front)
Related Reading:
Source: FSP