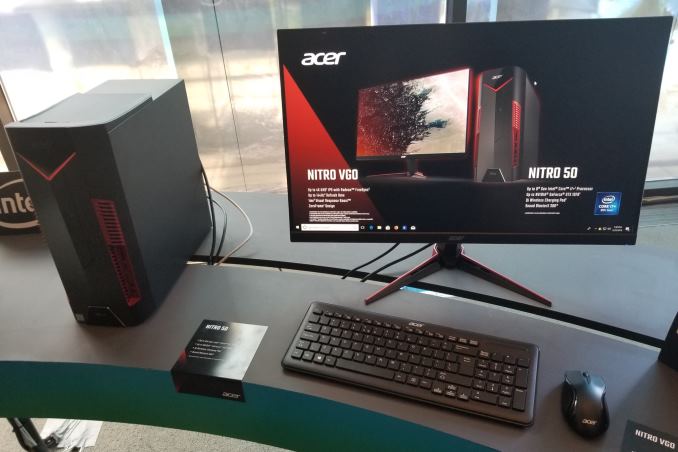 This week Acer has also announced their new Nitro 50 Series gaming desktop PCs, further expanding its Nitro product family. Acer says that they created the Nitro 50 Series for those seeking the processing power and capabilities only a desktop PC can offer. They will be powered by 8th Gen Intel Core processors, and NVIDIA GeForce GTX 10 series or AMD Radeon RX5xx series video cards for solid gaming performance and other graphics-intensive tasks.
The new Nitro series 50 desktops are enclosed in a black chassis with the vents and IO area on the front in red. Below the Acer name up top, there is a "V" shaped LED light bar adding additional visual cues and separating itself a bit from the more mundane looking desktops, yet not outlandish. That chassis measures a small 6.4" x 13.7" x 13.3" taking up less space than many gaming desktops.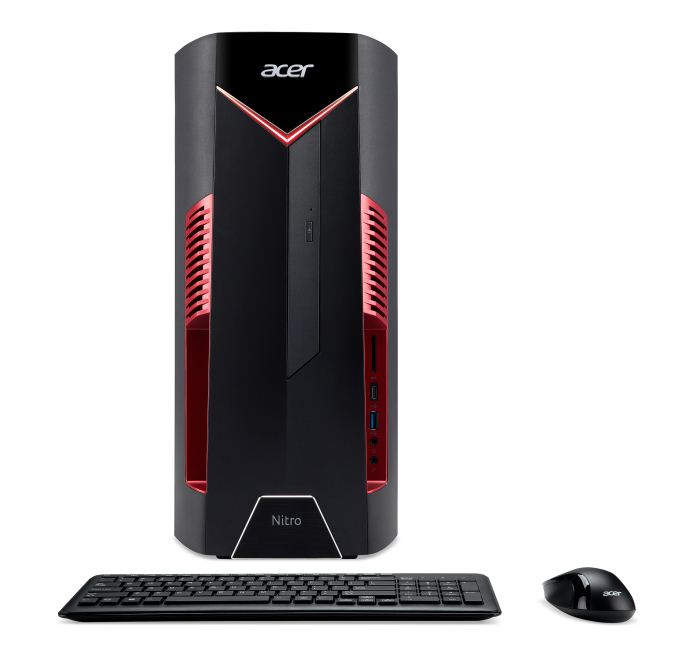 Specification-wise, the Nitro 50 supports 8th Gen Intel Core processors ranging from a quad-core i3-8100 (3.6 GHz), a hex-core i5+ 8400 (2.8 GHz / 4 GHz Turbo), up to a 6 core, 12 thread i7+ 8700 (3.2 GHz / 4.6 GHz Turbo). Memory support is up to 64 GB of Dual-channel DDR4-2666 Memory as well as Intel Optane Memory support. Graphics options are from both sides of the fence with the Nitro 50 offering options from NVIDIA as well as AMD. From team Green options include the GTX 1050, 1050 Ti, 1060, up to the GTX 1070, while AMD has one option an RX 580X. The lower-end NVIDIA GPUs may struggle driving a high refresh rate monitor, but from the 1060 on up it should have few issues keeping the frame rates high.
On the storage side of the house, like the Predator Orion series, drive options are up to a 3TB 3.5-inch HDD and up to a 512GB PCIe NVMe based M.2 SSD. The Nitro 50 sticks with Creative audio and uses the Creative Sound BlasterX 360° audio engine and software. Networking duties are handled by a Realtek RTLE811AS GbE (Dragon LAN) found in the Orion 3000 series. It also includes 802.11ac 2Tx2R Wi-Fi along with Bluetooth 5.0.
The Acer Nitro 50 gaming desktops will be available in North America in June starting at $799; EMEA in May starting at €999; in China in July starting at ¥5999.
Acer Predator Orion 3000 and 5000 Series Gaming Desktops
Nitro 50
CPU
i7+ 8700 - (6C/12T, 4.6 Ghz Turbo)
i5+ 8400 - (6C/6T, 4 GHz Turbo)
i3-8100 - (4C/4T, 3.6 GHz)
Memory
Up to 64GB Dual-Channel DDR4-2666
Supports up to 32GB Intel Optane Memory
Graphics
NVIDIA GeForce GTX 1070, 1060, 1050 Ti, 1050
AMD Radeon RX580X
Storage
Up to 3TB 3.5" HDD
Up to 512GB PCIe NVMe M.2 SSD
Audio
Creative Sound BlasterX 360°
Networking
Realtek RTL8118AS GbE
802.11ac, 2Tx2R with Bluetooth 5.0
Expansion
1 x PCIe x16 slots
1 x PCIe x1 slots
1 x M.2 2280 PCIe x4
1 x M.2 2230 (WLAN)
Dimensions
(WxDxH)
6.4" x 13.7" x 13.3"
Price (Starting)

$799 / €999 / ¥5999
Related Reading:
Source: Acer