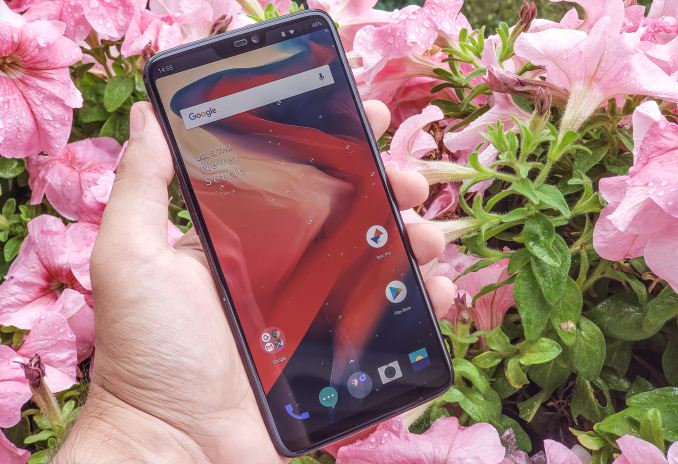 Over the last several years OnePlus has evolved from a vendor looking to disrupt the smartphone market to a company whose flagships are now eagerly awaited every year. The OnePlus 6 is the company's biggest design change yet, and brings with it flagship specifications while still maintaining its characteristic advantage in terms of product pricing as well as long-term software support.
I have to admit that for me personally this will be the first time I'd have reviewed OnePlus device as I had missed out on past reviews and we've had a coverage gap last year when it came to mobile devices. As such I'm pretty much coming into the review of the OP6 with no pre-conceptions about either hardware or software of the phone, and based on what I've seen over the last couple of weeks and what you'll get to read over the following pages, I've been massively impressed.
OnePlus 6
SoC
Qualcomm Snapdragon 845
4x Kryo 385 Gold @ up to 2.80 GHz
4x Kryo 385 Silver @ up to 1.77 GHz
Adreno 630 @ up to 710 MHz
Display
6.28-inch 2280x1080 (19:9)
AMOLED
Dimensions
155.7 x 75.4 x 7.8 mm
177 grams
RAM
6GB / 8GB / 8GB LPDDR4x
NAND
64GB / 128GB / 256GB
Battery
3300mAh (12.7Wh)
Front Camera
16MP Sony IMX371,
f/2.0, EIS
Primary Rear Camera
16MP

Sony IMX519

1.22µm pixels,
f/1.7, OIS
Secondary Rear Camera
20MP Sony IMX376K, 1.0µm pixels, f/1.7
Low-light & Depth
SIM Size
2x NanoSIM
Connectivity
802.11ac 2x2 WiFi
BT 5.0, NFC
Interfaces
USB 2.0 Type-C; 3.5mm audio
Launch OS
Android O (8.1) with OxygenOS 5.1
MSRP
Launch Price
6GB/64GB: ¥3199 / $529 / €519
8GB/128GB: ¥3599 / $579 / €569
8GB/256GB: ¥3999 / $629 / €619
Starting off with the specifications of the phone, this is indeed a 2018 flagship phone as it comes with the latest Qualcomm Snapdragon 845 SoC powered by 4x Kryo 385 Gold (Cortex A75 based) up to 2.8GHz and 4x Kryo 385 Silver (Cortex A55 based) up to 1.77GHz. We've had extensive coverage on the SoC starting off with the announcement piece, to our performance preview and our in-depth investigations included in the Galaxy S9 review. To say the least, every Snapdragon 845 device over the last couple of months has been very impressive and I'm not expecting any less from the OnePlus 6.
OnePlus really opted to give the OP6 a more than generous amount of RAM as well as high storage capabilities. The base model comes with 6GB LPDDR4X and 64GB of UFS storage, with the larger 128GB and 256GB (!!) models sport 8GB of RAM. The 8GB of main memory seems overkill as in daily situations the phone rarely uses more than 3.5GB, so there's still massive amounts of headroom available for memory hungry applications or heavy multi-tasking. I commend OnePlus on the 256GB variant of the phone as not only does it makes up for the lack of a microSD slot, but actually comes at a relatively reasonable price premium compared to what other vendors ask for higher-capacity models.
The OP6 comes with essentially all required global frequency bands and as such the phone should be an option and of interest to anybody, regardless of market and carrier frequency bands.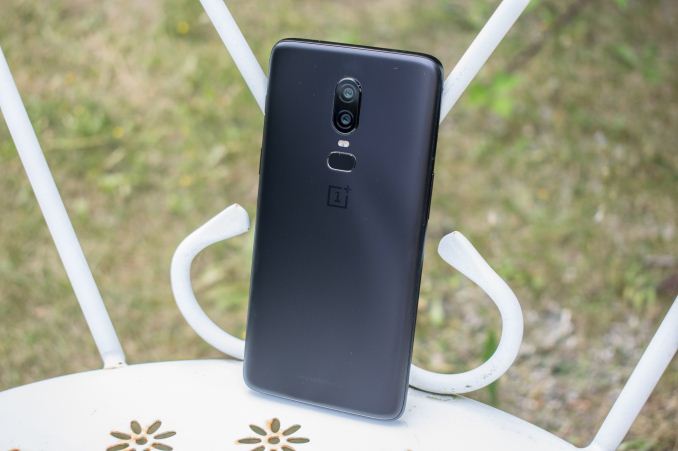 Design-wise of course the OP6 marks a generational step it has ditched the metal body of its predecessors and for the first time opted to use a glass back on the phone. The phone comes in four different colours and two finishes: The recently announced red variant as well as the launch model "mirror black" come with a regular shiny glass finish. The "pearl white" and "midnight black" variant, the latter of which is depicted in the review, both have a matte finish which tries to mimic a polished metallic look. Personally I found this finish to be very interesting and do prefer it a lot to phones with the regular glossy glass; however some people have noted that it might be too slippery so it's certainly something subjective and depending on personal preference.
As Ian noted in our initial hands-on article, one thing that you would expect with the inclusion of a glass panel back is the ability to wirelessly charge the phone. Unfortunately OnePlus doesn't see the need to include this into their phones as of yet as they deem the ecosystem too immature and found wireless charging not commonly used. Obviously this is a chicken-and-egg issue, and while lately I have increased my usage of wireless charging and even now have a pad next to my bed, I don't find the lack of it all that troublesome for a device. It's also possible that including a wireless charging coil would have resulted in an ever so slightly thicker phone, which given the overall larger dimensions of the device would have likely hampered its ergonomics.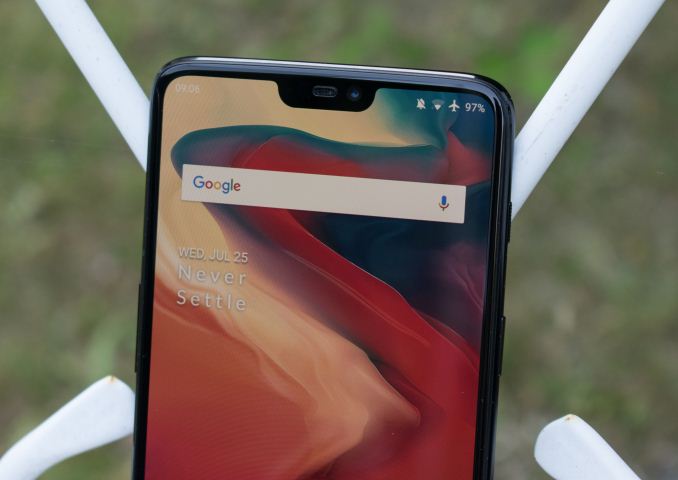 One controversial addition to the OnePlus 6 is the display notch. Here the screen extends upwards to the sides where usually we would've found the top bezel of the phone. In the middle cut-out we find the earpiece flanked by one side the sensor array and notification light, and on the other side the 16MP front-facing camera. As I've talked about in our review of the Huawei P20 and P20 Pro, the notch is absolutely not bothersome at all in daily usage and can be blacked out via software option, something that works extremely well on the AMOLED screen of the phone.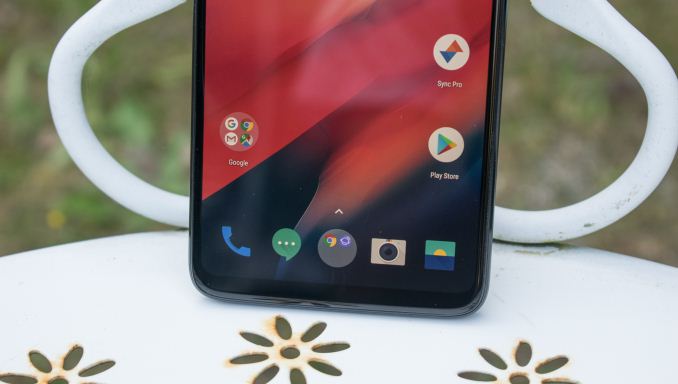 Speaking of screens, the OnePlus 6 sports an AMOLED screen with a 6.28" diagonal. Again the diagonal has little meaning nowadays as the 19:9 aspect ratio screen doesn't properly convey the actual size of the device. At 75.4mm wide the OnePlus 6 is 1-2mm wider than some of the competitor devices in the same size range; however the very thin rounded sides of the phone do help it a lot in terms of ergonomics so it's still extremely useable. One aspect that OnePlus could have in my opinion done better with the OP6 is to try to reduce the side bezels just a bit more as I think that would have made for a much sleeker look.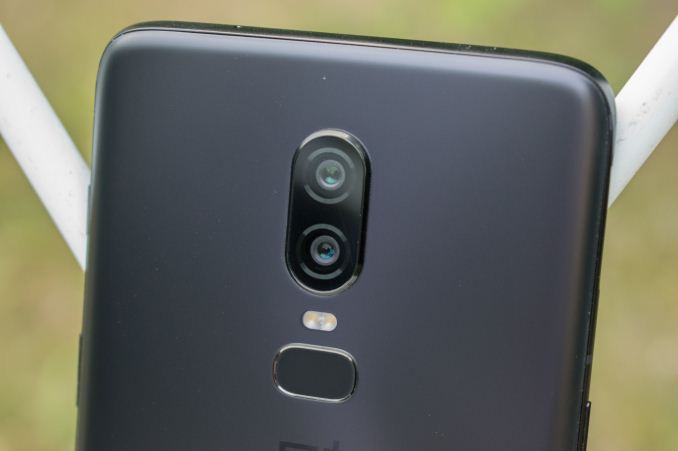 At the back of the phone OnePlus rearranged its camera positioning from the top left corner to the middle with a vertical dual-camera layout with the flash and fingerprint sensor located underneath. Camera wise the main rear sensor is a Sony IMX519 sporting a 4608x3456 resolution (16MP) and has a pixel pitch of 1.22µm. The CMOS is supported by a f/1.7 lens with a 35mm equivalent focal length of 25mm and the module includes OIS.
The secondary sensor is also a Sony sensor coming in at 20MP and f/1.7, however this isn't a telephoto lens but rather a OnePlus unique use-case where the secondary sensor is used sometimes in low-light conditions as well as for depth data in capturing modes such as portrait mode. We'll look into the camera evaluation extensively in another large comparison across a wide variety of recent flagship devices.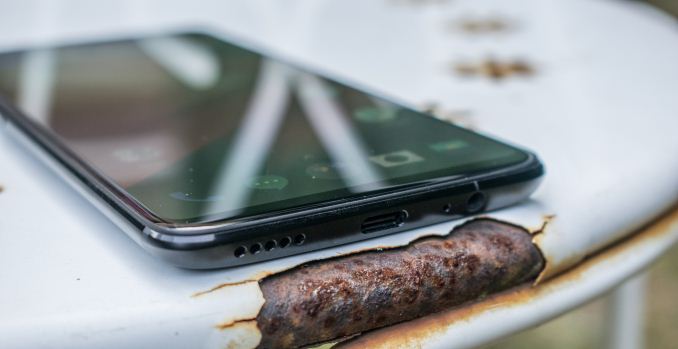 At the bottom of the phone we find a single bottom-firing speaker which we evaluate later on in the review, the phone's USB-C connector port, the bottom microphone as well a 3.5mm audio jack. Keeping the 3.5mm jack is definitely an advantage for the OP6 as the company evidently resisted the popular urge to restrict user choice on the matter. As a note, I'm still looking into rebuilding our audio evaluation methodologies, but likely won't have anything ready until later in the year.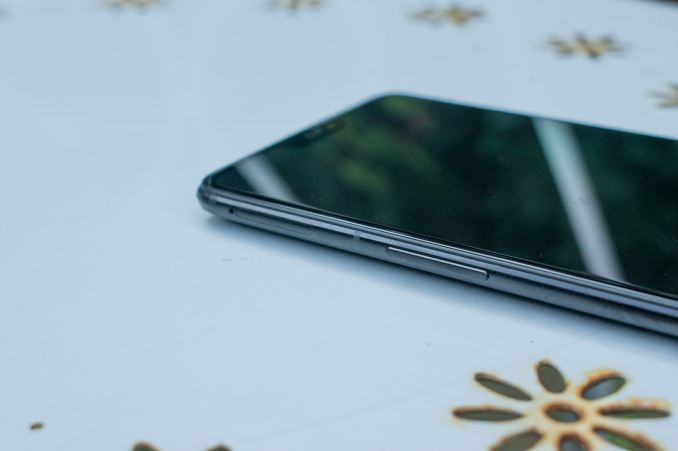 On the left side of the phone we find the SIM tray which contains two nanoSIM slots, with the volume rocker located underneath.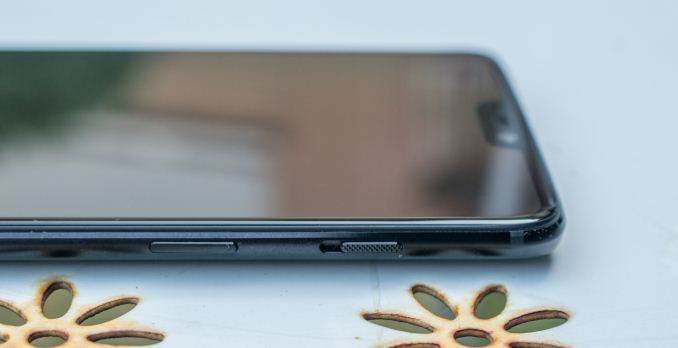 On the right side we find a slider button which acts as a hardware switch to quickly switch between the three states of silent, vibrate only and regular ringing, a feature that's essentially not found any more in many Android devices.
Overall the OnePlus 6's design is very impressive – build quality looks and feels very solid. It's a large phone but thanks to its ergonomics it still manages to achieve very good usability. Some people will have concerns about the new glass back of the phone and how that affects durability, but personally I don't mind it at all and find the matte finish variant extremely pleasing.