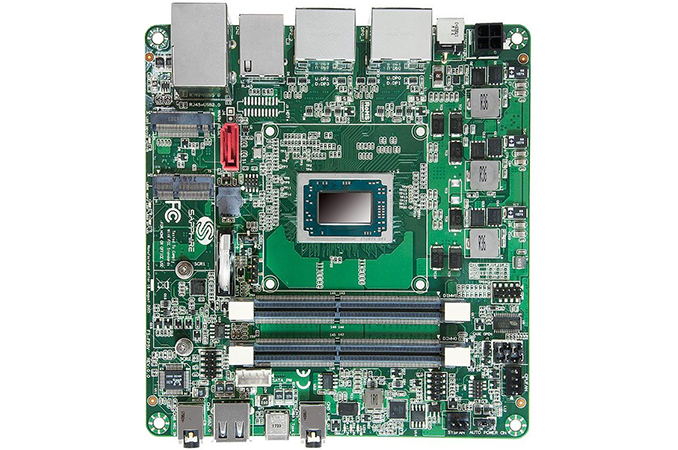 Sapphire has announced one of the world's first platforms based on AMD's Ryzen Embedded V1000-series APUs. The motherboard is aimed at various embedded applications that can take advantage of AMD's latest Zen and Vega architectures and their capabilities. The FS-FP5V also happens to be the industry's first Mini-STX motherboards to feature AMD's processor.
The Sapphire FP5V is based on AMD's Ryzen Embedded V1000 APU featuring two or four cores with SMT clocked at 2 – 3.35 GHz base frequency, AMD's Radeon Vega 3/8/11 iGPU, a dual-channel memory controller, and so on. Depending on requirements for performance and price, the Ryzen Embedded SoCs can feature a 12 – 25 or a 35 – 54 W TDP. AMD introduced its Ryzen Embedded chips earlier this year and will continue to sell them throughout 2028, giving adopters plenty of time to build and sell their products.

The motherboard is outfitted with two DDR4 SO-DIMMs supporting up to 32 GB of DDR4-2400 – DDR4-3200 memory, a SATA connector, an M.2-2280 slot (PCIe 3.0 x4 or SATA) for SSD, an M.2-2242 slot for a Wi-Fi module, two GbE ports (enabled by Realtek's RTL8111G controllers), a quad-channel audio controller (ALC262), three USB 2.0 headers, one USB 3.1 Type-C connector, one RS232/422/485 module, etc. See precise specs in the table below.

The key features of Sapphire's FP5V are of course up to four high-performance Ryzen CPU cores, AMD's Radeon Vega iGPU with up to 704 stream processors as well as rich connectivity capabilities (e.g., four display outputs). The list of embedded applications that may require such embedded SoCs. include various gaming machines, digital signage, thin clients, medical imaging, and so on.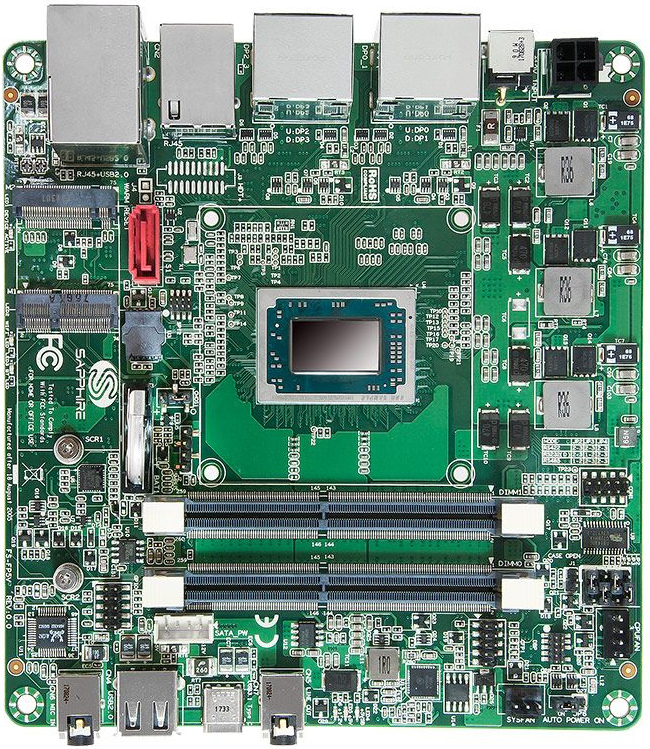 Sapphire's FP5V is available for order from the company's web site. Pricing depends on exact configurations as well as volumes.
Sapphire's Mini-STX Motherboard with Ryzen Embedded V1000 APUs
FP5V
APU
(Soldered Down)
Ryzen Embedded V1202B: 2C/4T, 2 - 3.6 GHz, Vega 3, 12 - 25W
Ryzen Embedded V1605B: 4C/8T, 2.06 - 3.6 GHz, Vega 8, 12 - 25W
Ryzen Embedded V1756B: 4C/8T, 3.25 - 3.6 GHz, Vega 8, 35 - 54W
Ryzen Embedded V1807B: 4C/8T, 3.35 - 3.8 GHz, Vega 11, 35 - 54W
Graphics
Ryzen Embedded V1202B: Radeon Vega 3 with 192 SPs at 1100 MHz
Ryzen Embedded V1605B: Radeon Vega 8 with 512 SPs at 1100 MHz
Ryzen Embedded V1756B: Radeon Vega 8 with 512 SPs at 1100 MHz
Ryzen Embedded V1807B: Radeon Vega 11 with 704 SPs at 1300 MHz
Display Outputs
4 × DisplayPort 1.4
Memory
2 × DDR4 SO-DIMM slots for up to 32 GB of DDR4 SDRAM
Ryzen Embedded V1202B: up to DDR4-2400
Ryzen Embedded V1605B: up to DDR4-2400
Ryzen Embedded V1756B: up to DDR4-3200
Ryzen Embedded V1807B: up to DDR4-3200

Ethernet
2 × Realtek RTL8111G controllers
Storage
1 × SATA 6 Gbps
1 × M.2 (PCIe 3.0 x4 or SATA)
Audio
Realtek ALC262
4-channel audio
USB
4 × USB 2.0 Type-A
1 × USB 3.1 Type-C
Serial Port
1 × RS232/422/485 header
Wi-Fi
M.2-2242 slot
Operating Temperature
0°C~50°C (32°F~122°F)
Form-Factor
Mini-STX (147.3 mm × 139.7 mm | 5.8" × 5.5")
Related Reading:
Source: Sapphire (via Tom's Hardware)