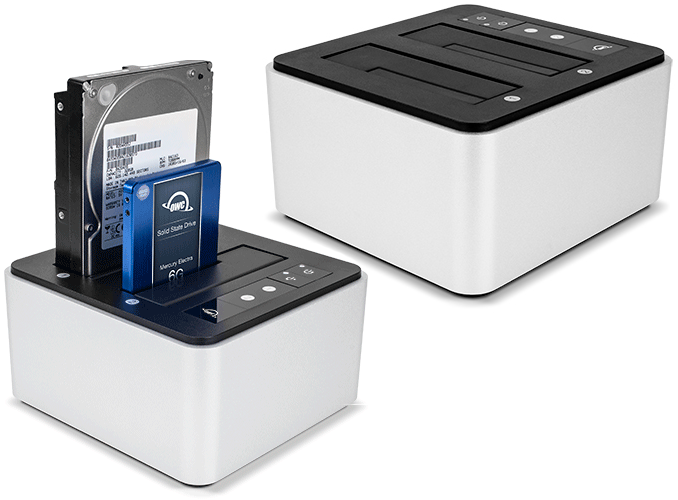 OWC has released its new Drive Dock external storage solution that can accommodate two hot-plug-capable HDDs or SSDs. What makes this latest drive dock particularly notable is that it uses a USB Type-C interface, so it can be used with the latest laptops.
OWC's Drive Dock (OWCTCDRVDCK) with a USB 3.1 Type-C Gen 2 interface can house two 2.5 or 3.5-inch SATA drives, supporting both HDDs and SSDs. The dock also supports RAID stripe or RAID mirror modes for extra performance or redundancy. Under the hood, the device uses Via Labs' VL820 USB 3.1 Gen 2 controller as well as ASMedia's ASM1151 USB to SATA bridge, with OWC presumably layering software RAID on top of that.
Keeping in mind that the maximum performance a USB 3.1 Gen 2 interface can provide is just shy of 1GB/sec, it makes sense to run two SATA HDDs in RAID 0, though two high-performance SATA SSDs will likely be bottlenecked by the interface.

When it comes to compatibility, OWC's dual drive bay solution should work with all standard SATA HDDs and SSDs. Capacity wise, this means that it can accommodate two 14 TB HDDs providing up to 28 TB of storage space and over 500 MB/s throughput in RAID 0. Alternatively, two SSDs can be used for a combination of maximum performance, or mixing & matching an SSD and HDD.
Also of note in terms of features, the Dual Drive Dock has an internal power supply; so while it does require external power (via an AC cable), it doesn't require plugging in a bulky external transformer to power the device. The internal power supply also means that OWC has been able to add some frills by allowing each drive bay to be individually powered on and of. All told, the OWC ships the Drive Dock with a USB 3.1 Gen 1 A-to-C cable, a USB 3.1 Gen 2 C-to-C cable, and a power cable.
Being rather simplistic, the OWC Drive Dock for two storage device with a USB 3.1 Gen 2 Type-C interface is also a pretty affordable at $119. If populated with two 8 TB HDDs (around $220 these days), the whole storage solution will cost about $560, which is cheaper than Western Digital's 16 TB MyBook Duo, which retails for $599 and offers throughput of up to 360 MB/s.
Related Reading:
Source: OWC