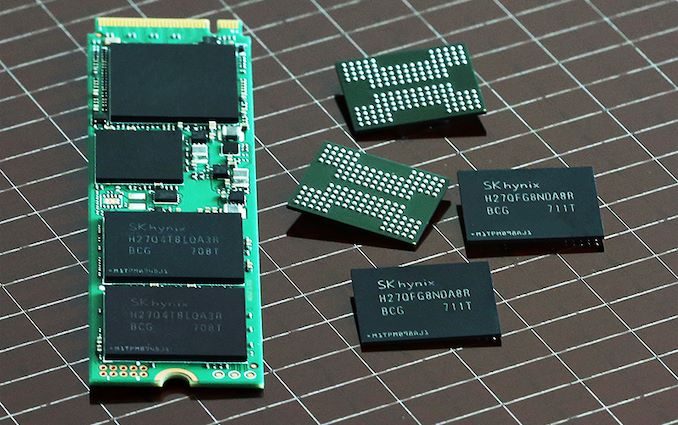 A true cyclical market, the NAND flash business goes through periods of booms and periods of busts. Following a very profitable boom year in 2018, it looks like the market is in a down swing, as an oversupply is starting to impact the bottom lines of memory makers. To stem any potential for significant losses or an outright market crash, three major manufacturers of NAND memory — Intel, Micron, and SK Hynix — have announced that they will be taking measures to address the oversupply, such as reducing flash production, cutting down wafer starts, and/or slowing down ramp ups of new fabs. Furthermore it is highly likely thr another major manufacturer, Samsung, will follow suit.
The rapid transition to high-capacity 64-layer and 96-layer 3D NAND memory devices has enabled NAND flash manufacturers to increase their NAND supply (as measured in bits) and ultimately saturate the market with loads of flash memory. Meanwhile, demand for servers in the recent months has been weaker than expected, smartphone replacement cycles are getting longer, and other drivers of NAND demand have also disappointed. As a result, NAND supply has well exceeded demand, causing prices to fall by as much as 20% across multiple categories in Q1 2019, according to TrendForce. To ensure their short-term and long-term profitability, at various points in the last couple of months the three manufacturers have all announced that they are taking actions to minimize their exposure during this latest bust.
Micron said back in March that it was carefully managing its NAND bit supply growth (to tackle oversupply at least partially) and started to decrease its total NAND wafer starts by roughly 5% by cutting its legacy nodes. The company did not indicate plans to shrink its NAND bit supply, but reducing production of memory using older process technologies will likely lower its costs.
Meanwhile SK Hynix this week said that it had stopped production of 36-layer as well as 48-layer 3D NAND memory, which these days has a rather high per-bit cost relative to newer technologies. In the coming months the company plans to increase production of 72-layer 3D NAND and in the second half of the year it intends to release 96-layer 3D NAND solutions for the SSD and mobile markets. Furthermore, SK Hynix will slow down the ramp up of its M15 fab in Cheongju, South Korea. The company expects its NAND wafer output to decrease more than 10% compared to 2018. Just like Micron, SK Hynix does not seem to have plans to lower its NAND bit production, so it will still more memory than it did last year.
Intel, which has traditionally concentrated on the enterprise part of the SSD market, has also announced this week it will reduce its NAND output in 2019. Intel did not elaborate whether it intended to reduce the number of wafer starts, or do something more radical. But regardless, the company continues to expect challenges with prices of NAND memory going forward, and is acting accordingly.
Finally, while Samsung yet has to announce its Q1 2019 results, it has already warned investors that its profits for the quarter would be down 60% compared to Q1 2018. Analysts have been attributing this to multiple factors, including demand for flagship smartphones, lower prices of DRAM and NAND memory, and other weak markets. Given that the other major memory manufacturers are all taking steps to address the current oversupply, It is more than likely that Samsung will also adjust its NAND business this year; though how they'll do so remains to be seen.
Related Reading:
Sources: Intel, SK Hynix, TrendForce, Micron/SeekingAlpha, Samsung