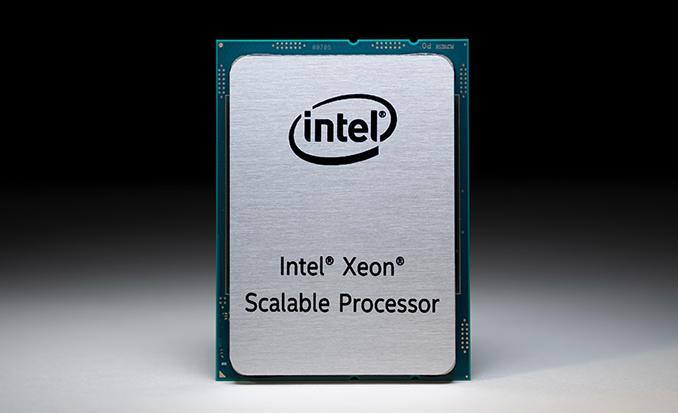 Emerging workloads will require considerably higher performance, and in order to solve upcoming challenges Intel has adjusted its product roadmaps quite significantly. One of the key things that Intel confirmed during its Investor Meeting event this week is shortening its Xeon introduction cadence from 18-24 months down to 12-15 months, thus accelerating its server CPU roadmap.
In the coming months Intel will launch two Xeon processors that will belong to the same platform: Cooper Lake CPUs made using Intel's 14 nm manufacturing technology, and Ice Lake chips produced using Intel's 10 nm node. Cooper Lake will offer high core counts and will exclusively support AVX512_BF16 (bfloat16) instructions that will benefit machine learning and near-sensor computing applications, whereas Ice Lake is set to become Intel's first Xeon made using 10 nm process technology and based on a new microarchitecture offering higher per-core performance. At present, Intel is already sampling Cooper Lake and Ice Lake processors with customers, and claims that it is on track to ship these CPUs in volumes in the first half of next year.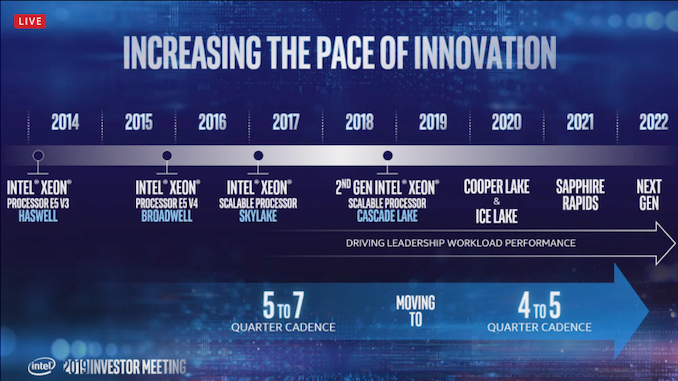 Intel will launch its Ice Lake Xeon processors around four quarters after its Cascade Lake Xeon processors, a shorter than usual timeframe between Xeon releases. According to the chip giant, this will become its new introduction cadence and going forward it will release new generations of Xeon platforms every four to five quarters, down from five to seven quarters today.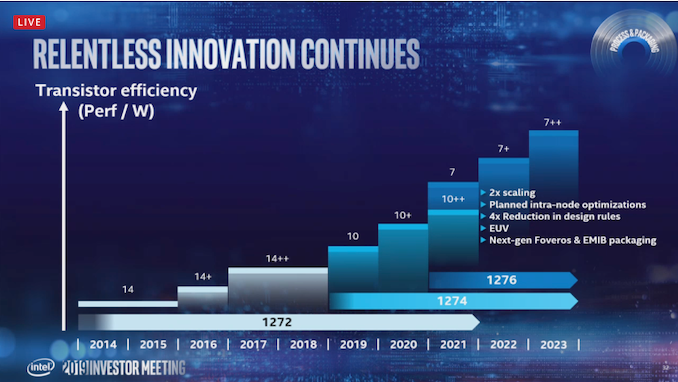 Following the Ice Lake Xeon in 2020, Intel plans to release 'Sapphire Rapids' processors for servers in 2021. These chips will likely be made using Intel's 10++ nm process technology and will rely on a new microarchitecture along with various enhancements to optimize performance in various workloads. We expect the platform to support new connectivity standards given the introduction timeframe. Meanwhile, it is too early to discuss CPU core count, platform capabilities, and other peculiarities. Following the Sapphire Rapids will come Intel's 'Next-Gen' server CPU in 2022 that may be made using a variation of Intel's 7 nm process technology, depending on how production goes.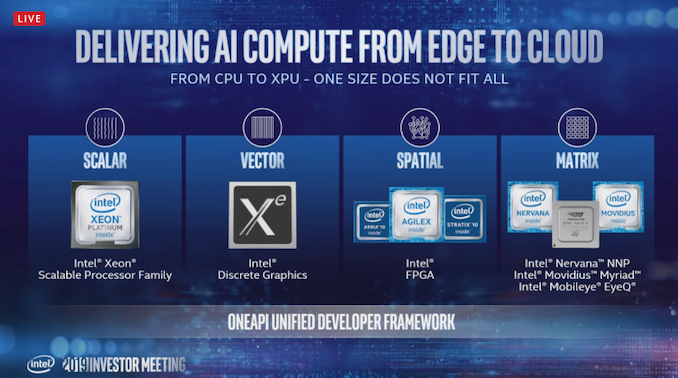 Intel's Xeon processors will continue to be the company's key components for datacenters, but there will be a host of other products for other datacenter workloads, including Xe GPUs, a variety of FPGAs and others. Having acquired or developed loads of different IP in the recent years, Intel pins a lot of hopes on its diversified product portfolio that will complement next-gen Xeons.
Related Reading:
Source: Intel