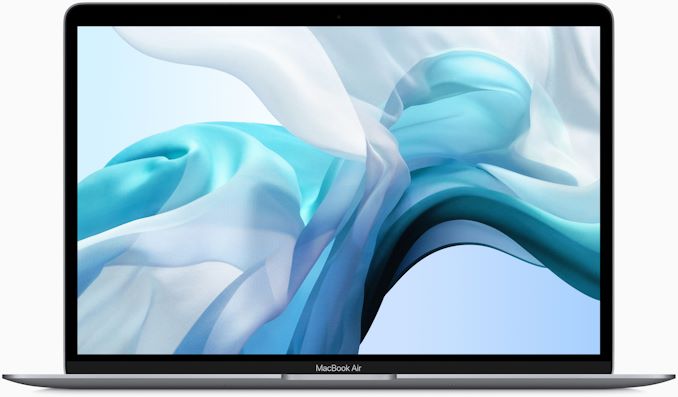 Apple on Tuesday introduced updated versions of its entry-level MacBook Air notebooks. Apple's mid-2019 MacBook Air laptops feature the company's True Tone displays and lower price tags when compared to their predecessors introduced last October. Separately, Apple discontinued its 2017 MacBook Air machines that featured previous-generation design.
Apple's mid-2019 MacBook Air notebooks come in silver, space gray as well as gold colors and are based on Intel's low-voltage 8th Gen dual-core Core i5 processor with UHD Graphics 617 (previously known as codenamed Amber Lake Y), the same chip used for late-2018 MBA models. Depending on exact configuration, the new MacBook Airs can be equipped with 8 GB or 16 GB of LPDDR3 memory as well as a 128 GB, 256 GB, 512 GB or 1 TB PCIe SSD.

The key difference between the 2018 and 2019 MacBook Air laptops is their display. The notebooks to use a 13.3-inch IPS panel featuring a 2560x1600 resolution and a 227 PPI pixel density. Meanwhile, the new machines support True Tone technology that automatically adjusts white balance depending on the surrounding environment and lighting.
Other notable features of Apple's latest-generation MacBook Air notebooks include two Thunderbolt 3 ports, 802.11ac + Bluetooth 4.2 controller, a large trackpad, the Apple T2 chip, Touch ID fingerprint reader, and everything else that you come to expect from a modern mobile PC.
Traditionally, Apple's MacBook air are among the thinnest and lightest notebooks around at 1.56 cm z-height as well as 1.25 kilograms. Because Apple's MacBook Air uses Intel's low-power CPU and comes with a 49.9 Wh battery, it can work on one charge for up to 12 hours, which is longer when compared to 13.3-inch MacBook Pro machines.
MacBook Air Specifications
Model
2019 (Base)
2018 (Base)
2017 (Base)
Dimensions
0.41 - 1.56 cm x 30.4 cm x 21.2 cm
0.30 - 1.7 cm x 32.5 cm x 22.7 cm
Weight
2.75 lbs (1.25 kg)
2.96 lbs (1.35 kg)
CPU
1.6 GHz (3.6 GHz Turbo)
Core i5
2 CPU Cores
1.8GHz (2.9GHz Turbo)
Core i5-5350U
2 CPU Cores
GPU
Intel UHD Graphics 617
Intel HD Graphics 6000
Display
13.3-inch 2560x1600 IPS LCD
DCI-P3 with True Tone
13.3-inch 2560x1600 IPS LCD
DCI-P3
13.3-inch 1440x900 TN LCD
Memory
8GB LPDDR3-2133
8GB LPDDR3-1600
SSD
128GB PCIe SSD
128GB PCIe SSD
I/O
2x USB 3.1 Type-C
w/Thunderbolt 3
3.5mm Audio
Touch ID
2x USB 3.0 Type-A
1x Thunderbolt 2
SDXC Card Reader
3.5mm Audio
Battery Capacity
49.9 Wh
50.3 Wh
54 Wh
Battery Life
12 Hours
12 Hours
Price
$1099
$1199
$999
In a bid to make its MacBook Air laptops more popular, Apple slashed price of the entry-level model by $100 and from now on it will be available for $1,099 (down from $1,199 previously). In addition, qualifying students in the USA can get the new MBA starting at $999.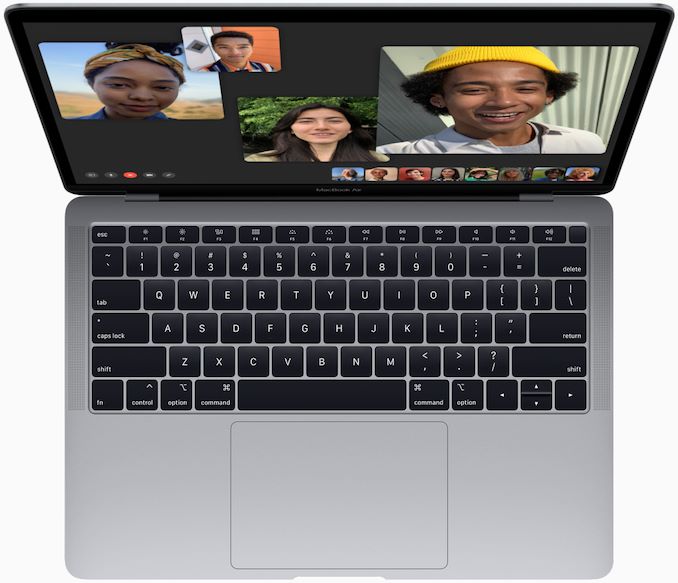 Related Reading:
Source: Apple