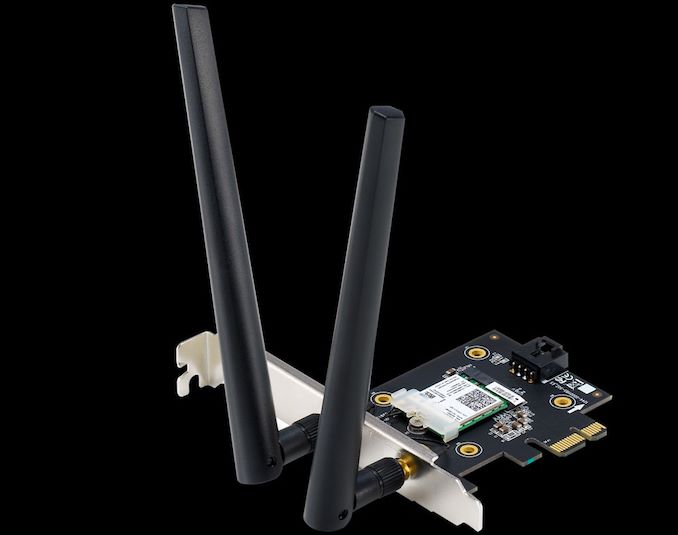 ASUS has introduced one of the industry's first Wi-Fi 6 cards for desktops. The ASUS PCE-AX3000 dual band PCIe 3.0 x1 adapter promises to provide up to 2.4 Gbps data transfer rates over 160 MHz channels when used with an appropriate router.
The ASUS PCE-AX3000 card is essentially an adapter carrying an M.2-2230 Wi-Fi 6 card for laptops. The actual radio that powers the card is unknown, however it supports all key features of the Wi-Fi 6 specification, including 2.4 GHz and 5 GHz bands, 80 MHz and 160 MHz channels, MU-MIMO, OFDMA (Orthogonal Frequency-Division Multiple Access) for allowing different devices to be served by one channel, and WPA3. Besides Wi-Fi 6, the card also supports Bluetooth 5.0 technology allowing desktops to connect to various mobile and peripheral devices.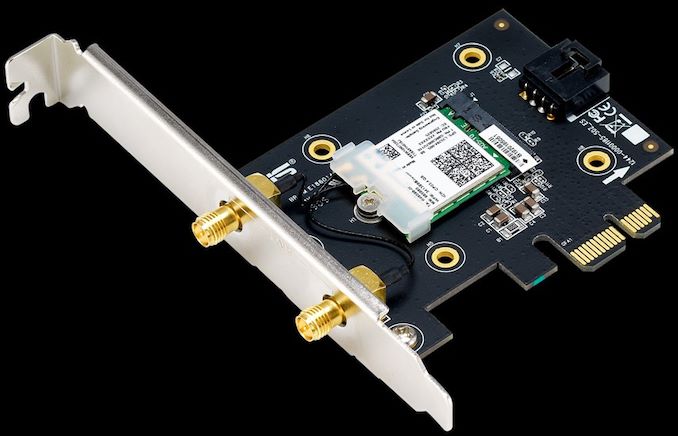 The PCE-AX3000 Dual Band PCI-E Wi-Fi 6 has two large antennas to ensure strong signal and fast connectivity in various situations. The adapter should be compatible with all existing desktops that use Windows 10 (64-bit) or Linux.
UPDATE 11/20: The card appears to be based on Intel's AX200 Wi-Fi 6 solution CNVi solution and therefore requires an appropriate Intel platform.
Numerous modern laptops feature Wi-Fi 6, providing higher performance in crowded networks, but not everything is that rosy with desktops as Wi-Fi 6 adapters for desktops are practically nonexistent. Luckily, with products like the ASUS PCE-AX3000, 2.4 Gbps connectivity will now be available for desktop computers too.
Related Reading:
Source: ASUS (via Hermitage Akihabara)