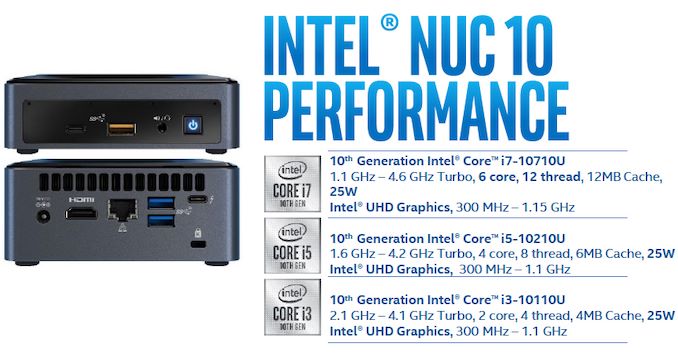 Intel has officially confirmed plans to release its NUC10 'Frost Canyon' ultra-compact form-factor PCs with mobile Comet Lake processors. The main selling point of the systems will be CPUs with up to six x86 cores as well as support for up to 64 GB of DDR4 memory, offering the laptop platform in a pint-sized desktop form factor.
Intel's NUC 10 'Frost Canyon' lineup is based on Intel's 10th Generation Core i3-10110U/i5-10210U/i7-10710U processors with two, four, or six cores, as well as UHD Graphics. The NUC family will include three base versions: the slim NUC10FNK with an M.2 slot for SSDs, the taller NUC10FNH with a 2.5-inch bay and an M.2 slot, as well as the NUC10FNB motherboard enabling third parties to build clones of the Frost Canyon in different chassis. In total, Intel will offer over 20 different NUC 10 SKUs (PCs, kits, boards), offering different specifications, level of performance and pricing. All systems will use CPUs featuring a configurable TDP-up of 25 W and therefore the processors will work at higher Turbo clocks all the time granted that they will be cooled using an active cooling system.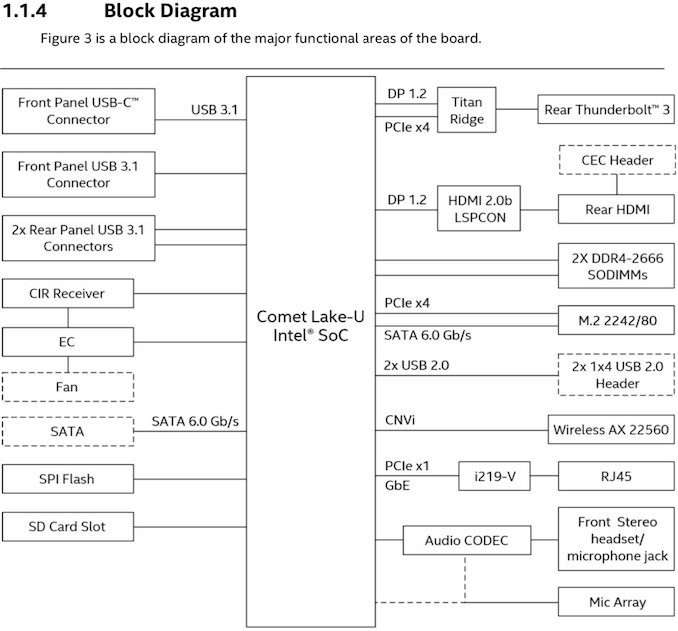 The Intel NUC 10 platform will have a Thunderbolt 3 port controlled by Intel's Titan Ridge chip, USB 3.2 Gen 2 and USB 2.0 Type-A ports, GbE, HDMI, and the usual audio connectors. As an added bonus, the Frost Canyon NUC PCs are also equipped with far-field microphones supporting Amazon's Alexa and Microsoft's Cortana assistants.
With rather powerful processors and sophisticated connectivity, Intel's Frost Canyon UCFF PCs look very potent for various applications except gaming as Intel's UHD Graphics can barely satisfy those who play demanding titles. Good news is that the systems feature a Thunderbolt 3 port that can be used to connect an external graphics box, but the latter tend to be rather expensive.
Intel's NUC 10 will be available in the coming weeks. Prices have not yet been published.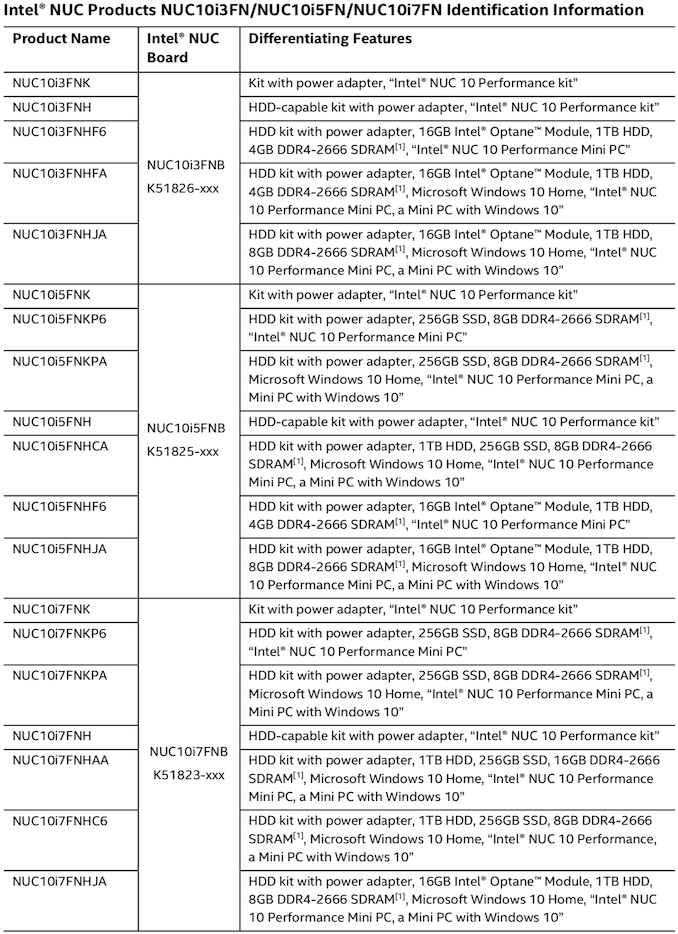 Related Reading:
Source: Intel (Thanks to SH for the tip)