For the launch of the first GF100-based video cards – the GTX 480 and GTX 470 – NVIDIA sent over a 3 card reviewer's kit containing two GTX 480s and a single GTX 470. This allowed us to do SLI testing with the GTX 480 (a money-is-no-object setup) but not with NVIDIA's significantly cheaper GTX 470. As part of a comprehensive SLI & CrossFire guide we're working on for next month we needed a second GTX 470 for testing GTX 470 SLI operation, and MSI answered our call with their N470GTX.
Today we'll be taking a look at MSI's GTX 470. We'll also be taking a sneak-peek of our forthcoming SLI/CF guide with a look at GTX 470 SLI performance.
| | | | | | |
| --- | --- | --- | --- | --- | --- |
| | GTX 480 | GTX 470 | GTX 465 | GTX 460 1GB | GTX 285 |
| Stream Processors | 480 | 448 | 352 | 336 | 240 |
| Texture Address / Filtering | 60/60 | 56/56 | 44/44 | 56/56 | 80 / 80 |
| ROPs | 48 | 40 | 32 | 32 | 32 |
| Core Clock | 700MHz | 607MHz | 607MHz | 675MHz | 648MHz |
| Shader Clock | 1401MHz | 1215MHz | 1215MHz | 1350MHz | 1476MHz |
| Memory Clock | 924MHz (3696MHz data rate) GDDR5 | 837MHz (3348MHz data rate) GDDR5 | 802MHz (3208MHz data rate) GDDR5 | 900MHz (3.6GHz data rate) GDDR5 | 1242MHz (2484MHz data rate) GDDR3 |
| Memory Bus Width | 384-bit | 320-bit | 256-bit | 256-bit | 512-bit |
| Frame Buffer | 1.5GB | 1.25GB | 1GB | 1GB | 1GB |
| FP64 | 1/8 FP32 | 1/8 FP32 | 1/8 FP32 | 1/12 FP32 | 1/12 FP32 |
| Transistor Count | 3B | 3B | 3B | 1.95B | 1.4B |
| Manufacturing Process | TSMC 40nm | TSMC 40nm | TSMC 40nm | TSMC 40nm | TSMC 55nm |
| Price Point | $499 | ~$300 | $249 | $229 | N/A |
MSI's N470GTX is a reference-derived GeForce GTX 470 that's largely – but not exactly – similar to the reference GTX 470. Clocked at the reference clocks of 607MHz core, 1215MHz shader, and 837MHz (3348MHz data rate) memory, the stock performance of the card is identical to the reference design. This also extends to cooling, where the card uses the reference GTX 470 cooler, and in terms of display capabilities with the card using the NVIDIA-standard 2xDVI + 1x HDMI configuration.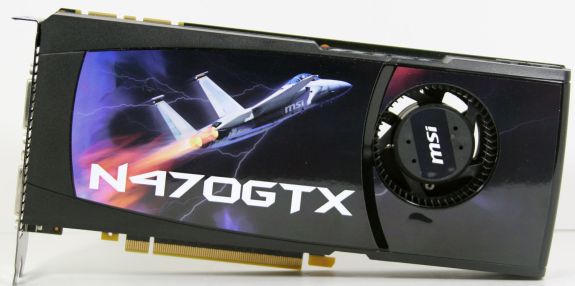 In terms of hardware, the biggest difference is the choice of component selection. MSI advertises this card of being part of their "Military Class" program, signifying that it uses solid state capacitors, chokes, and Hi-c (Tantalum) capacitors where appropriate. In practice the reference design already uses these types of components, however not in the number that MSI does. On our NVIDIA reference card there are a few locations for choke that were left open, whereas MSI has filled these locations with chokes.
With only minor differences for the hardware, the bigger differentiating feature for the N470GTX is the software. As is the case with the rest of their cards, MSI bundles the N470GTX with their dynamic duo of overclocking tools: Afterburner and Kombustor.
Afterburner is MSI's Rivatuner-based overclocking and monitoring suite, and a wonderful tool altogether. Going beyond straightforward overclocking controls, graphing, and an OSD, the most unique feature in Afterburner is that it offers support for voltage control on most of MSI's cards, allowing for greater overclocking potential than what can be achieved on stock voltage alone. In the case of the GTX 470, MSI even enables overvolting support on non-MSI cards by allowing overvolting to be used with any reference-alike cards using the same VRMs as the N470GTX. This is a particularly generous move on MSI's behalf, as it would be trivial to limit this feature to just MSI cards.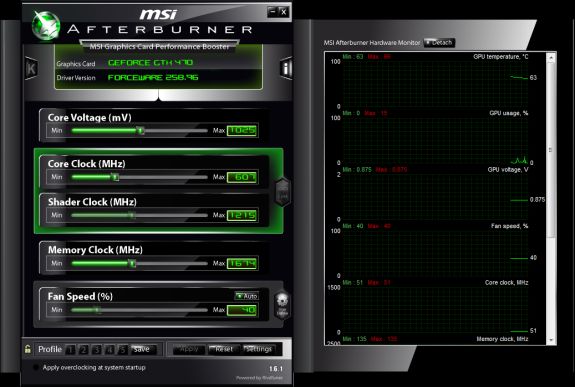 Meanwhile Kombustor is MSI's FurMark-based load testing utility. In practice it's virtually identical to FurMark, replacing FurMark's furry donut with a furry version of the MSI logo.
The other significant piece of software included in the package is a voucher from NVIDIA and Capcom for one of 3 Capcom games: Street Fighter IV, Resident Evil 5, or Dark Void. The voucher is in lieu of a specific pack-in title, which is an interesting take on the pack-in game concept. Pack-in games can be hit & miss depending on whether you like the game or not, so a voucher is a much more interesting way to go about things, as it lets the buyer pick from a variety of games. The downside of course is that you'll need a broadband connection to download the game since it's delivered purely as a downloadable title rather than having any kind of disc packed-in.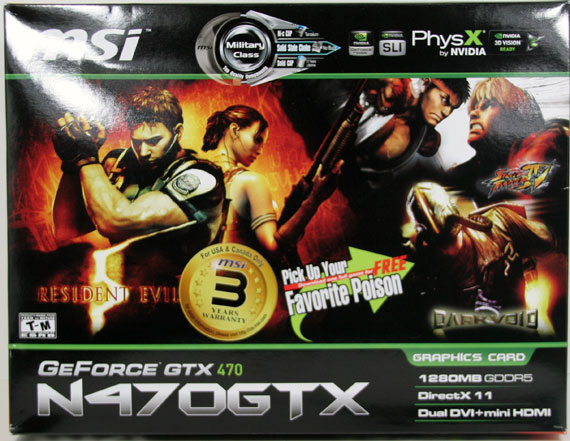 Rounding out the package is the usual collection: a driver/utility CD, a multilingual quick-start guide, 2 molex-to-6pin PCIe power adaptors, a DVI-to-VGA adaptor, and a DVI-to-HDMI adaptor. The warranty on the card is 3 years.
As of this writing, Newegg has the card listed at $299 with a $20 mail-in rebate from MSI. Depending on your feelings towards MIRs, this is either some $30 below the GTX 470 MSRP of $330 a few short weeks ago, or at $280 approaching the price of the cheapest Radeon HD 5850s. NVIDIA and MSI have done a great job of being price competitive here, and as a result the N470GTX is priced only a stone's throw away from the 5850 while being appreciably faster and including a free game at a time when most 5850s do not.