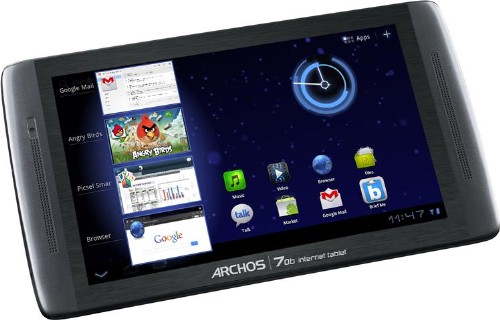 In our review of the Kindle Fire, we called it the best $199 tablet on the market, but Archos has given us a reason to reconsider that statement with their new 70b IT, the first Honeycomb tablet with an MSRP of less than $200. The IT stands for "Internet Tablet", and this is Archos' 8th generation internet tablet device.
The 70b IT is comes relatively feature packed, with your two Benjamins buying a 7" 1024x600 capacitive touch screen, 8GB of NAND storage on board, Honeycomb 3.2, 512MB RAM, an HDMI out, and Archos' multimedia suite. Conspicuously absent from the press blast is any mention of the SoC, with the Archos spec sheet only telling us that there's a 1.2GHz processor under hood. Archos' larger G9 Turbo tablets are running TI's OMAP 4 SoCs clocked at 1.2GHz as well (interestingly enough, the Kindle Fire also runs OMAP 4), so that's a distinct possibility, but without more details (core count, GPU?) it's pointless to speculate. The display can't match the 1280x800 resolution of the Toshiba Thrive 7", but given the targeted price point, it's an understandable concession to make.
We haven't gotten an opportunity to take a thorough look at Archos tablets in the past, but that should change at CES next week when we'll go hands on with Archos entire tablet lineup, including the 70b IT, the G9 Turbo 80 and 101, as well as the upcoming Ice Cream Sandwich update for the G9. Post-CES, we'll follow up with full review on the 70b IT, which looks to push Honeycomb into the mainstream.