LG, recently, has been in a pretty uncertain place in the smartphone world. It's been a long while since it had a relevant high end Android device, especially in the US market. The low end Optimus T and it's stateside variants have succeeded in delivering a solid entry level Android experience, but in terms of headlining devices, they've been a little short. The Optimus 2X and G2x made a decent splash, and the G2x was probably LG's last true hit in the US market. Since then, the Optimus 3D hit the US market as the Thrill to a relatively lukewarm reception, and LTE devices like the Revolution, Spectrum, and Nitro have been similarly neglected by the market. Mostly, the problem has been twofold: mediocre hardware design, and rather poor software builds, both in terms of UI as well as stability. LG's Froyo and Gingerbread skins were ugly, clunky, and generally among the worst I saw from a major handset manufacturer at the time, and many devices (including the Revolution and, surprisingly, the G2x, even though it ran a nearly stock Android UI) were plagued by unstable software builds and infrequent update intervals.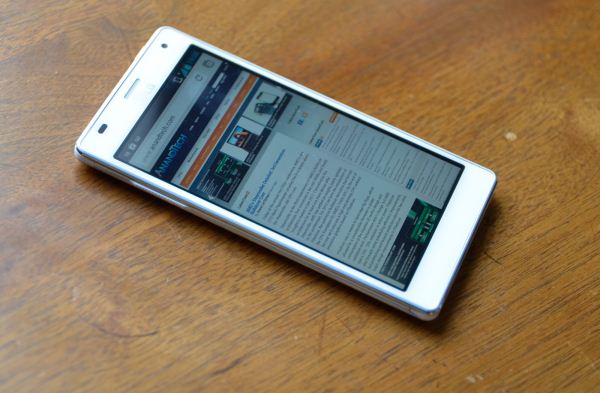 So with all that in mind, this release cycle is very important for LG to re-establish itself as a maker of high-end Android phones, competing on the razor-edge of market share and mindshare with the HTCs and Samsungs of the world. Thus arrives the Optimus 4X HD, the flagship of LG's new lineup, a device expected to go head to head with the international versions of the HTC One X and Samsung Galaxy S III. It comes with high expectations and a spec list to match - 1.5GHz Tegra 3 quad-core, 4.7" 720p display with an IPS LCD panel, 1GB of LPDDR2 RAM, 16GB of NAND storage (expandable via microSD), an 8MP camera with 1080p video recording, and a massive 2150mAh, 3.8V battery (8.2 Wh, or 8.17 if you do the math yourself.)
Physical Comparison
LG Optimus 4X HD
Samsung Galaxy Nexus HSPA+
Samsung Galaxy S3
HTC One X
Height

132.4

mm (5.21")
135.5 mm (5.33")
136.6 mm (5.38")
134.8 mm (5.31")
Width

68.1

mm (2.68")
67.94 mm (2.67")
70.6 mm (2.78")
69.9 mm (2.75")
Depth
8.9 mm (0.35")
8.94 mm (0.35")
8.6 mm (0.34")
8.9 mm (0.35")
Weight
133 g (4.7 oz)
135 g (4.8 oz)
133 g (4.7 oz)
129 g (4.6 oz)
CPU
1.5 GHz Tegra 3 Quad-Core Cortex A9
1.2 GHz TI OMAP 4460 Dual-Core Cortex A9
1.5 GHz Exynos 4412 Quad-Core Cortex A9
1.5 GHz Tegra 3 Quad-Core Cortex A9
GPU
Nvidia GeForce ULP
PowerVR SGX 540
ARM Mali400MP4
Nvidia GeForce ULP
RAM
1 GB LPDDR2
1 GB LPDDR2
1 GB LPDDR2
1 GB LPDDR2
NAND
16 GB NAND with up to 32 GB microSD
16 GB NAND
16/32/64 GB NAND with up to 32 GB microSD
32 GB NAND
Camera
8 MP with AF/LED Flash, 1.3 MP front facing
5 MP with AF/LED Flash, 1.3 MP front facing
8 MP with AF/LED Flash, 1.9 MP front facing
8 MP with AF/LED Flash, 1.3 MP front facing
Screen
4.7" 1280 x 720 IPS LCD-TFT
4.65" 1280x720 SAMOLED HD
4.8" 1280x720 SAMOLED HD
4.7" 1280 x 720 LCD-TFT
Battery
Removable 8.17 Whr
Removable 6.48 Whr
Removable 7.77 Whr
Internal 6.66 Whr
The Optimus 4X HD, One X, and Galaxy S III all have quad-core A9 SoCs, large 720p displays, and sit at the very top of each manufacturer's respective Android 4.0 lineup. It's also interesting to note that at present, none of these three are available in the US in their quad-core international forms. Both HTC and Samsung have gone with 28nm Qualcomm dual-core CPUs and LTE/DC-HSPA+ modems with the American versions of the One X and SGS3, and it's not currently clear when or in what form the Optimus 4X HD will reach the US. So let's focus on the international version that we have here. LG dropped off the O4X HD at my house four days before I flew to India for a month-long vacation. I left my trusty Galaxy Nexus at home (a decision I regretted later because it deprived me of the chance to play with Jelly Bean) and brought along the Optimus to see how it fared as a standalone travel companion. My biggest question going in was whether or not LG had finally turned around their history of software woes, and if the included software build could keep up with the admittedly stellar hardware on tap. I ended up being pleasantly surprised, but we'll get there in time. First up - the design.