Introducing the Rosewill Line-M
Vendors are always very quick to send us their biggest, best, and brightest. Rosewill's own top-selling Blackhawk Ultra has been with us for a little while, but while we rework our testbed for high end cases, we thought it might be worth looking at one of the workhorses in Rosewill's stable. Looking at enthusiast kit is fun, but it's interesting to see what's floating around in the budget sector, too, as many of us are often on the hook to build and maintain desktops for family and friends. With that in mind, we requested the micro-ATX Rosewill Line M.
While the Line M is worth checking out in its own right as a compact, $55 case with USB 3.0 connectivity, it also highlights a disparity in the current industry: Micro-ATX motherboards are still incredibly common, but case designs are stratifying within two extremes. Full ATX and larger cases are going stronger than ever, but the smaller case designs have largely been usurped by Mini-ITX. There's still a place in the world for a good Micro-ATX client, though, and we think the Line-M might just help deliver it.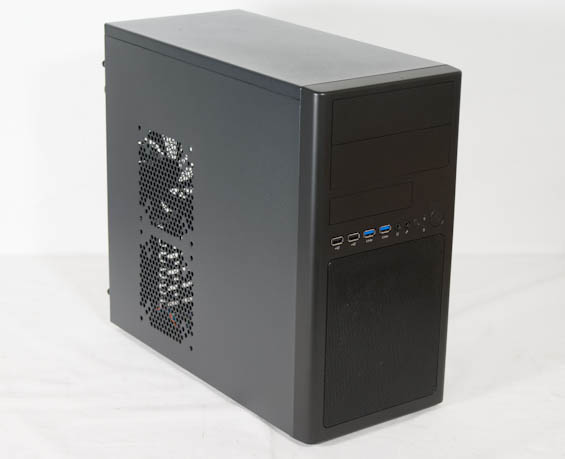 It's only fitting that just as I'd tweaked the case testbed to handle Micro-ATX and ATX cases with a single bed, Micro-ATX cases started to vanish from the market. That's a shame, because I'm not really convinced there isn't a place for Micro-ATX in the current market. It's true that for many builds even Mini-ITX will be adequate, but that form factor precludes multi-GPU or ever adding any expansion cards (I have a personal, persisting need for FireWire.) I'm a prime candidate for Micro-ATX, but there just aren't very many compelling cases out there in the form factor.
That's part of why I wanted to check out the Line-M. This is pretty clearly a workhorse enclosure, but as a long time proponent of some of Cooler Master's Elite chassis I have a continuing interest in good budget enclosures. The Line-M was kind of quietly tucked away in Rosewill's suite at CES 2013, but I felt like its older style ATX design might still have plenty to recommend it. As it turns out, I was right.
Rosewill Line-M Specifications
Motherboard Form Factor
Mini-ITX, Micro-ATX
Drive Bays
External
2x 5.25", 1x 3.5"
Internal
1x 2.5", 2x 3.5"
Cooling
Front
1x 120mm blue LED intake fan
Rear
1x 120mm exhaust fan
Top
-
Side
2x 120mm/92mm fan mount
Bottom
-
Expansion Slots
5
I/O Port
2x USB 3.0, 2x USB 2.0, 1x Headphone, 1x Mic
Power Supply Size
ATX
Clearances
HSF
160mm
PSU
160mm
GPU
300mm
Dimensions
7.29" x 14.37" x 15.74"
185mm x 365mm x 400mm
Weight
8.82 lbs / 4 kg
Special Features
USB 3.0 via internal header
Price
$55
You can see from the spec table that the Rosewill Line-M is pretty spare. This is most definitely, most definitely a budget enclosure. Construction is fairly thin SECC steel with a plastic fascia and the whole thing is as barebones as it gets. But realistically, basic users aren't going to need more than what Rosewill has on offer here, and they at least made an allowance for an SSD mount.