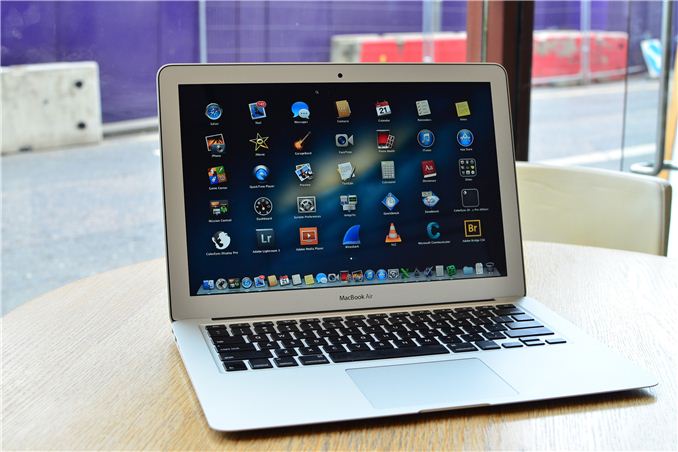 This morning Apple announced its 2014 MacBook Air refresh. With Intel's 14nm Broadwell SoC delayed, this mid-cycle update still uses Haswell ULT parts. The chassis and internal specs haven't changed, however the base CPU gets a slight speed bump. The 1.3GHz Core i5-4250U is replaced by a 1.4GHz Core i5-4260U. The extra 100MHz won't change much, you can expect a 0 - 3% increase in performance compared to last year's entry level model. The upgraded CPU option hasn't changed, and Apple continues to accept nothing less than Intel's HD 5000 (Haswell GT3) on any of its MBAs.
Apple 2014 MacBook Air CPU Comparison
1.4GHz dual-core
1.7GHz dual-core
Standard On
11 & 13-inch MBA
Optional on Both
Intel Model
Core i5-4260U
Core i7-4650U
Base Clock Speed
1.4GHz
1.7GHz
Max SC Turbo
2.7GHz
3.3GHz
Max DC Turbo
2.4GHz
2.9GHz
L3 Cache
3MB
4MB
TSX-NI
No
Yes
TXT
No
Yes
AES-NI
Yes
Yes
VT-x/VT-x EPT
Yes
Yes
VT-d
Yes
Yes
TDP
15W
15W
Processor Graphics
Intel HD 5000
Intel HD 5000
GPU Clock (Base/Max)
200/1000MHz
200/1100MHz
The bigger news is that, hot on the heels of a solid financial quarter, Apple is dropping all MBA prices by $100. The entry level 11.6-inch system now starts at $899. I suspect Apple is making room for an eventual MacBook Air with Retina Display. That design is expected to be a launch vehicle for Intel's Broadwell, but it's unclear how Intel's 14nm delays will impact the schedule for that product.
2014 MacBook Air Refresh
11.6-inch
11.6-inch (high-end)
13.3-inch
13.3-inch (high-end)
Dimensions

H: 0.11-0.68" (0.3-1.7cm)
W: 11.8" (30cm)
D: 7.56" (19.2cm)

H: 0.11-0.68" (0.3-1.7cm)
W: 12.8" (32.5cm)
D: 8.94" (22.7cm)

Weight
2.38 lbs (1.08kg)
2.96 lbs (1.35kg)
CPU
1.4GHz dual-core Core i5
1.4GHz dual-core Core i5
GPU
Intel HD 5000
RAM
4GB LPDDR3-1600
SSD
128GB PCIe SSD
256GB PCIe SSD
128GB PCIe SSD
256GB PCIe SSD
Display Resolution
1366 x 768
1440 x 900
Ports
Thunderbolt, 2x USB 3.0, headphone jack
Thunderbolt, 2x USB 3.0, SD card slot, headphone jack
Networking
2x2:2 802.11ac
2x2:2 802.11ac
Battery
38 Wh
54 Wh
Price
$899
$1099
$999
$1199
I was a fan of the 2013 MBA, and this price drop only makes the system more accessible. Unless you're holding out for a model with a Retina Display, the refresh is still a great buy.