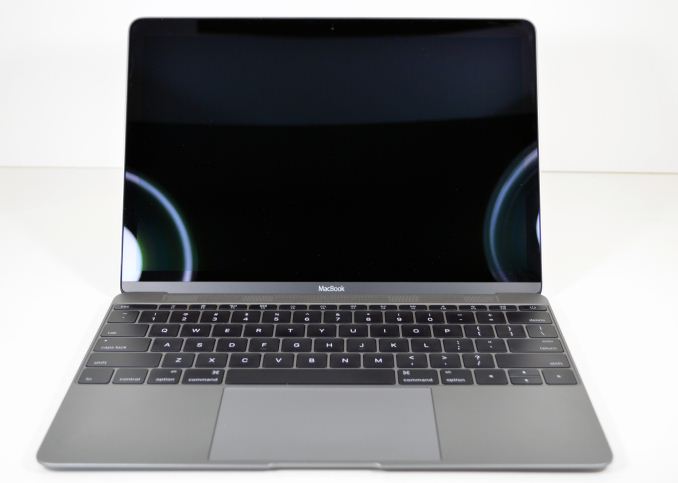 The ever-excellent crew over at iFixit completed their initial teardown of the Early 2015 MacBook yesterday, creating some very nice shots of the Mac's little logic board in the process. However not stopping there the crew also detached the SSD controller from the board, giving us our best look yet at what we strongly believe to be an Apple-built semi-custom or fully-custom SSD controller.
On the logic board itself, we can see that iFixit's sample is equipped with Toshiba MLC NAND, 128GB per side, one package per side. However of greater interest is the chip bordered in orange, which based on the fact that it has multiple markings we believe to be the SSD controller, assembled in a Package-On-Package (PoP) fashion. The number we can decode is a part number for a 512MB Hynix LPDDR3 memory module; the other number we cannot decode at this time.
Multiple markings in this fashion is a tell-tale sign of a PoP chip, and having the SSD controller and its DRAM on-package with each other and located right next to the NAND chips makes a ton of sense, especially in such a cramped design. That said, while it means we can't directly access the SSD die, it also confirms that this is not a strictly off-the-shelf SSD controller since someone had to go through the extra step of PoPing it.
Meanwhile having detected the chip from the logic board, we can see the underside of the chip, which has additional markings. At this time we are unable to decode the part number, 338S00055, though based on the location and PoP design we believe it to be the SSD controller. Otherwise the fact that it doesn't match any other SSD controller part numbers is yet another clue that Apple had some kind of hand in developing the SSD controller.
Apple in traditional fashion is mum on the whole matter, but we'll keep digging to see what else we can uncover about this unexpected surprise in their latest laptop.
Source: iFixit