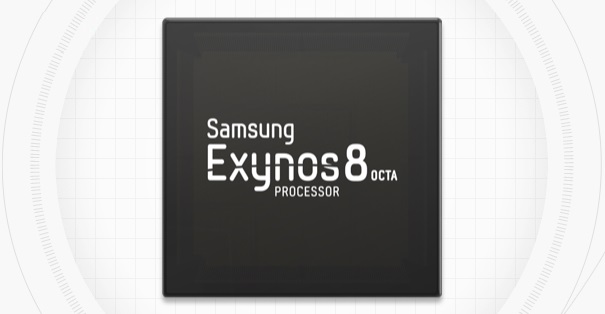 In an unexpected and surprise annoucement, Samsung today revealed its new generation flagship SoC - the Exynos 8. The Exynos 8890 to be more specific, is the successor to the Exynos 7420 that we've come to know very well in this year's Galaxy flagships such as the Galaxy S6 or the Note5.
The Exynos 8890 is still an 4+4 big.LITTLE design using four Cortex A53 cores in the little cluster, but on the big cluster we see for the first time Samsung's own custom developed CPU architecture deployed in silicon. The new core, officially called the Exynos M1, is the first fruit of years-long efforts by Samsung's Austin R&D Center to try to create an in-house CPU architecture. What we do know of the M1 is that it's still very similar to ARM's big core architectures (And thus might be a derivative) such as the A72: It's still a 3-wide OoO design with the same amount of execution pipelines and similar, although not quite identical pipeline stages on the execution units.
Samsung is claiming the Exynos 8890 will provide up to 30% higher performance and 10% better power efficiency than the Exynos 7420's - although the wording is a bit vague and doesn't specify if we're talking about a pure architectural comparison or actual implementation comparison, as previous PR numbers on the Exynos 7420 also didn't quite represent the full improvements of the chipset.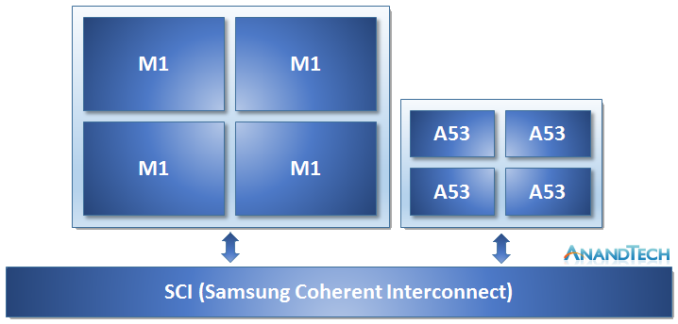 Samsung follows MediaTek's example by dropping the use of ARM's CCI IP in favour of designing their own cache-coherent interconnect fabric aptly named SCI (Samsung Coherent Interconnect). It seems that vendors are keen to try to improve their SoC architectures by designing fully optimized SoC fabric solutions and I guess Samsung saw the need to differentiate in this regard.
On the GPU side, we see usage of an ARM Mali T880MP12. This is the biggest Mali core implementation to date and increases the number of cores by 50% compared to the Exynos 7420's MP8 configuration. Keeping in mind that the T880 also increases ALU pipelines per core by 50%, we're looking at a 2.25x increase in computational power assuming Samsung kept the clock frequencies equal. Alternatively, they could go lower in frequency for much improved power efficiency. Samsung advertises 4K as an option for this SoC so likely we're looking at a very powerful GPU setup.
Lastly, but not least, is the announcement that the Exynos 8890 is part of Samsung's ModAP lineup, meaning this is a part with a modem. The new modem supports LTE Category 12 download speeds with up to 3x carrier aggregation up to 600Mbps or uploads speeds up to 150Mbps on Cat. 13 with CA. This effectively makes the new Shannon modem on the 8890 equal Qualcomm's Snapdragon 820 modem capabilities. Until further future confirmation on the matter, I fail to use the "integrated" word in regards to the modem due to Samsung's new product page presenting a graphic representing the modem/AP in a way that seems strikingly similar to a SiP (System-in-Package) solution, as opposed to an on-die solution.
The Exynos 8890 is announced to enter mass production in late 2015. With just six weeks left in the calendar year this likely means we're already seeing silicon being etched as we speak, just in time for Samsung's new Galaxy flagship early next year.
Source: Press release