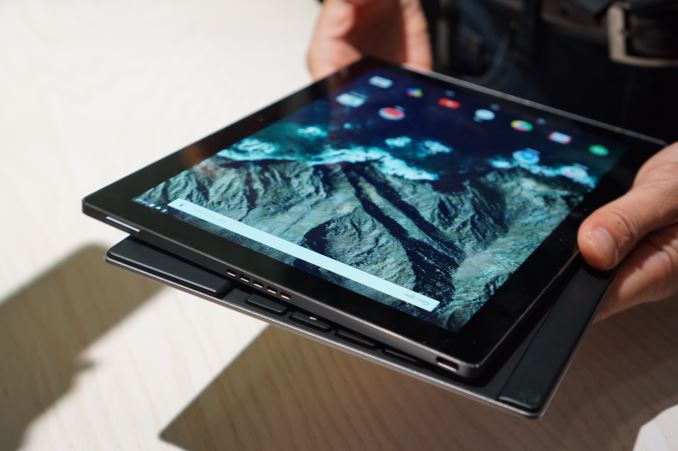 Today Google has made their Pixel C tablet available on their online store. Google announced the Pixel C at an event in September, and at the time the only thing that was known about the launch date is that it would be in time for the holidays. While Google has certainly cut it close by launching it in the second week of December, they have managed to launch the tablet in time for buyers to purchase it as a gift. Below you can view all the relevant specifications of the Pixel C.
Google Pixel C
SoC
NVIDIA Tegra X1 (4x Cortex A57 + 4x Cortex A53)
2 SMM Maxwell GPU
RAM
3 GB LPDDR4
NAND
32/64GB NAND
Display
10.2" 2560x1800 IPS LCD
1500:1 contrast
500 nit brightness
Camera
8MP Rear-facing, 2MP Front-facing
Diameter / Mass
242 x 179 x 7mm, 517 grams
Battery
34.2Wh
OS
Android 6 Marshmallow
Other Connectivity
2x2 802.11a/b/g/n/ac + BT 4.1, USB Type-C
Accessories
Google Pixel C Keyboard: $149
Price
$499/$599
Most of the Pixel C's core specifications were known at the time of the launch event in September, but today's launch comes with some additional info such as the battery capacity and amount of RAM. As we already knew, the Pixel C is powered by NVIDIA's Tegra X1 SoC, which is the first time that it's showing up in a mobile device. While we have seen Tegra X1 in the NVIDIA SHIELD TV, it'll be interesting to see how it performs in a more thermally and power constrained scenario.
Paired with the SoC is 3GB of LPDDR4 RAM and either 32GB or 64GB of NAND. As far as connectivity goes you get 2.4/5GHz 2x2 802.11ac WiFi, Bluetooth 4.1, and a USB Type-C connector. Based on what we've seen with the Nexus 5X and Nexus 6P this is likely still using the USB2 protocol, but until we review it we can't make any definitive statements.
One of the most interesting aspects of the Pixel C is its display. It's a 2560x1800 IPS panel, which has an aspect ratio that is approximately equal to the square root of 2, which happens to be the same ratio used for the A series paper used in most countries around the world. This should make the display well suited to displaying documents that have been digitized and viewing web pages, but not as good for video playback.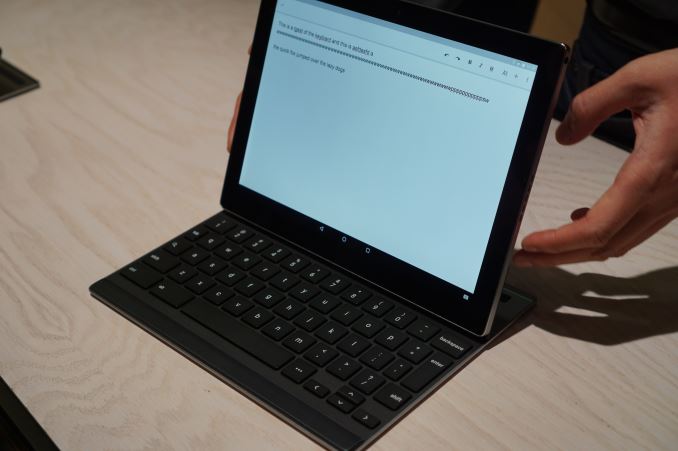 Of course, the big selling point for the Pixel C is the keyboard accessory. Like the Surface Pro 4 and the iPad Pro, the Pixel C is Google's take on a tablet that targets users who want to be productive. While I didn't have much time to play with the keyboard at Google's event, the use of magnets and the ability to set the angle of incline anywhere from 100 to 130 degrees without any sort of kickstand seemed like a very novel hinge implementation, and I'm interested to see how well it works in actual use.
The Pixel C is available now on Google's online store. Both the 32GB and 64GB models are in stock and ship within a few business days. As noted above, the price for the 32GB model is $499, while the 64GB model is $599. The keyboard accessory adds an additional $149 onto the base price. In Canada it seems that there aren't any available online yet, and I'll be checking to see if that status changes in the future.