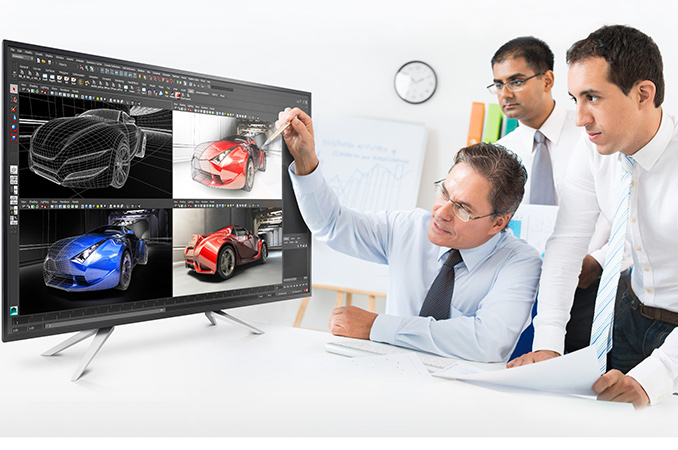 For many workloads that require a lot of on-screen space, big displays are hugely beneficial — the bigger the better. TPV Technology, the company that produces monitors under Philips brand, recently decided to go very big and introduced a new 43" display with a 3840 x 2160 resolution. While the monitor is intended mostly for prosumer workloads, its price is not too high.
Extremely large displays are generally overkill for everyday workloads, but there are industries where the workloads require more on-screen space than a single monitor can provide. For example, many engineers and financial brokers use multi-display setups to maximize their productivity and view far more info than they could on a single display. While it is impractical to substitute four, six or eight displays in control rooms or in traders' offices with fewer physical screens, engineers and designers could use one big monitor instead of two smaller ones. Philips is targeting this group of users with its Brilliance UltraClear 43" display, which is more like a television than a monitor.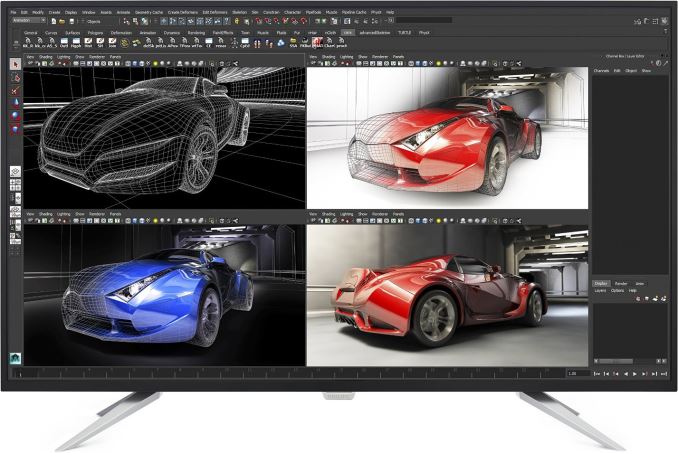 The Philips UltraClear 43" (BDM4350UC) display uses an IPS panel with a 3840 × 2160 resolution and W-LED backlighting. It has a 300 nit brightness, a 1200:1 contrast ratio, and a 60 Hz refresh rate. According to Philips, the brightness uniformity is 96~105%, which is quite good for a display of this size. Philips also includes a uniformity feature called Smart Uniformity to correct inconsistencies in the backlighting, but it's not clear how well it works in the real world or what limitations it imposes on the display modes that can be used.
Philips BDM4350UC
Panel
43" IPS
Resolution
3840 × 2160
Refresh Rate
60 Hz
Response Time
5 ms gray-to-gray
Brightness
300 cd/m²
Contrast
1200:1
Viewing Angles
178°/178° horizontal/vertical
Color Saturation
1.07 billion colours, 100% sRGB
Pixel Pitch
0.2451 mm
Pixel Density
102 ppi
Brightness Uniformity
96 - 105%
Picture-in-Picture
Up to four 1080p PiP images supported
Inputs
1 × D-Sub
2 × HDMI 2.0
2 × MHL
1 × DP 1.2
USB Hub
4-port USB 3.0 hub,
one port supports fast charging
Audio
7W × 2
Launch Price
$799.99
The UltraClear 43" comes with two HDMI 2.0 ports with MHL support, two DisplayPort 1.2 ports, and a D-Sub connector. The monitor can be connected to up to four video sources and display images from them in picture-by-picture mode. The display is also equipped with a quad-port USB 3.0 hub as well as two 7W speakers.
Just like TVs, the Philips UltraClear 43" comes with a stand that does not allow adjustment of tilt or height, which is a drawback. Fortunately, the monitor has a VESA mount, so, it should be possible to get an appropriate arm or aftermarket stand that does support this, although it will need to be able to support the display's mass and size.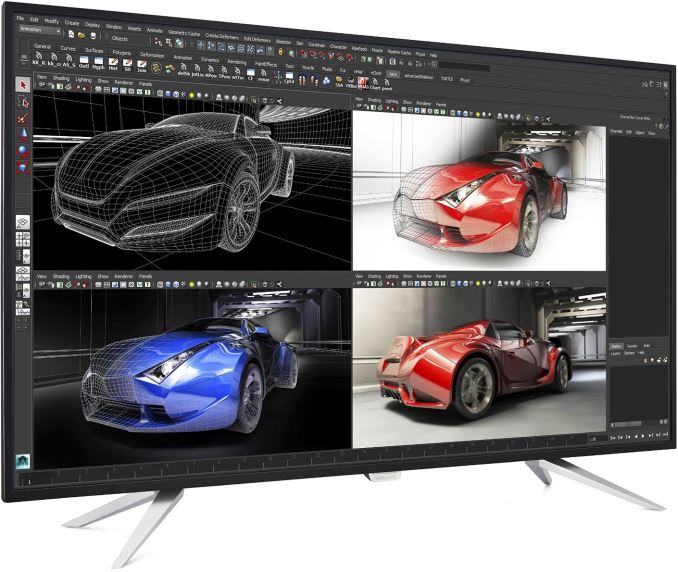 It remains to be seen whether there's a sizable market for the UltraClear 43", but for tasks like editing spreadsheets and CAD work it could be quite useful. Right now the Philips UltraClear 43" is available on Amazon for $799.99.
Source: Philips