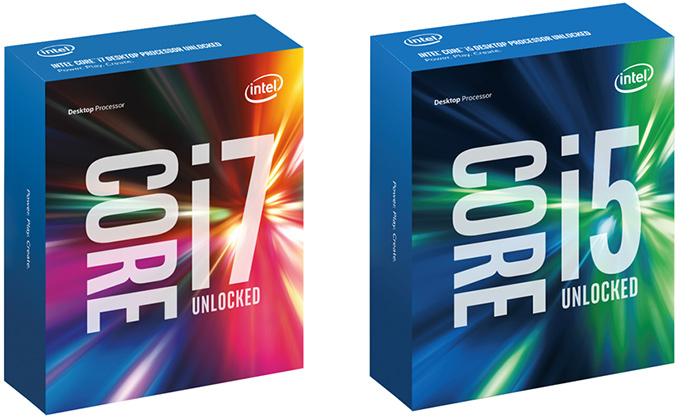 Nine months. This is how long it has taken the retail price of Intel's Core i7-6700K processor to drop to the level recommended by Intel. Despite slow sales of PCs in general, it would seem that demand for Intel's latest Skylake processors has so far been rather strong, or the chipmaker could not meet demand for many SKUs months after they were introduced. Right now, virtually all major stores in the U.S. sell Intel's latest unlocked chips at their MSRPs. Meanwhile, Intel's Core i7-5820K chip, which used to be cheaper than the Core i7-6700K for months, recently got more expensive.
Intel Core i7-6700K Finally Hits $350
Intel officially announced its most advanced quad-core desktop processor for mainstream enthusiasts, the Core i7-6700K (four cores with Hyper-Threading, 4.0 GHz/4.2 GHz, 8 MB cache, Intel HD Graphics 530 core, unlocked multiplier) in early August 2015. You can read our review here. The chip, which is positioned below the high-end desktop (HEDT) platforms, has always had an suggested retail price of $350. However, since we have been tracking the price in these short pieces, the 6700K has not only been above $350, but it was actually more expensive than the Core i7-5820K, the entry-level HEDT part from Intel. The price of the Core i7-6700K peaked in December at $420-440, then dropped slightly to $412 in February and only in April it hit $350, about eight-to-nine months after its introduction.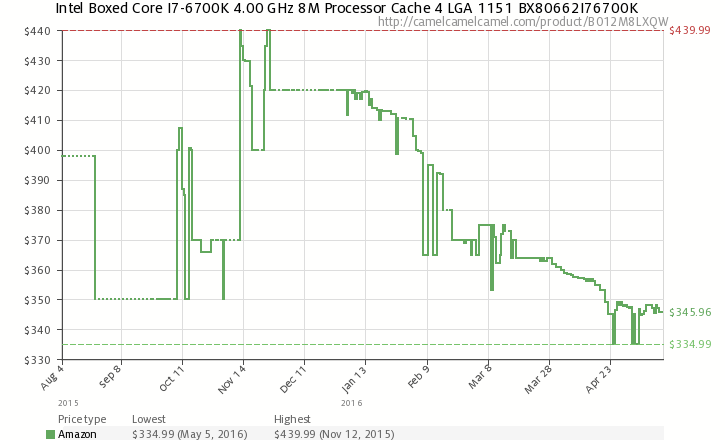 According to CamelCamelCamel, a price-tracker that monitors Amazon and its partners, the Core i7-6700K has been available for around $350 for several weeks now. At press time, the retailer charged $349.69 for the processor. At the same time, PriceZombie, which monitors Newegg, reveals that Newegg dropped the price of Intel's most advanced unlocked quad-core CPU for desktops to $349.99 in late April.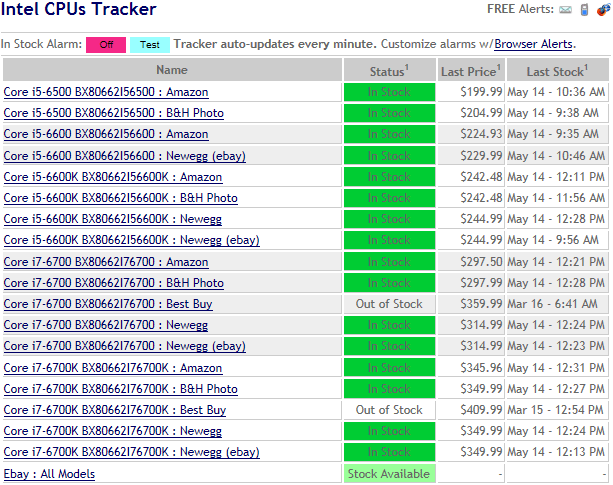 The Intel Core i7-6700K (BX80662I76700K) is currently available for around $350 or so from all major retailers in the U.S., including Amazon, B&H Photo, NCIXUS and Newegg, according to NowInStock. BestBuy lists the CPU for $409.99, but does not have it in stock at the time to press. While I have no idea if Intel is now shipping more Core i7-6700K processors than it did several months ago, it is evident that supply of the part now meets demand and retailers are no longer charging a premium for it, (at least, in the U.S).
Intel Core i5-6600K Available Starting at $242
The popularity of the Intel Core i5-6600K (four cores, 3.50 GHz/3.90 GHz, 6 MB cache, Intel HD Graphics 530, unlocked multiplier) among enthusiasts is well deserved: in most consumer situations its performance is on par with the Core i7-6700K, which costs around $100 more. Unfortunately, just like its bigger i7 brother, the i5-6600K chip was scarcely available. Due to strong demand, the Core i5-6600K was sold for $290-$330 last year, which is considerably more than its official MSPR of $243.
Right now, the Core i5-6600K (BX80662I56600K) is currently available from all major U.S. retailers for around $245 or just slightly lower. Amazon sells the CPU for $242.48, whereas Newegg charges $244.99.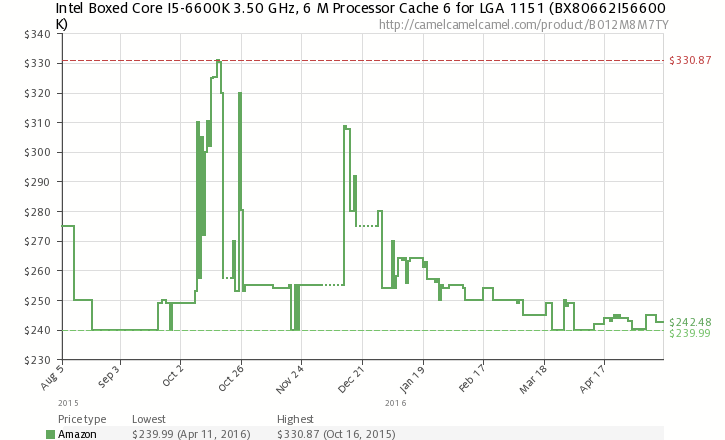 Based on data from CamelCamelCamel and PriceZombie, the price of the Core i5-6500K has been relatively stable at around $240-$245 for several weeks now. If Intel does not cut supply, or demand for the chips explodes, the price will continue to fluctuate in the same range in the coming months.
Intel Core i7-5820K Back to $389
The Intel Core i7-5820K (six cores with Hyper-Threading, 3.30GHz/3.60 GHz, 15 MB cache, unlocked multiplier) is based on the previous-generation Haswell-E microarchitecture, but with six cores, a 3.30 GHz default clock-rate, unlocked multiplier and $396 price-point, it was a very interesting product from day one. Moreover, due to strong demand for microprocessors powered by the Skylake microarchitecture, the price of the Core i7-5820K dropped to $380 in February and $349.99 in late March. Unfortunately, good things do not seem to last forever.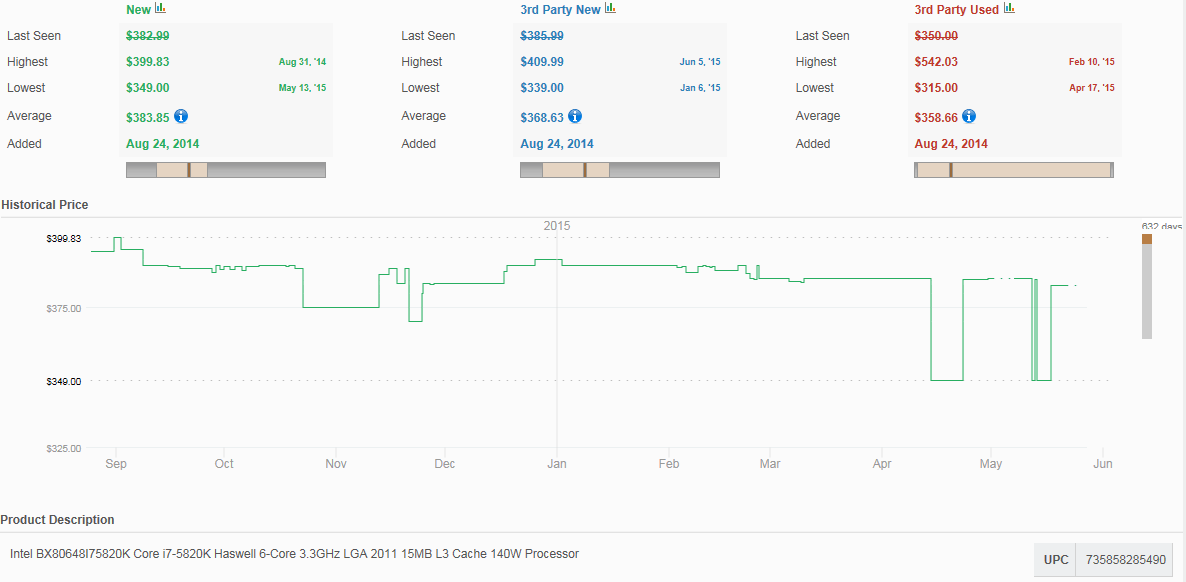 Right now, the Core i7-5820K (BX80648I75820K) costs $382.99 at Amazon and $389.99 at Newegg, which means that the chip got around 10% more expensive in under a couple of months. The reasons for the increase are unclear. Perhaps Intel started to gradually reduce shipments of its Haswell-E processors ahead of the Broadwell-E introduction later this year, or maybe demand for the smallest HEDT chip just got higher for some reason.
To use the Core i7-5820K you will need an X99-based motherboard, which on average can cost more than an Intel 100-series-based motherboards for Skylake chips, an advanced cooler to cover the 140 W CPU, and four DDR4 memory modules to maximize the available memory bandwidth. Such motherboards will support Broadwell-E processors and many of them feature modern functionality like USB-C 3.1, M.2, Thunderbolt 3 and so on. Moreover, makers of motherboards are preparing a new wave of their Intel X99-based offerings (for example, ASUS has already announced them) with further refinements. Right now, the new generation of Intel X99-based platforms is not available, but it makes a great sense to wait for such motherboards to arrive and only then buy an LGA2011 v3 processor.
In the meantime, we can only conclude that the HEDT Core i7-5820K chip is back where it should be: above the Core i7-6700K designed for mainstream enthusiasts. Perhaps, the 5820K will get cheaper in the coming weeks again, or something better comes up, but right now the Core i7-6700K is a more affordable CPU.
Intel's 14 nm Yields Are Up, Costs Are Down
As our long-time readers are aware, Intel's 14 nm process technology was a tough nut to crack for the company. Intel had to delay volume production of CPUs using this fabrication process by a year and then start with smaller chips in order to maximize yields and minimize per-unit costs. Due to higher costs and some other reasons, the ramp of 14 nm and Skylake processors took some time, which is one of the reasons why some of the socketed chips were in short supply. Nonetheless, things seem to be getting better.
Intel now uses four fabs to produce its CPUs using 14 nm process technology: D1D, D1C and D1X fabs in Hillsboro, Oregon as well as Fab 24 manufacturing facility in Leixlip, Ireland. Moreover, yields of 14 nm chips are getting better. Back in April, the company said that the Client Computing Group managed to achieve operating profit of $1.9 billion in Q1 FY2016, or 34% more than in the same period a year before, as a result of "lower 14 nm unit costs on notebooks".
"First quarter gross margin of 62.7% was approximately a point higher than our expectations, driven by lower 14 nm costs," said Stacy Smith, chief financial officer of Intel, during a conference call with investors and financial analysts.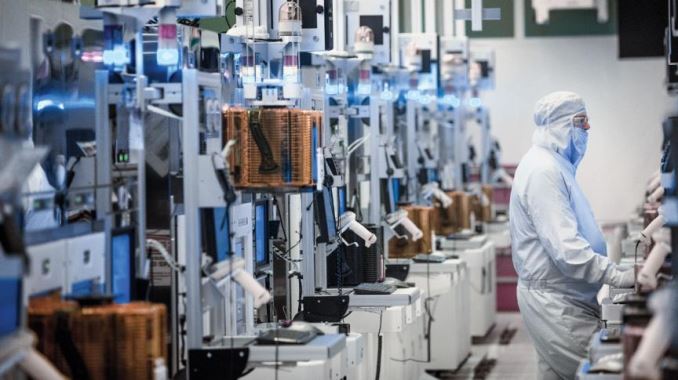 Besides this, starting late last year Intel has been producing its multi-core Xeon E5 v4 chips using the 14 nm process in volume (and even shipping them for revenue, according to Diane Bryant). Keeping in mind that multi-core chips have large dies, which are harder to produce and which are prone to more defects, production of such dies means that process technology has to be mature enough and yields are under control for suitable sales (although some premium partners will want the first ones off the line regardless of cost). Indirectly, this may mean that Intel can now also produce more unlocked desktop CPUs with high frequency, which is why such products are now widely available and retailers do not charge extra for them.
Gaming on the Rise, So Is Demand for Better Chips
Despite the fact that PC market is down in absolute volume in general, the market of gaming PC is actually expanding. Intel's Core i7-6700K and Core i5-6600K processors are primarily used for gaming systems, therefore, demand for such CPUs is strong.
"Our gaming PCs are growing at double-digit rates year-over-year," said Bryan Krzanich, chief executive officer of Intel.
Mr. Krzanich is not the only one to say that gaming PCs are on the rise and their sales do not suffer as a result of any global economic turmoil or adjustment in how users perceive the devices around them. Jen-Hsun Huang, the head of NVIDIA, recently said that people buy expensive gaming PCs regardless of any economic slowdowns, and NVIDIA's recent financial announcements, along with the enterprise products based on gaming technology, show this.
"Gaming is rather macro-insensitive for some reason. People enjoy gaming," said Mr. Huang during a conference call with investors and analysts. "Whether the economy is good or not, whether the oil price is high or not, people seem to enjoy gaming. […] Gaming is not something that people do once a month, like going out to a movie theater or something like that. People game every day, and the gamers that use our products are gaming every day."

The CEO of NVIDIA was naturally talking about the success of the GeForce GTX lineup in the Q1 of the company's fiscal 2017, but he perfectly indicated the behavior of those who buy gaming PCs with high-performance graphics cards and processors in general. These people spend regardless of global economic trends and they tend to get whatever is needed to hit their performance targets (i.e., framerate in their favorite games). While this means that companies like Intel, NVIDIA, AMD and others can enjoy great sales of their high-end products for gamers, it also means that they can predict demand for such parts and ensure that they are not in short supply. NVIDIA has been doing a very good job in the past few years in meeting demand for its GeForce GTX lineup, even though most high-end gamers want the next generation product yesterday. As for Intel, it either underestimated the popularity of its Core i7-6700K and Core i5-6600K CPUs early in their lifecycle, or simply could not produce a sufficient amount of chips it needed to satisfy its customers (Intel has always stated they are running at expected volume in our previous Price Check pieces).
Anyway, right now it looks like the unlocked Skylake-S processors are sold at their MSRPs and all the customers can get the chip they want. Keeping in mind that Intel's next-generation CPUs slated for sometime in the future, code-named Kaby Lake, are set to be made using now well-proven 14 nm process technology, we wonder if history will repeat itself and the upcoming unlocked processors will/will not be in short supply. Nonetheless, we will keep monitoring the availability of unlocked CPUs.
Relevant Reading
Skylake-K Review: Core i7-6700K and Core i5-6600K - CPU Review
Comparison between the i7-6700K and i7-2600K in Bench - CPU Comparison
Overclocking Performance Mini-Test to 4.8 GHz - Overclocking
Skylake Architecture Analysis - Architecture
Non-K BCLK Overclocking is Being Removed - Overclocking Update
An Overclockable Core i3: The Intel Core i3-6100TE Review - Analysis of an Overclocked Core i3 CPU