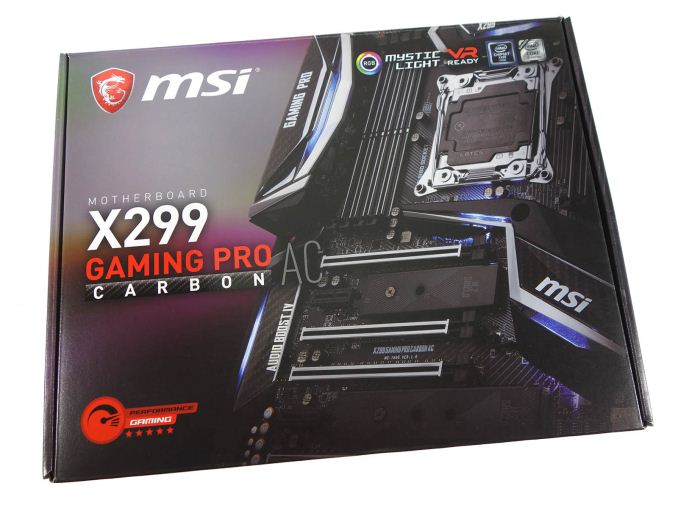 Intel's HEDT platform in recent times has always had a two CPU generation cadence. The last change was in August 2014, catering for Haswell-E and Broadwell-E, so with the recent launch of Skylake-X, it was time for a refresh: the new LGA 2066 socket and a new X299 chipset (together called Basin Falls), with the inevitable slew of new motherboards looking to capitalize on the margin-rich high-end desktop sector. For our first review, we are testing the X299 Gaming Pro Carbon AC from MSI.
The MSI X299 Gaming Pro Carbon AC Overview
The 'Gaming Pro Carbon AC' has become MSI's defacto top-end motherboard in its main consumer line for the past couple of generations, mirrored with the XPower Gaming for overclockers. The slight change in MSI's lineup over the last few years, from their trio of Gaming, MPower and XPower lines, to this, has been subtle - most noticeable due to the lack of an MPower if I'm brutally honest. But there is one ribbon that now runs throughout MSI's veins, whether it is in motherboards, laptops, GPUs, or anything else: the need to have Gaming in the title. Because it cranks in MSI's newer gaming focus, and it works wonders for SEO.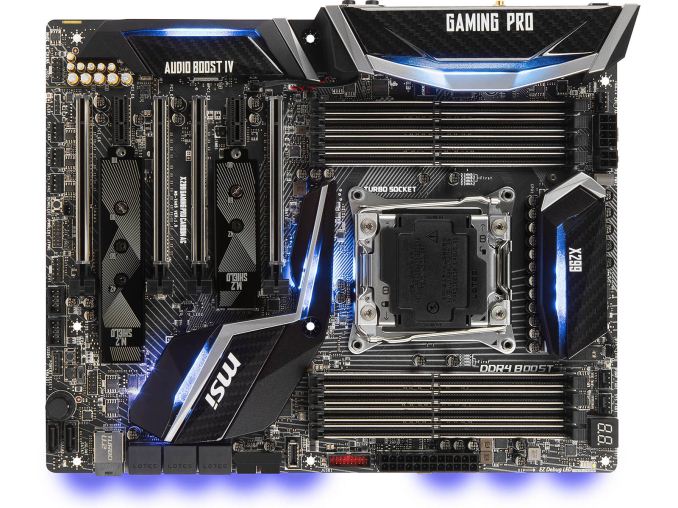 The MSI X299 Gaming Pro Carbon AC was actually our first X299 motherboard in-house for the Skylake-X launch. We had an early ES sample using some unfinished styling that did the business for our review, but MSI sent us a retail version for a full analysis. This includes the removable plates on the heatsinks that MSI states can be replaced to aid in the aesthetic customisation of a system.
The big element to X299 over X99 is going to be in the additional features enabled by the chipset: by moving to 20+ PCIe 3.0 lanes available through the chipset, it means elements of modern high-end systems such as storage and networking can be enabled without sacrificing connectivity of the processor. For the X299 Gaming Pro Carbon AC, this means dual PCIe 3.0 x4 M.2 slots for storage, a U.2 slot also for storage, and enabling WiFi and USB 3.1 (10 Gbps) with a redriver for Type-C.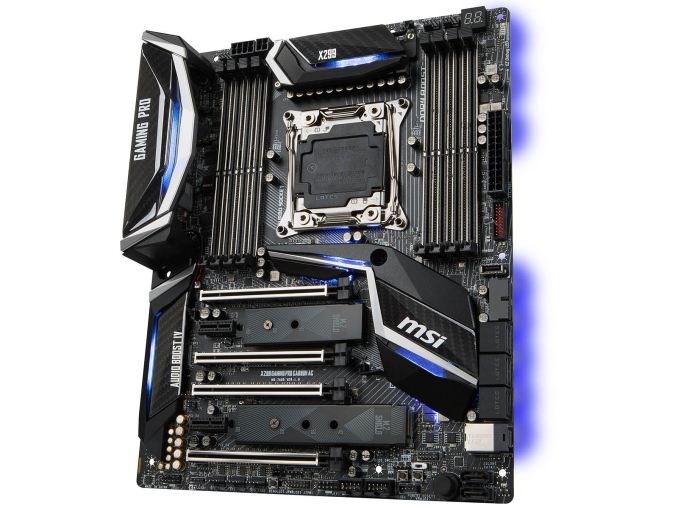 If there's one metric that MSI has been pushing the last couple of years, it is the motherboard aesthetic. This means consistent, styled angled lines throughout the design using complementary angles for heatsinks and accents. The 'Carbon' part of the name refers to the carbon fiber styling on the heatsinks, but also because MSI wanted to give these models a fairly neutral color scheme of black and silver that can be accentuated through the use of RGB lighting. MSI works the neutral color scheme into some of its features: the PCIe and DRAM reinforcement is silver, and the M.2 shields to assist in thermal dissipation are black with angled lines.
As one of our first X299 motherboards in for review, we do not have much to compare it against. In our CPU testing, the MSI board implemented an enhanced turbo mode by default, giving the CPU extra performance than one might expect. This has a direct correlation on power consumption, with our 140W TDP processor pulling 166W at a default BIOS. Users should equip the motherboard with appropriate cooling.
Information on Intel's X299 and our other Reviews
With Intel's release of the Basin Falls platform, encompassing the new X299 chipset and LGA2066 socket, a new generation of CPUs called Skylake-X and Kaby Lake-X were also released. The Skylake-X CPUs range from the Core i9-7800X, a hex-core part, all the way up to an 18-core Core i9-7980XE multitasking behemoth. Between the book-end CPUs are five others increasing in core count, as in the table below. The latter HCC models are set to be launched over 2H of 2017.
Skylake-X Processors
7800X
7820X
7900X
7920X
7940X
7960X
7980XE
Silicon
LCC
HCC
Cores / Threads
6/12
8/16
10/20
12/24
14/28
16/32
18/36
Base Clock / GHz
3.5
3.6
3.3
2.9
3.1
2.8
2.6
Turbo Clock / GHz
4.0
4.3
4.3
4.3
4.3
4.3
4.2
Turbo Max Clock
N/A
4.5
4.5
4.4
4.4
4.4
4.4
L3
1.375 MB/core
1.375 MB/core
PCIe Lanes
28
44
44
Memory Channels
4
4
Memory Freq DDR4
2400
2666
2666
TDP
140W
140W
165W
Price
$389
$599
$999
$1199
$1399
$1699
$1999
Board partners have launched dozens of motherboards on this platform already, several of which we will have an opportunity to look over in the coming weeks and months. This specific review will cover the MSI X299 Gaming Pro Carbon AC.
Other AnandTech Reviews for Intel's Basin Falls CPUs and X299
To read specifically about the X299 chip/platform and the specifications therein, our deep dive into what it is can be found at this link.
X299 Motherboard Review Notice
If you've been following the minutiae of the saga of X299 motherboards, you might have heard some issues regarding power delivery, overclocking, and the ability to cool these processors down given the power consumption. In a nutshell, it comes down to this:
Skylake-X consumes a lot of power at peak (150W+),
The thermal interface inside the CPU doesn't do much requiring a powerful CPU cooler,
Some motherboard vendors apply Multi-Core Turbo which raises the power consumption and voltage, exacerbating the issue
The VRMs have to deal with more power, and due to losses, raise in temperature
Some motherboards do not have sufficient VRM cooling without an active cooler
This causes the CPU to declock or hit thermal power states as to not degrade components
This causes a performance drop, and overclocked systems are affected even more than usual
There has been some excellent work done by Igor Wallossek over at Tom's Hardware, with thermal probes, thermal cameras and performance analysis. The bottom line is that motherboard vendors need to be careful when it comes to default settings (if MCT is enabled by default) and provide sufficient VRM cooling in all scenarios – either larger and heavier heatsinks or moving back to active cooling.
This means there are going to be some X299 boards that perform normally, and some that underperform based on BIOS versions or design decisions. We are in the process of quantifying exactly how to represent this outside of basic benchmarking, so stay tuned. In the meantime, we're tackling our first X299 board of the season.