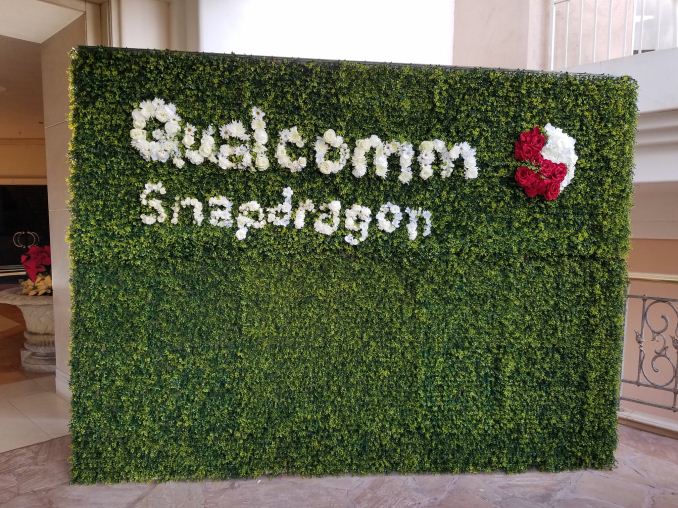 At the Qualcomm Snapdragon Technology Summit today, the majority of the keynote was aimed squarely at how a new product segment of 'Always Connected PCs' with all-day battery life will bridge the gap between the utility of a smartphone and the productivity of a PC. The critical take home message from Qualcomm, and the partners that showed devices at the event, was that by using a smartphone chip on a smaller PCB and an integrated modem, laptop designs could be stuffed with a battery and as long as it has the right OS and software combination, it will offer a better user experience than what is available currently. Qualcomm has extensively worked with Microsoft on creating a version of Windows 10 that works on their Snapdragon 835 SoCs, and is now ready to declare deployment.
Joining Qualcomm on the stage for the announcement were the key partners (from left to right):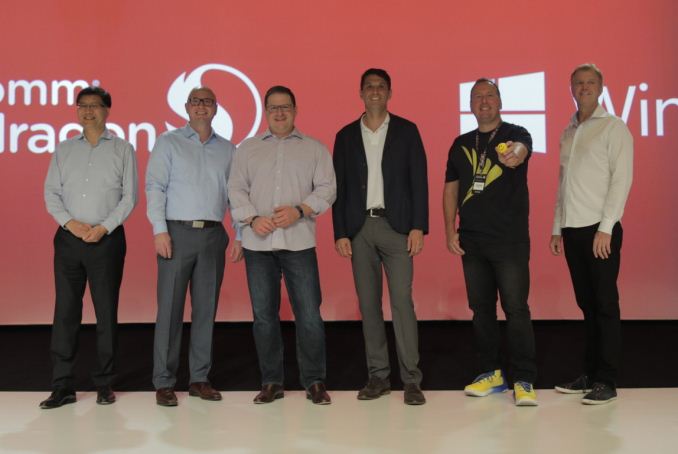 Cristiano Amon, executive vice president of Qualcomm Technologies and president of QCT, was joined on stage by senior executives from Microsoft, Asus, Sprint, HP and AMD announcing the new class of Always Connected PC, at Qualcomm's second annual Technology Summit Tuesday, Dec. 5, 2017 in Maui, HI. Photo Source: Qualcomm Technologies, Inc.​
Now creating a new product category that is successful is difficult. How many attempts at a tablet were there before the market warmed to them, for example. Or consider how many smart watches have come and gone since the inception. As bright as all the semblance of new technology is, the major incumbent in the notebook PC space also had something today.
Intel Responds
In a nutshell, Intel's response was:
[Intel] has been powering always-connected PCs since their inception. Today, there are more than 30 business- and consumer-oriented Intel-based always-connected PCs available, offering the leading performance, a variety of connectivity options and price points, long battery life and thin and light form factor design.
The response is basically a 'we've had always-connected PCs for years'. This is true: while normally focused on the business use case, laptops with LTE connectivity do exist from most of the major OEMs. This usually comes in the form of an add-in card and a business contract situation, although I personally have owned a number of laptops that do offer SIM card slots for this sort of functionality.
Intel is citing designs such as the HP ProBook 400 Series, Samsung's Galaxy Book 12, the Lenovo ThinkPad L470, the Lenovo Miix 520, the Google Pixelbook, and the Mi Notebook Air, with more designs coming in 2018. Intel is also citing that it has modems in future devices capable of Gigabit LTE as well, along with its investments into 5G. Intel also cites that it has full compatibility with Windows and 64-bit software.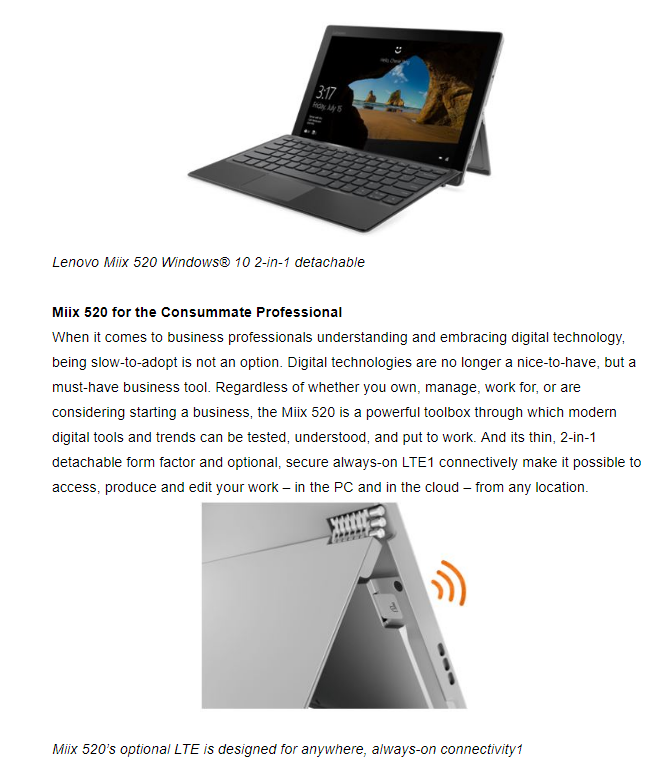 From Lenovo's Miix 520 website
So is what Qualcomm is doing new? Will it succeed? Truth be told, they are reinvigorating interest in this type of device, regardless of if it has already been around, and pushing it for other use cases. Intel has often pushed its devices for new use cases over the years, but this time it is a new silicon manufacturer playing the game in a slightly different way. The devices that come out, be it with a Qualcomm SoC or an Intel CPU with extra modem, are both going to have positives and drawbacks – Qualcomm is touting all-day battery life and instant screen-on without sleeping, while Intel goes for performance and compatibility.
Shots fired? The annual CES event in Las Vegas is happening in early January. I expect Qualcomm, Intel, and all the OEMs to be screaming about 'Always Connected PCs'. It's a fun time to be a consumer.
Related Reading