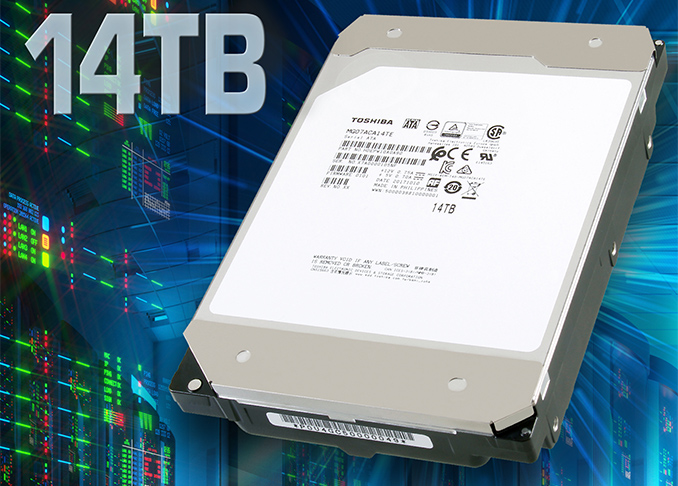 Toshiba is announcing its first family of helium-filled hard drives today. It includes the industry's first 14 TB HDD with nine platters featuring perpendicular magnetic recording (PMR) technology without shingled platters. The drives are primarily aimed at operators of cloud and exascale datacenters that need all the capacity they can get. It is a market segment that Toshiba has barely been able to address in the past. In addition, Toshiba also expects to sell its 12 TB and 14 TB HDDs through distributors once it ramps up production and satisfies the demand from key clients.
Toshiba's First Helium-Filled HDD Platform
Toshiba is introducing its hermetically sealed helium-filled hard drives years after its rivals. However, the platform being used for the new MG07ACA HDDs is the most sophisticated in the industry today. It supports the most number of platters, features up to 18 heads, and also has the highest areal density. Toshiba's flagship MGA070ACA 14 TB hard drive incorporates nine PMR platters with ~1.56 TB capacity each. By contrast, its competitors have eight 1.5 TB platters. In order to cram nine platters into an industry-standard 3.5" HDD, Toshiba had to use Showa Denko's new offerings that are 0.635 mm thick (down from the 0.8 mm platters in the previous generation drives), shrink the distance between the platters to 1.58 mm and use new heads from TDK featuring its 2nd generation dual-stage actuator. Toshiba does not say whether it uses 9th generation or 8th generation PMR media from Showa Denko for the new HDDs. However, knowledge of the areal density makes the actual formal generation unimportant. Meanwhile, Toshiba's helium-filled hard drive platform also includes a new cover design with laser welding, Nidec's motors for helium-filled HDDs, hermetic connectors and other necessary components.
Since the MG07ACA are intended for datacenter racks containing hundreds of vibrating hard drives, they feature numerous enhancements when it comes to reliability and durability. These include top and bottom attached motors, RVFF as well as environmental sensors and so on. Because the new drives shrink the distance between platters to 1.58 mm, it is important to handle vibration effectively. Toshiba rates the new HDDs for 550 TB average annualized workload, 2.5 million hours MTBF and covers them with a standard five-year warranty.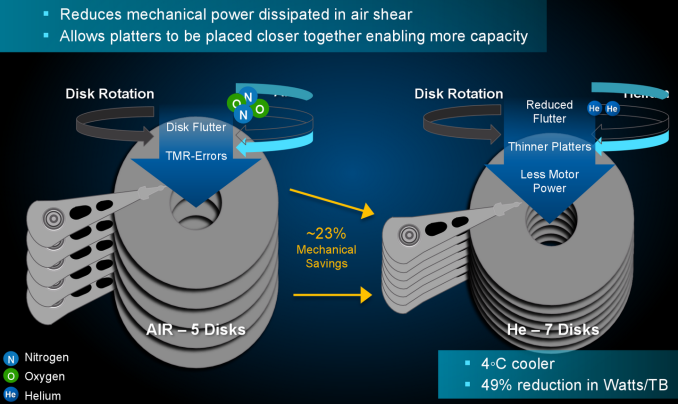 In addition, the new storage devices support Toshiba's persistent write cache (PWC) with power loss protection (PLP). This is very important for 4K sector drives that emulate 512B sectors. The PWC with PLP feature guards data in case of power loss while performing read-modify-write (RMW) operation to align the source write request with the physical sectors it has to modify. The fact that Toshiba supports RMW in its latest nearline HDDs is important because the tech enables the company to address its clients who run legacy systems with rather extreme capacity points.
12 TB and 14 TB HDDs
Toshiba's MG07ACA family of 3.5" enterprise-class HDDs will have two models - a 12 TB SKU, and a 14 TB SKU. The flagship 14 TB one uses nine platters with the highest areal density, whereas the 12 TB variant has eight. Both drives feature a 7200 RPM spindle speed, a 256 MB cache buffer, and a SATA 6 Gbps interface. Due to the increased areal density, the flagship drive is able to advertise a 260 MB/s maximum sustained transfer rate, whereas the 12 TB model is slightly slower at around 250 MB/s. Toshiba says the drives can perform up to 167 read IOPS, and, up to 70 write IOPS (4 KB blocks) when subject to random accesses.
Helium has 1/7th of air's density, and that reduces drag force acting on the spinning platters, while also lowering the fluid flow forces that affect the disks and the heads. This reduces the power consumption substantially, compared to Toshiba's previous-generation enterprise hard drives. The 14 TB variant does not exceed 7.6 W when performing read/write operations and drops to 4.6 W in idle. Operating power of Toshiba's MG07ACA HDDs is in-line with Seagate's helium-filled offerings, but is a bit higher when compared to helium HDDs from Western Digital/HGST. Meanwhile, the 4.6 W idle power consumption is the lowest among enterprise-grade high-capacity HDDs. In terms of power consumption efficiency at idle (large hard drives could spend plenty of time idling), the 14 TB MG07ACA is an indisputable champion consuming just 0.32 W per TB.
Brief Specifications of Toshiba's MG07ACA HDDs
Capacity
14 TB
12 TB
P/N
4K Native
MG07ACA14TA
MG07ACA12TA
512e
MG07ACA14TE
MG07ACA12TE
Platters
9
8
Heads
18
16
Recording Technology
Perpendicular Magnetic Recording (PMR) / Conventional
RPM
7200 RPM
Interface
SATA 6 Gbps
DRAM Cache
256 MB
Persistent Write Cache
Yes
Helium-Filling
Yes
Sequential Data Transfer Rate (host to/from drive)
260 MB/s
~250 MB/s
MTBF
2.5 million
Rated Annual Workload
550 TB
Acoustics (Seek)
unknown
Power Consumption
Random read/write
7.6 W
? W
Idle
4.6 W
? W
Warranty
5 Years
3360 TB Per Rack
Toshiba's MG07ACA HDDs are designed for operators of cloud and exascale datacenters that demand maximum capacity. The new hard drives are drop-in compatible with existing datacenter infrastructure (because of PMR, SATA, and a relatively low power consumption) and can increase the total storage capacity for a single rack from 2440 TB to 3360 TB, when replacing 10 TB drives with 14 TB HDDs. An increase of storage capacity per rack (and per drive) by 40% can be a major benefit for companies that need to maximize their storage capacity per square meter and per watt, while meeting other TCO objectives.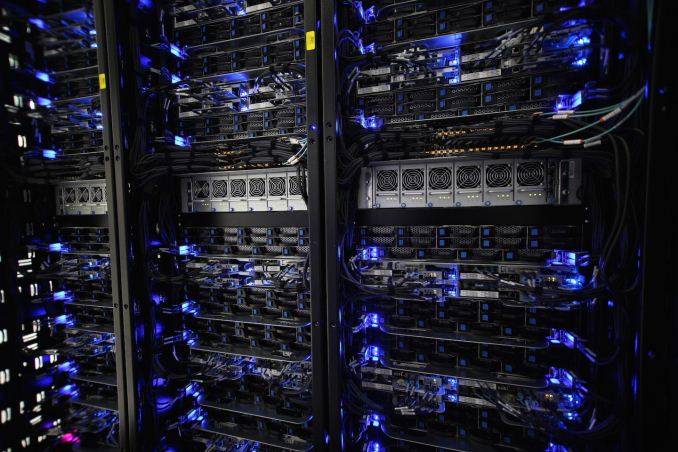 Servers in a Rackspace datacenter
The most important advantage of Toshiba's 14 TB MG07ACA hard drive over HGST's Ultrastar Hs14 is the usage of PMR technology without shingled platters (SMR). Toshiba indicated that many cloud and exascale datacenters are yet to invest in SMR management at the software level, and are unable to use SMR drives effectively. SMR drives have a number of peculiarities when it comes to writing, which have been discussed before.
Q2 Availability
Toshiba plans to start sample shipments of the MG07ACA hard drives in the coming weeks. Since we are dealing with HDDs aimed primarily at cloud datacenters, it will take operators several months to evaluate the storage devices and qualify them for their applications. Some of Toshiba's clients have apparently tried engineering samples of the MG07ACA HDDs already. Toshiba plans to start volume B2B shipments of the drives three to four months after sampling, sometimes in Q1 or Q2 2018. After the company meets demand of its initial customers, the company will make the 12 TB and 14 TB products available through distributors, which essentially means that they are going to hit Amazon eventually. Pricing is not current available, but since the MG07ACA hard drives belong to the ultra-high-end segment, expect them to be priced accordingly.
What's Next?
Toshiba has introduced its first helium-filled enterprise HDDs four years after HGST and 1.5 years after Seagate. The launch of the company's eight-platter 10 TB MG06ACA HDD earlier this year clearly demonstrated that Toshiba extended use of traditional air-filled HDD technology to its maximum. While deserving respect, it also means that the company did not have competitive hard drives for nearline applications for years as its rivals put out helium-filled 8 TB and 10 TB drives in the market. But, with its 1st generation helium drive, the company is leapfrogging its competitors. So what's next for Toshiba?

The nine-disk hermetically sealed platform has been in development for years and the 14 TB helium HDD entered Toshiba's public roadmap in 2016. Along with the 14 TB model, the company included an even higher-capacity 16 TB helium HDD into the roadmap. Obviously, Toshiba does not want to talk about that one today, but it is logical to suspect this drive will feature nine 1.8 TB platters, unless Toshiba manages to squeeze 10 lower-capacity disks into the industry-standard 3.5" form-factor.
When it comes to other HDD manufacturers, we do know that in this industry companies tend to catch up with each other in terms of technologies they use to offer certain capacities. Therefore, the question is when Toshiba's rivals introduce their nine-platter drives, not if they have such plans. In theory, Seagate and Western Digital could extend usage of 8th generation PMR platters and launch 14 TB PMR HDDs with nine 1.56 TB disks (assuming that their G8 PMR platters can support such areal density). Alternatively, they could switch to 9th generation 3.5" PMR platters featuring 1.8 TB capacity and then go with eight-platter 14 TB drives and nine-platter 16 TB models. In both scenarios, nearline PMR HDDs will gain capacity in the coming quarters.
Related Reading:
Source: Toshiba