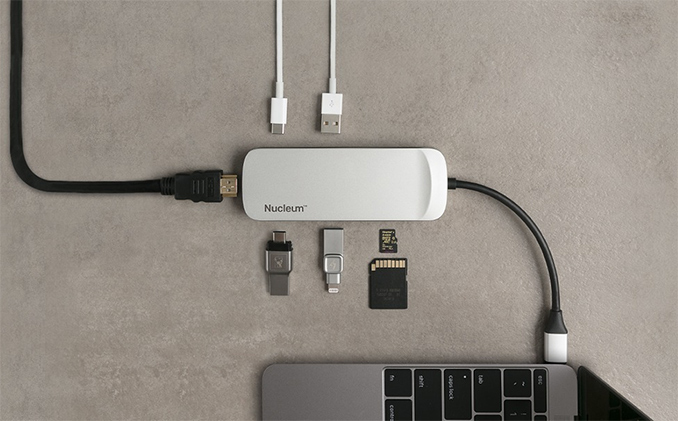 LAS VEGAS, NV — Notebook manufacturers, Apple in particular, were heavily criticized in 2016/2017 for introducing notebooks that feature only USB Type-C connectors. For end-users, such a transition meant making an additional investment into new peripherals, or docks. However, for hardware manufacturers, the transition to USB-C opens up new opportunities. At CES, Kingston demonstrated its first USB Type-C dock that supports seven ports as well as power pass-through.
The Kingston Nucleum is a rather compact sleek device made of aluminum and plastic to match design of Apple's MacBook/MacBook Pro and other silver/metallic consumer laptops with USB Type-C ports. The dock has two USB 3.0 Type-A ports (one supports charging), one USB Type-C header, an HDMI 1.4 display output (max resolution is 3840×2160 at 30 Hz), an SD card reader, a microSD card reader as well as a USB Type-C power input.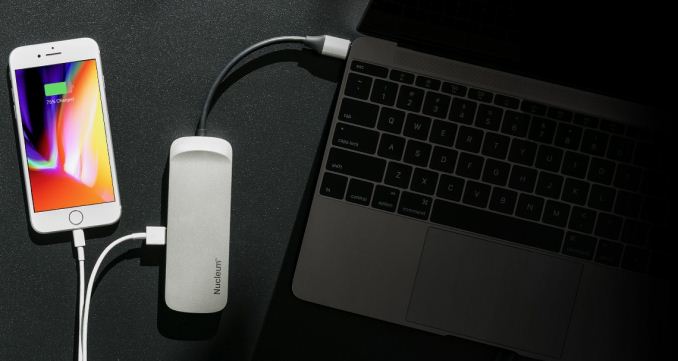 The Nucleum supports power delivery pass through of up to 60 W, which is enough to power and charge a 13" laptop (such as a modern MacBook Pro). Larger and more power-hungry machines demand more power and their charging will take longer time using the dock from Kingston.
Kingston's Nucleum 7-in-1 USB-C Dock
C-HUBC1-SR-EN
Main Connection
USB 3.0 Type-C at 5 Gbps with power delivery
Display Outputs
HDMI 1.4 (max resolution is 3840×2160 at 30 Hz)
USB
1 × USB 3.0 Type-A (5V 1500mA)
1 × USB 3.0 Type-A
1 × USB 3.0 Type- C
Power Input
up to 60 W
Dimensions
127 × 45 × 14.2 mm
5 × 1.77 × 0.56 inches
Weight
142 grams
5 ounces
Kingston's Nucleum USB-C dock is already available at Amazon.com for $79.99. In the coming months Kingston will expand availability of the device to markets outside the U.S.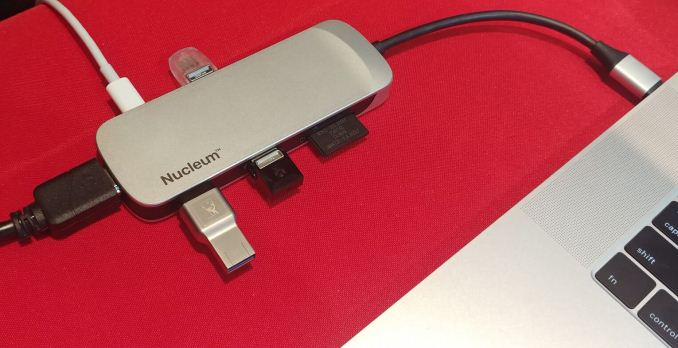 Related Reading