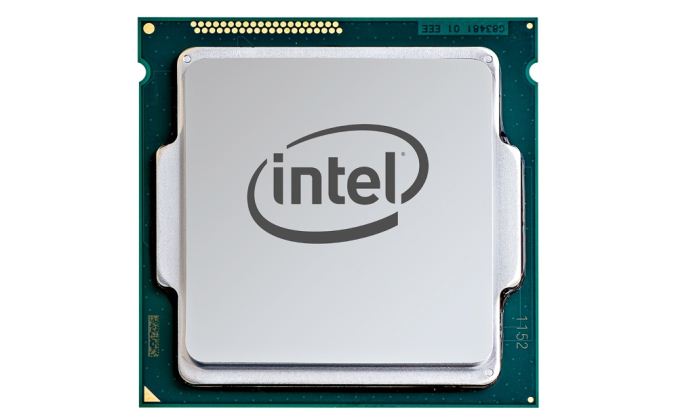 Intel this week released its new Rapid Storage Technologies drivers, and thanks to their associated release notes, Intel has indirectly confirmed their upcoming Z390 and X399 PCHs. The drivers' release notes also shed some light on Intel's 9th Generation Core processors as well as features of Intel's future HEDT platform.
Intel's new and upcoming platforms for desktops and workstations rely on the company's Cannon Point-H (CNP-H) PCH silicon in various configurations and with various differentiators, according to release notes for the Intel RST version 16.0 driver. The CNP-H chip itself is already in high volume production and is sold to PC makers under the CM246, HM370, QM370, H370, H310, Q370, and B360 SKUs. Said chipsets power high-performance laptops based on mobile Coffee Lake processors as well as new motherboards for consumer and corporate desktops. Going forward, Intel's Cannon Point-H PCH will also be used for various desktops (under the Z390, H310, H370, Q370, Q360, B360 model numbers), workstations (under the C246 model number), and high-end desktops (under the X399 SKU).
It is noteworthy that the Intel X399 PCH will be validated only with the Skylake-X CPUs (at least initially), leaving the unusual Kaby Lake-X family notably absent. It remains to be seen whether Intel plans to rebrand Skylake-X processors for the X399 platform in a bid to emphasize possible new features of the platform, but typically the company does not do anything like this in the HEDT segment.
Intel's upcoming low-power laptop platforms running the 9th Generation Core "Cannon Lake-U" SoCs will use a different PCH known as the Cannon Point-LP. The document does not say anything about usage of non-Cannon Lake silicon in the 9th Gen Core family for low-power notebooks, so it looks like the said platforms will rely solely on Intel's CPUs made using its 10 nm process technology. At the same time, it is also noteworthy that Intel does not list any Cannon Lake-Y SoCs in the release notes, so the destiny of such products remains unknown.
Intel's 300-Series and 240-Series PCHs
Chipset SKU
Silicon
Supported CPUs
Application
Z390
Cannon Point-H
CNP-H
Cannon Lake
Coffee Lake-S
Enthusiast Desktops
H370
Desktops
H310
Q370
Q360
B360
C246
Workstations
CM246
Cannon Lake
Coffee Lake-H
Mobile Workstations
QM370
High-End Laptops
HM370
X399
Skylake-X
High-End Desktops
9th Gen Core Platform I/O Controller
Cannon Point-LP
CNP-LP
Cannon Point-U
Low-Power Laptops
Since release notes for the drivers are not meant to announce precise product specifications, it is impossible to say what exactly to expect from the Z390 or the X399 PCHs. Meanwhile, general specs of the Q370, H370 SKUs and other PCHs based on the CNP-H silicon are well known, so the base functionality of the upcoming chipsets is more or less obvious
Intel's 300-series PCH
Z370
H370
Q370
B360
H310
Launch
Oct '17
Apr '18
Apr '18
Apr '18
Apr '18
Market
Consumer
-
Consumer
Corporate
-
Corporate
Consumer
Corporate
Consumer
-
ME Firmware
11
12
12
12
12
HSIO Lanes
30
30
30
24
14
Total USB
14
14
14
12
10
Max USB 3.1 G2
-
4
6
4
0
Max USB 3.1 G1
10
10
8
6
4
SATA 6 Gbps
6
6
6
6
4
PCH PCIe 3.0 Lanes
24
20
24
12
-
PCH PCIe 2.0 Lanes
-
-
-
-
6
Max RST PCIe Storage
3
2
3
1
0
Supports Optane
Y
Y
Y
Y
N
Integrated 802.11ac
N
Y
Y
Y
Y
Intel Smart Sound
Y
Y
Y
Y
N
Intel vPro
N
N
Y
N
N
TDP
6 W
6 W
6 W
6 W
6 W
Intel does not comment on unreleased products, so we cannot get you any official information at this point.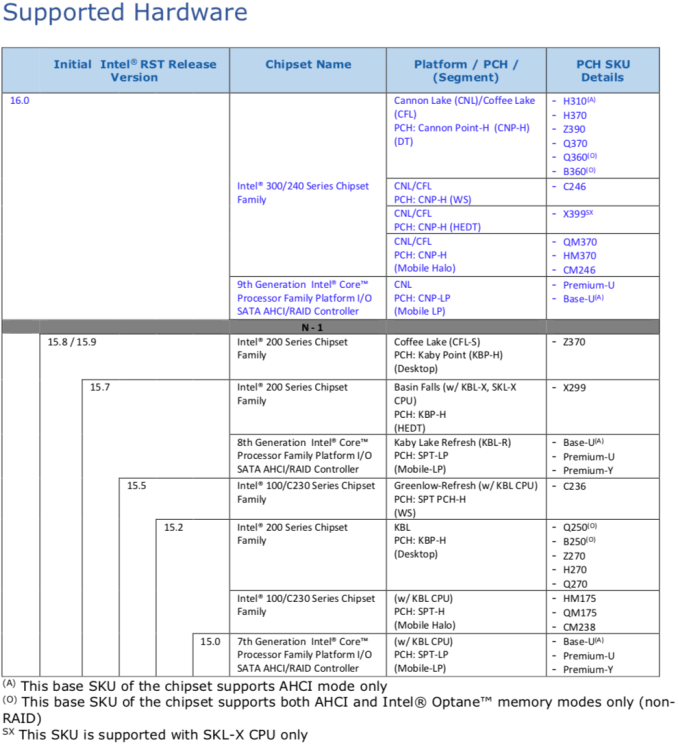 Related Reading:
Source: Intel