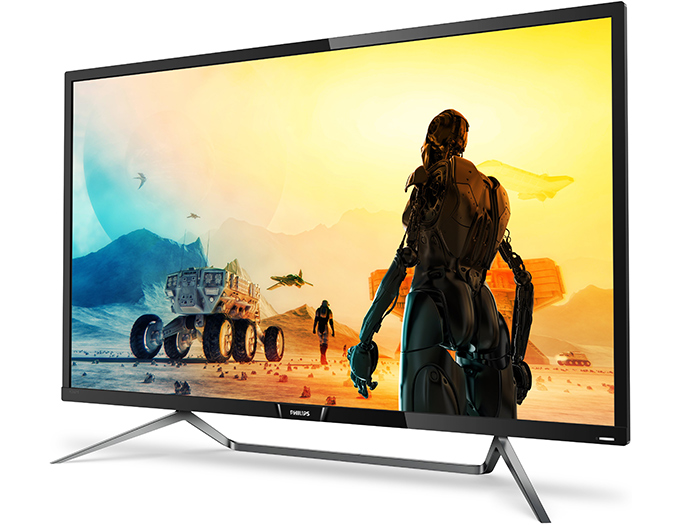 Philips has started sales of its Momentum 436M6VBPAB ultra-high def gaming LCD, which happens to be one of the world's first shipping monitors to obtain the DisplayHDR 1000 certification. Pricing of the product varies from country to country and from store to store, but in general its retail price is in line with a rather moderate sub-$1000 MSRP announced a couple of months ago.
The Philips Momentum 43-Inch at a Glance
The Philips Momentum 436M6VBPAB is based on a 43-inch 8-bit + FRC MVA panel featuring a 3840×2160 resolution, 720 – 1000 nits brightness (typical and peak), a 4000:1 contrast ratio, a 4 ms response time, 60 – 80 Hz refresh rate (optimal and overclocked), 178°/178° viewing angles, and so on (check out all the specs in the table below). A major selling point of the display it its Quantum Dot-enhanced backlighting that enables it to cover an above-average 97.6% of the DCI-P3 color gamut as well as 100% of the sRGB color range. The monitor is AMD FreeSync certified, however we haven't seen the FreeSync minimum refresh rate. So it's unclear whether this monitor supports a wide enough range for LFC. Though even if the LCD's FreeSync ranges are far from what hardcore gamers might want, it is still good to have a dynamic refresh rate tech rather than not have it at all on a 43-inch gaming monitor.
The 43-inch Philips Momentum was the industry's first display to get the DisplayHDR 1000 logo from VESA (the second monitor to get the badge was the ASUS ROG Swift PG27UQ, which is now also shipping). This means that it complies with VESA's rather strict requirements for brightness (600 nits full-screen long duration minimum, 1000 nits full-screen flash minimum) and black levels (corner maximum limit of 0.05 nits and tunnel maximum limit of 0.1 nits). The latter are particularly hard to get even on a VA panel, and all but requires local dimming. Philips hasn't published anything here, but from reports I've seen elsewhere, it sounds like they're using a 32 zone edge-lighting system.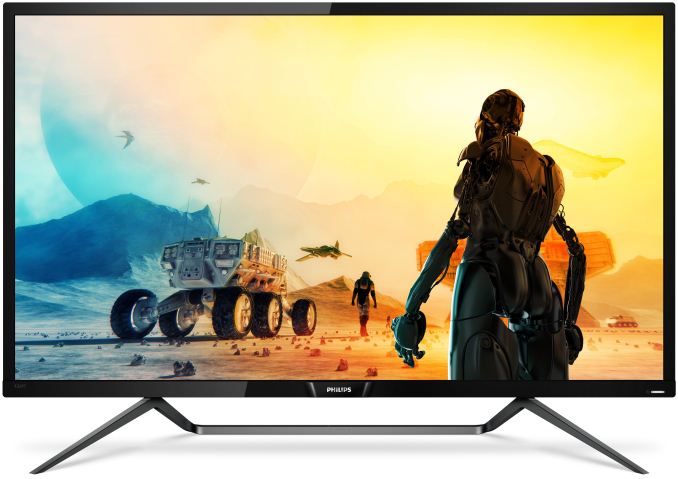 The Philips 436M6VBPAB has four display inputs: 1x DisplayPort 1.2, 1x Mini DisplayPort 1.2, 1x HDMI 2.0, and 1x USB Type-C that can be used both for display connectivity and as an upstream port for a USB 3.0 hub. As expected from an ultra-large LCD, the unit supports Picture-in-Picture and Picture-by-Picture capabilities from two sources. As for audio, the display has a 3.5-mm audio input, 3.5-mm audio output as well as two built-in 7-W speakers with the DTS Sound badge. Finally, the 43-incher comes with a remote controller that can be used to control the monitor as well as other devices connected using HDMI (e.g., media players, game consoles, etc.), which is particularly handy as the huge LCD will clearly be used for watching content.
To read more about the Philips Momentum 43-inch monitor you can check out the original material covering the product as we move to the topic of the news story — availability and prices.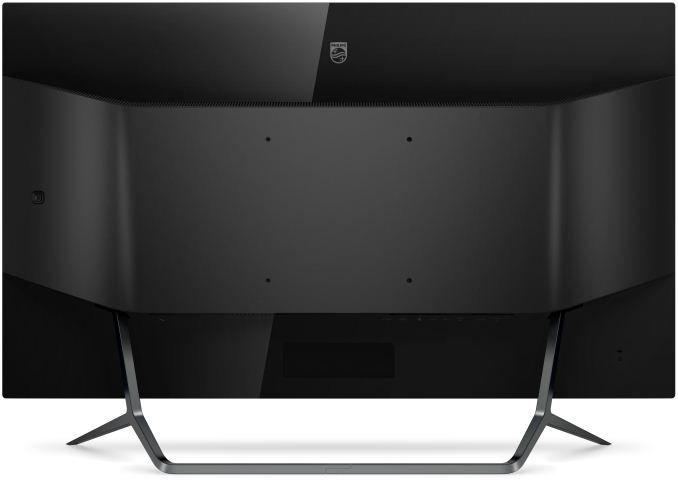 Pricing and Availability
The Philips Momentum 436M6VBPAB is currently available from Amazon in the U.S., Germany, France, Spain, and Japan. Since the product is very special and probably is in high demand, its prices at Amazon in Europe seem to be somewhat inflated. Good news is that a number of stores in Austria, Germany, Poland, and Nordic countries are selling (or at least taking pre-orders) on the 43-inch gaming LCD at its MSPR of €799 or even below that.
Pricing and Availability of the Philips Momentum 436M6VBPAB
Retailer
Country
Local Price
Equivalent in USD
Amazon
U.S.
$1,000
$1,000
Germany
€990
$1,159
France
€1,081
$1,265
Spain
€1,081
$1,265
Japan
¥106,205
$959
MediaMarkt
Germany
€869
$1,017
Otto
€790
$925
Saturn
€869
$1,017
MediaMarkt
Austria
€799
$935
ProShop
€805
$942
Saturn
€799
$935
Ale.pl
Poland
€727
$850
Zizako
€738
$864
Komplett
Denmark
6,490 kr.
$1,018
Finland
€754
$882
Sweden
7,790 kr.
$870
Arvutitark
Estonia
€720
$843
Since the Philips 436M6VBPAB is sold not only by Amazon in the U.S., and a couple of large retail outets like MediaMarkt or Saturn in Europe, but can also be bought from smaller retailers, it is evident that the product is available worldwide at price points that do not really bite. Apparently, Philips (just like ASUS, MSI, Samsung, and NVIDIA) believes that demand for large gaming-grade displays is about to skyrocket and it has a product that offers premium features at a moderate price.
Philips Momentum 43" 4K HDR display with Ambiglow
436M6VBPAB
Panel
43" MVA
Native Resolution
3840 × 2160
Maximum Refresh Rate
60 Hz (normal)
80 Hz (overclocked)
Response Time
4 ms GtG
Brightness
720 cd/m² (typical)
1000 cd/m² (peak)
Contrast
4000:1
Backlighting
LED with quantum dots
Viewing Angles
178°/178° horizontal/vertical
Aspect Ratio
16:9
Color Gamut
100% sRGB/BT.709
97.6% DCI-P3
HDR
HDR10
DisplayHDR Tier
1000
Dynamic Refresh Rate Tech
AMD FreeSync
? - 80 Hz
Pixel Pitch
0.2479 mm²
Pixel Density
102 PPI
Inputs
1 × DisplayPort 1.2
1 × Mini DisplayPort 1.2
1 × HDMI 2.0
1 × USB Type-C
Audio
3.5 mm input/output
2 × 7 W DTS Sound speakers
USB Hub
2 × USB 3.0 Type-A connectors
1 × USB 3.0 Type-C input
VESA Mount
200 × 200 mm
MSRP
Europe: €799
UK: £699
US: $799 without VAT (unconfirmed)
Related Reading: