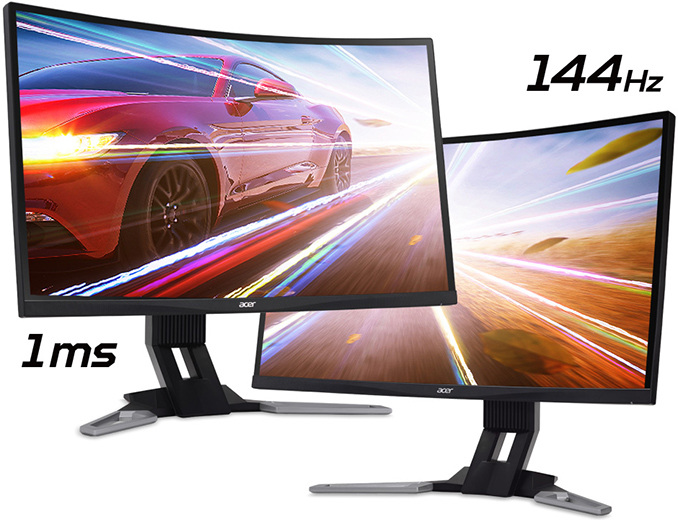 Acer has quietly introduced two new curved gaming monitors that offer premium gaming features such as 144 Hz FreeSync and HDR10 support for relatively affordable prices. Acer's XZ1-series LCDs share design elements with the company's aggressively-styled Predator displays and will definitely appeal to those looking for inexpensive monitors with serious gaming capabilities.
Acer's XZ1 family currently consists of two displays: the 27-inch XZ271Ubmijpphzx (XZ271U) and the 31.5-inch XZ321QUbmijpphzx (XZ321QU). Both monitors are based on 16:9 aspect ratio curved VA-type panels featuring a 2560×1440 resolution, 250 - 300-nits brightness, a 3000:1 contrast ratio, 1 ms MPRT response times, and a 144 Hz refresh rate. Acer says that the monitors cover 85% of the NTSC color space, which means that technically they can reproduce more than 100% of the sRGB color gamut (i.e., show more colors than the sRGB covers itself).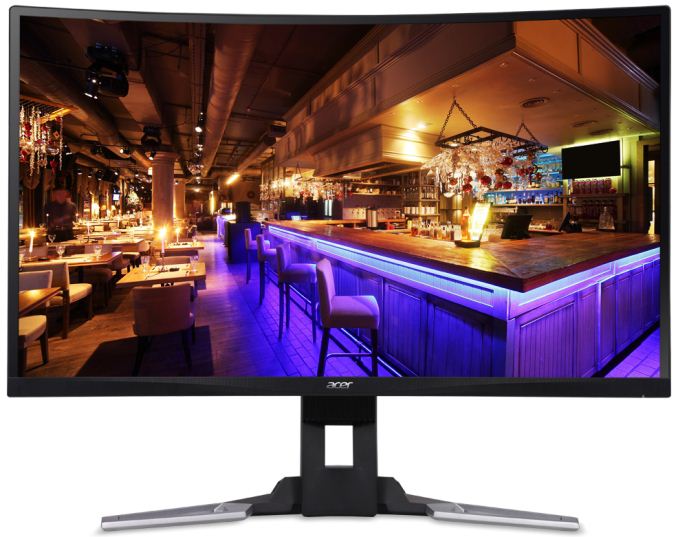 In a bid to distinguish the XZ1 from its more expensive product families, Acer has to keep its "premium" features at an essential level. The manufacturer advertises three premium gaming features for its XZ1 LCDs (besides, of course, its maximum refresh rate of 144 Hz and a low response time). First up, the monitors support AMD's FreeSync dynamic refresh rate technology with a 48 – 144 Hz range, which is wide enough to support AMD's Low Frame Rate (LFC) capability. Secondly, the monitors formally support HDR10 data, yet their peak brightness level is much too low for HDR, so actual experience is something that remains to be seen. Finally, the XZ1 series support Acer's Black Boost mode that automatically adjusts brightness of dark scenes in games to make it easier for gamers to find their opponents in the dark.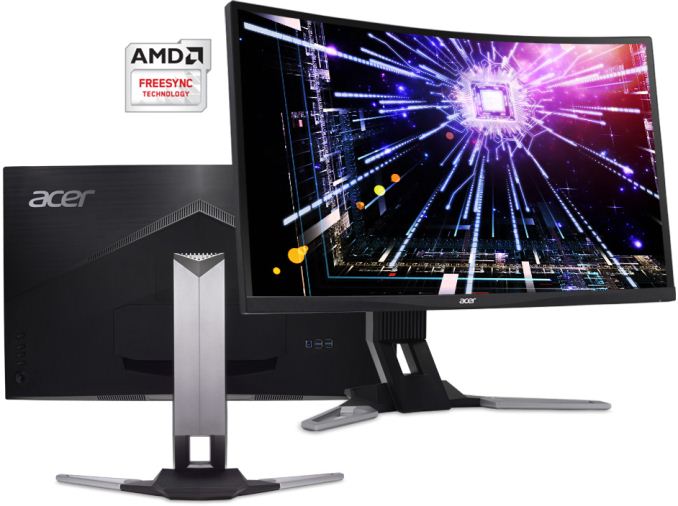 Being aimed at gamers who tend to have PCs and consoles, Acer's XZ1 displays are outfitted with a rather rich set of inputs: one DisplayPort 1.2, one mini DisplayPort 1.2, and two HDMI 2.0 headers. Given the number of inputs, the monitors fully support PiP and PbP for two devices, which is fine for products of this class. In addition, the LCDs are equipped with two 7 W stereo speakers and a headphone jack. Finally, they feature a quad-port USB 3.0 Type-A hub.
Just like Acer's Predator monitors, the XZ1 displays come equipped with highly adjustable stands that can tilt between -5 to 25 degrees, swivel +/- 25 degrees, and provide height adjustments of up to 120 mm.
Specifications of Acer's XZ1-Series Gaming Displays
XZ271U
XZ321QU
Panel
27" VA
31.5" VA
Native Resolution
2560 × 1440
Maximum Refresh Rate
144 Hz
Dynamic Refresh
Tech
AMD FreeSync with LFC
Range
48 - 144 Hz
Brightness
250 cd/m²
300 cd/m²
Contrast
3000:1
Viewing Angles
178°/178° horizontal/vertical
Response Time
1 ms MPRT
Pixel Pitch
0.2335 mm²
0.2724 mm²
Pixel Density
108 PPI
93 PPI
Curvature
1800R (?)
Color Gamut Support
sRGB: 100% (?)
NTSC: 85%
Inputs
1 × DisplayPort 1.2
1 × miniDisplayPort 1.2
2 × HDMI 2.0 (one with MHL 2.1 support)
USB Hub
4-port USB 3.0 hub
Audio
2 × 7 W Speakers
3.5 mm Headphone Output
Proprietary Enhancements
Acer's Black Boost
Acer's Flickerless Technology
Power Consumption
Idle
~ 0.5 W
Normal
34 W
43 W
Maximum
92 W
120 W
Stand Adjustments
Tilt
-5 ~ +25°
Swivel
+/-25°
Height
120 mm
Pivot
-
-
VESA Mounts
100 × 100 mm
Launch Timeframe
September 2018
Additional Information
Link
Link
Acer's XZ271U and XZ321QU gaming monitors were introduced in Japan last week, where they will be available for ¥48,000 ($427) and ¥55,000 ($490) respectively. Meanwhile, both monitors can already be purchased at Amazon.com, but at higher prices ($527 and $550). Keeping in mind that prices are typically high in Japan, expect Acer's XZ1 family to become more affordable at a retail store near you in the coming months.
Related Reading:
Sources: Acer Japan, PC Watch