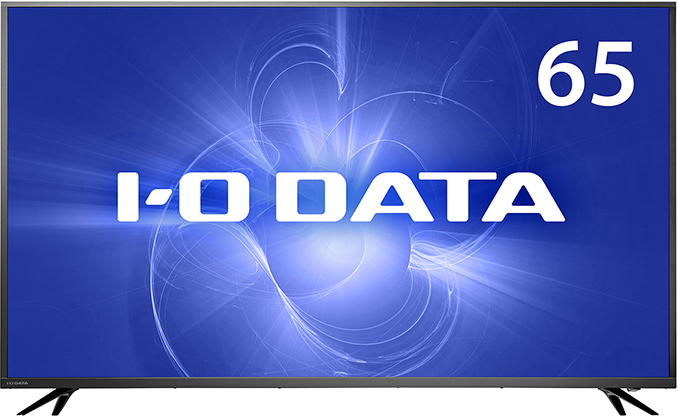 As the world's largest display suppliers are primarily focusing on popular sizes of LCDs, such as 27 or 32 inches, the smaller players tend to address and fulfil the demands of smaller niche markets.
IO Data, a Japanese supplier of monitors, this week formally announced its first 64.5-inch display. The M4K651XDB is aimed at a variety of applications, including desktop PCs, game consoles, and digital signage.
The IO Data M4K651XDB is based on a 64.5-inch ADS panel with a resolution of 3840×2160, 400 nits brightness, 1200:1 contrast ratio, 60 Hz refresh rate, 178° viewing angles, and a low 5-8 ms response time.
ADS panels are not used widely, but IO Data claims that its monitor can reproduce 1.07 billion colors (with 10-bit color input), so we are most probably dealing with an IPS-class panel with rather decent capabilities. Meanwhile, the manufacturer does not make mention of the color gamuts that the LCD supports. Given the fact that this is a PC monitor, sRGB support is a must, though there are no official claims about that.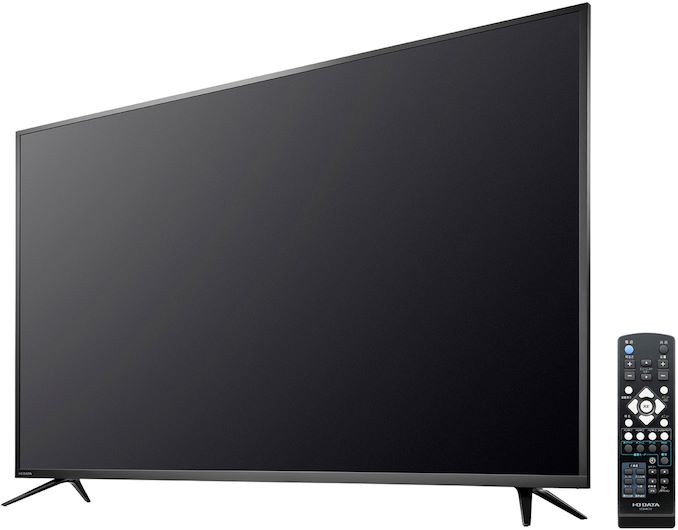 The key selling feature of the M4K651XDB display is naturally its size that is 10 inches larger compared to 55-inch LCDs found in Japan and some other countries. The large dimension is also a double-edged sword for the monitor, because it has a rather large 0.3718 mm2 pixel area resulting in a pixel density of only 68.31 PPI, which is similar to that of 31.5-inch Full-HD displays that have never gained popularity. Obviously, IO Data's display will hardly be a good choice for people looking for smooth fonts and pixel-level accuracy.
One of the notable features that the M4K651XDB has is an integrated processor that can upconvert SD and HD content to the LCD's native Ultra-HD resolution without substantial blurring. The same chip is also allegedly responsible for the monitor's Enhanced Color function that can improve colour saturation of an image. Finally, the display can also automatically adjust brightness according to environmental conditions, so the device is probably equipped with an ambient light sensor.
Like many modern monitors, IO Data's M4K651XDB supports HDR10 transport, though the quality of the HDR experience is something that remains to be seen give the display's peak brightness of only 400 nits. Meanwhile, despite being positioned as a solution for gaming, the LCD does not support any dynamic refresh rate technologies.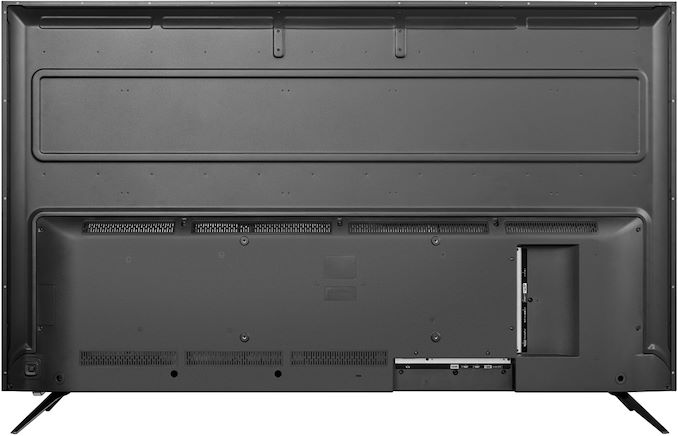 Moving on to audio capabilities of the monitor. The M4K651XDB is outfitted with two 10 W stereo speakers, a 3.5-mm headphone jack, and an optical connector.
As for general connectivity, the LCD features one DisplayPort 1.2 input, one HDMI 2.0 input, as well as two HDMI 1.4 inputs. The HDMI ports fully support CEC, so the remote bundled with the display can control various consumer electronics devices and therefore the 64.5-inch beast can be used as a regular TV once attached to a BD player or an STB.
Unfortunately, the only USB connector on the monitor seems to be able to serve as a maintenance port for firmware updates as it cannot serve as USB hub, and likely lacks any OS or hardware that would be capable of playback of media off external storage.
IO Data's 64.5-Inch UHD Display
M4K651XDB
Panel
64.5" ADS
Native Resolution
3840×2160
Maximum Refresh Rate
60 Hz
Response Time
5 - 8 ms
Brightness
400 cd/m²
Contrast
1200:1
Viewing Angles
178°/178° horizontal/vertical
Pixel Pitch
0.3718 mm2
Pixel Density
68.31 ppi
Color Gamut
1.07 billion
Inputs
1 × DisplayPort 1.2
1 × HDMI 2.0
2 × HDMI 1.4
Outputs

3.5 mm headphone output


SPDIF
USB Hub
None
Audio
10 W × 2
Power Consumption (idle/active)
Idle: 0.5 W
Typical: 89.4 W
Max: 225 W
Modes
Web, Photo, Movies, etc.
Launch Price
¥168,000 ($1,483)
IO Data's M4K651XDB will ship in January at an MSRP of ¥168,000 ($1,483) without taxes. Given the features of the product, this price seems quite high. In the meantime, the manufacturer covers the display with a five-year warranty and guarantees that the backlight will operate for 30,000 hours, which equals to ~3.42 years of continuous operation (Yes that is a weird selling point).
Related Reading:
Source: IO Data (via Hermitage Akihabara)