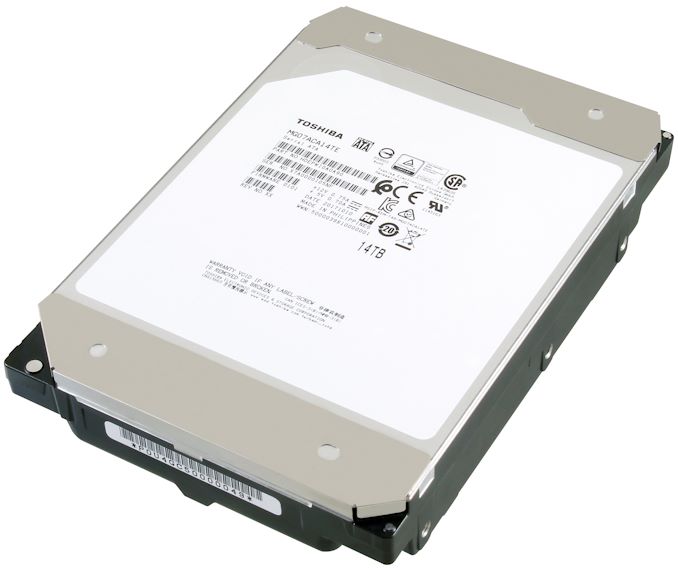 Showa Denko K.K. (SDK) announced on Thursday that it had completed the development of its microwave assisted magnetic recording (MAMR) platters for next-gen hard drives. The company is set to ship platters to Toshiba, which plans to start sampling of its new 18 TB nearline HDDs later this year. In addition to MAMR media, Showa also plans to release disks based on the heat assisted magnetic recording (HAMR) technology in the future.
The new 3.5-inch platters from SDK feature a 2 TB capacity and a new magnetic recording layer whose coercivity can be lowered using microwaves (see our brief description of the MAMR technology). SDK is not specifying which magnetic alloy or substrate it's using for its 2 TB media, but according to Western Digital, both should be very similar to those used for today's platters based on the perpendicular magnetic recording (PMR) technology. Which for Toshiba and its consumers means predictable pricing and reliability.
SDK says that Toshiba is set to use nine 2 TB platters for its 18 TB MAMR-based nearline HDDs, which will begin sampling later this year (and which will probably be commercially available in 2020). That said, it looks like the MAMR disks from Showa may be based on the company's latest aluminum substrates, which allows for building 0.635 mm thick PMR media today (keep in mind that this is not an official confirmation, but rather an educated guess).
Being a supplier of HDD platters, Showa Denko naturally does not disclose any details about Toshiba's nine-platter 18 TB HDD itself. While increased areal density will inevitably improve its maximum sustained transfer rate compared to existing 7200 RPM hard drives, its IOPS per terabyte performance is something that remains to be seen. If the HDD platform keeps using one actuator, then Toshiba will have to heavily tune its firmware to deliver the kind of IOPS per terabyte performance that its customers require (read more about this here)
Showa Denko also said that in addition to its MAMR media, it is on-track to supply HAMR-based platters when their time comes. Unfortunately, it did not disclose its exact timeline for HAMR disks, but only reassured investors the tech is on the road towards commercialization.
Related Reading:
Source: Showa Denko