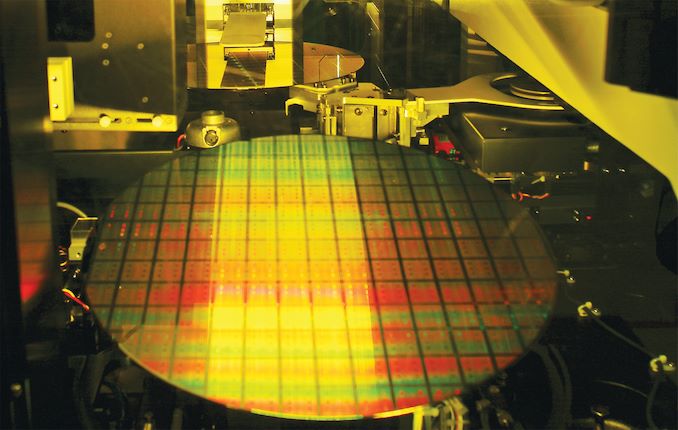 TSMC this week unveiled its new 6 nm (CLN6FF, N6) manufacturing technology, which is set to deliver a considerably higher transistor density when compared to the company's 7 nm (CLN7FF, N7) fabrication process. An evolution of TSMC's 7nm node, N6 will continue to use the same design rules, making it easier for companies to get started on the new process. The technology will be used for risk production of chips starting Q1 2020.
TSMC states that their N6 fabrication technology offers 18% higher logic density when compared to the company's N7 process (1st Gen 7 nm, DUV-only), yet offers the same performance and power consumption. Furthermore, according to TSMC N6 'leverages new capabilities in extreme ultraviolet lithography (EUVL)' gained from N7+, but does not disclose how exactly it uses EUV for the particular technology. Meanwhile, N6 uses the same design rules as N7 and enables developers of chips to re-use the same design ecosystem (e.g., tools, etc.), which will enable them to lower development costs. Essentially, N6 allows to shrink die sizes of designs developed using N7 design rules by around 15% while using the familiar IP for additional cost savings.
Advertised PPA Improvements of New Process Technologies
Data announced by companies during conference calls, press briefings and in press releases
TSMC
16FF+
vs
20SOC
10FF
vs
16FF+
7FF
vs
16FF+
7FF
vs
10FF
7FF+
vs
7FF
6FF
vs
7FF
5FF
vs
7FF
Power
60%
40%
60%
<40%
10%
?
20%
Performance
40%
20%
30%
?
same (?)
?
15%
Area Reduction
none
>50%
70%
>37%
~17%
~15%
45%
TSMC says that it expects N6 to be used for a variety of applications, including mobile SoCs, GPUs, high-performance computing chips, networking, 5G infrastructure, and other products. What remains to be seen is whether chip designers will be inclined to use N6 technology given its miniscule improvements over N7 when it comes to power, performance, and area (PPA). Perhaps, companies with complex N7-based chips will prefer to go directly to N7+, or even 5 nm (CLN5FF, N5), for their next generation parts.
TSMC will start risk production of chips using its N6 fabrication technology in the first quarter of 2020. Keeping in mind that it usually takes companies about a year to start high-volume manufacturing (HVM) after the beginning of risk production, expect N6 to be used for mass products starting from 2021.
Related Reading:
Source: TSMC