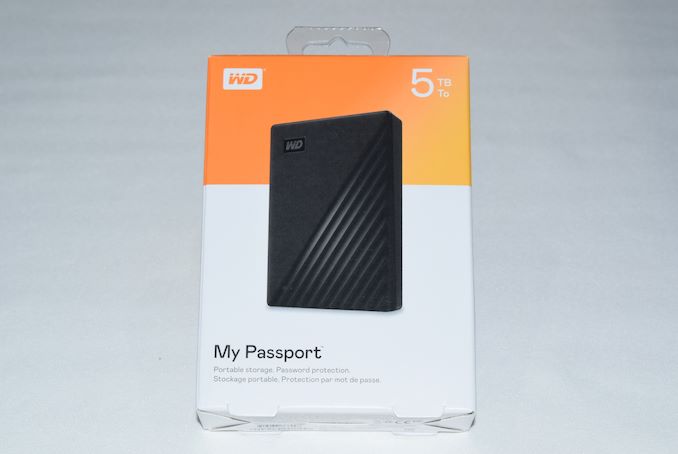 Cost-conscious consumers with bulk storage requirements need to rely on hard drives. On the portable front, HDD vendors have been using 2.5" drives in external bus-powered enclosures to serve the market. Seagate was the first vendor to put out a 5TB portable bus-powered drive, and Western Digital recently introduced a slew of 5TB models of their own. Similar to Seagate, Western Digital has also adopted SMR platters for their portable hard drives over the last couple of generations. Western Digital sent across a review sample of the 5TB My Passport Portable External Hard Drive recently.
Introduction and Product Impressions
The portable bus-powered external hard drive market is served by all three HDD vendors - Seagate, Western Digital, and Toshiba. Seagate has been making use of SMR in the recent past for this segment. Western Digital is known for being coy about divulging the technology used inside its consumer products. It turns out that WD has also been using SMR technology since last 2016 in its external hard drives. In response to our specific query, WD officially confirmed the use of SMR platters in the hard drive inside the WD My Passport 5TB 2019 edition.
The WD My Passport 5TB is Similar to other mass-market bus-powered hard drives in employing a USB 3.0 micro-B interface port. In fact, the bridge chip is soldered on to the drive's PCB. This enables the drive to have smaller dimensions and weight compared to Seagate's Backup Plus Portable, despite the internal disks having the same number of platters. Like the Seagate Backup Plus line, the WD My Passport also comes with a single USB 3.0 Type-A male to Micro-B male cable.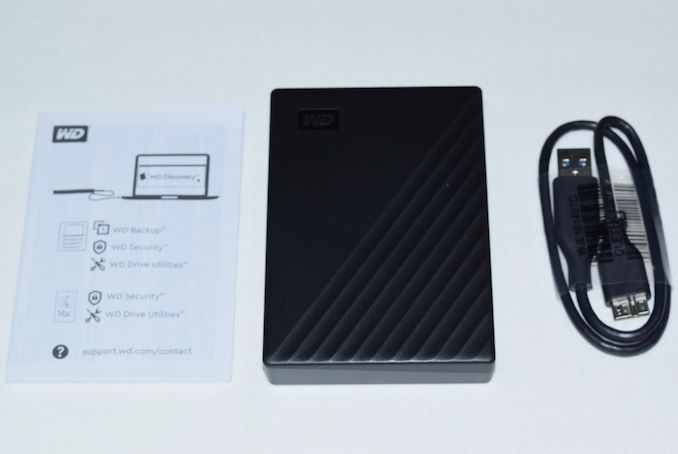 The bundled quick start guide also gives some details about the value additions. The drive comes pre-formatted in exFAT (to ensure wide system compatibility) and includes an installer for the WD Discovery software suite. This suite includes WD Backup (a program to help back up / keep certain folder contents in sync with a copy on the My Passport), WD Security (to activate the hardware encryption capabilities of the drive), and WD Drive Utilities (a utility to configure, manage, and diagnose the attached My Passport). Compared to the value additions offered by Seagate with their Backup Plus lineup, these offerings appear to fulfill the bare minimum requirements for products in this market segment.
Moving on to the technical details, CrystalDiskInfo gives us a quick insight into the internal drive.
Internal Drive Characteristics
Similar to the previous iterations in the bus-powered My Passport line, the 2019 My Passport 5TB also uses a 5400 RPM drive internally. Based on WD's naming convention for internal drives, it can be seen that the WD50NDZW corresponds to a 5TB 2.5" drive with a 15mm z-height. It has SED (hardware encryption) capabilities. The 5400 RPM disk has a 128MB cache and the board has an integrated USB 3.0 bridge chip leading to a Micro-B interface.
The table below presents the detailed specifications and miscellaneous aspects of the 2019 WD My Passport 5TB and how they compare against similar external drives currently in the market.
Comparative HDD-Based Direct-Attached Storage Device Configurations
Aspect
Bridge Configuration
SATA III to USB 3.0 Micro-B
SATA III to USB 3.0 Micro-B
Power
Bus-Powered
Bus-Powered
Internal Drive
WD50NDZW-11MR8S1
5TB 5400 RPM 128MB cache 2.5" SATA Hard Drive
WD Self-Encrypting Drive with Integrated USB bridge
ST5000LM000-2AN170
5TB 5400 RPM 2.5" SATA Hard Drive
Seagate Barracuda Compute
Physical Dimensions
107.2 mm x 19.15 mm x 75 mm
115.3 mm x 20.9 mm x 80 mm
Weight
210 grams
265 grams
Cable
USB 3.0 Micro-B to USB 3.0 Type-A
USB 3.0 Micro-B to Type-A
Evaluated Capacity
5TB
5TB
Price
USD 150
USD 95
Review Link
Western Digital My Passport [2019] [5TB] Review
Seagate Backup Plus Portable 5TB Review
The key things to note here are the lower weight and smaller dimensions for the WD My Passport 5TB compared to the Seagate Backup Plus Portable 5TB. In the rest of this review, we first take a look at our standard direct-attached storage benchmarks. Following this, we have some analysis of the SMR implementation in the drive. Finally, we talk about power consumption and provide some concluding remarks.