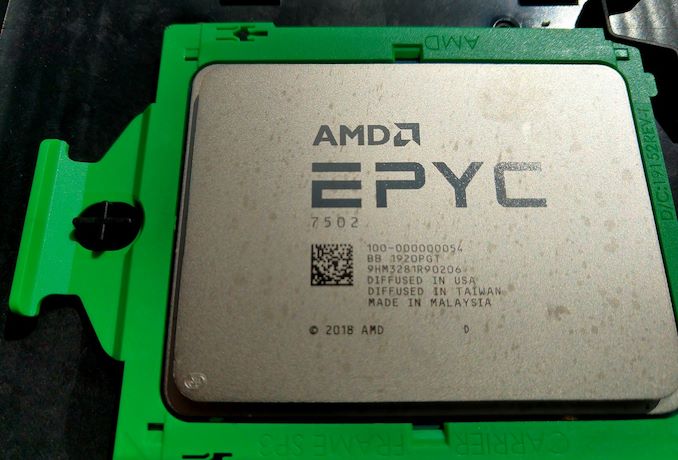 Back in September, AMD announced its 64-core EPYC 7H12 processor - a 280 W TDP behemoth with an increased base frequency designed specifically for the high-performance computing market. Based on AMD's Product Master list inadvertently published by the company earlier this week, the company may release more EPYC CPUs with an extended TDP.
As it turns out, the EPYC 7H12 will not be the only Rome CPU with a 280 W TDP. AMD's Product Master document lists the EPYC 7R22 and the EPYC 7R32 with a 280 W TDP, as well as the EPYC 7V12 with a 240 W TDP. We have no idea whether these CPUs are to be released for the wider market, are for OEMs only, or if they are in the plans, or which market segments they will address. Meanwhile, a high TDP might indicate that AMD intends to release more processors for HPC in general or maybe even a specific HPC customer, or they might have a specific feature not available on other processors.


From AMD's Master Product Document
The document also mentions various EPYC CPUs with TDP levels of 180 W or 225 W, but nothing else is known about these processors.
AMD's 64-core EPYC 7H12 with a 256 MB L3 cache features a 2.60 GHz base frequency, a 3.30 GHz turbo frequency, as well as a 280 W TDP. Compared to the EPYC 7742, the 7H12 has a 350 MHz higher base clock, a 100 MHz lower turbo clock, but a 55 W higher TDP. While the CPU is socket compatible with other Rome processors and support the same features, it is expected to be used primarily in large HPC datacenters that need a maximum sustained performance and that do not care about power consumption.
AMD EPYC 7002 Processors (2P)
Cores
Threads
Frequency (GHz)
L3*
TDP
Price
Base
Max
EPYC 7H12
64 / 128
2.60
3.30
256 MB
280 W
?
EPYC 7742
64 / 128
2.25
3.40
256 MB
225 W
$6950
EPYC 7702
64 / 128
2.00
3.35
256 MB
200 W
$6450
EPYC 7642
48 / 96
2.30
3.20
256 MB
225 W
$4775
EPYC 7552
48 / 96
2.20
3.30
192 MB
200 W
$4025
There is one important thing to note about AMD's Product Master list, which is an internal document that contains OPN codes along with US ECCN, HTS, and CCATS codes that are required by the US export regulators. The paper lists hundreds of products, yet some of them are potential products that may or may not be released, whereas other are off-roadmap client-specific SKUs not supposed to be generally available.
Related Reading
Sources: AMD, Reddit, Komachi_Ensaka/Twitter, Planet3DNow.de