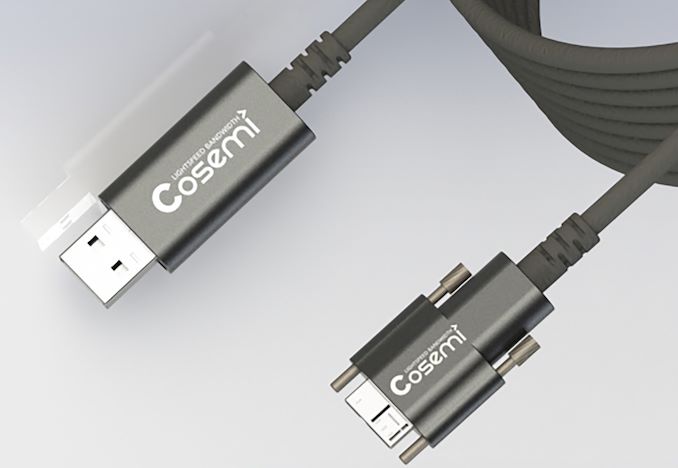 Cosemi has introduced new USB 3.1 Gen 2 active optical cables, which support full speed USB connections at distances of up to 100 meters. The cables are designed primarily for industrial applications.
Cosemi's USB 3.1 Gen 2 active optical cables feature a USB Type-A connector on one side as well as a USB Type-B connector with a screw locking mechanism on another side. The cables can enable data transfers at up to 10 Gbps speed, but they cannot power devices (which is what hybrid active optical cables are needed for), which somewhat limits applications they can address.
USB 3.1 Gen 2 active optical cables like the ones offered by Cosemi are primarily used to connect industrial equipment, such as machine vision systems, to computers located off the factory floor without using expensive signal booster solutions. Considering the fact that more and more industrial equipment is becoming 'intelligent' and requires full time data connections, such long USB cables will be needed. Depending on exact environments, Cosemi will offer its optical cables in standard flex or super high-flex versions.
Cosemi said that it would begin sampling of its USB 3.1 Gen 2 active optical cables in Q1 2020. Commercial shipments will begin later, whereas pricing will depend on the length as well as flexibility.
Related Reading:
Source: Cosemi