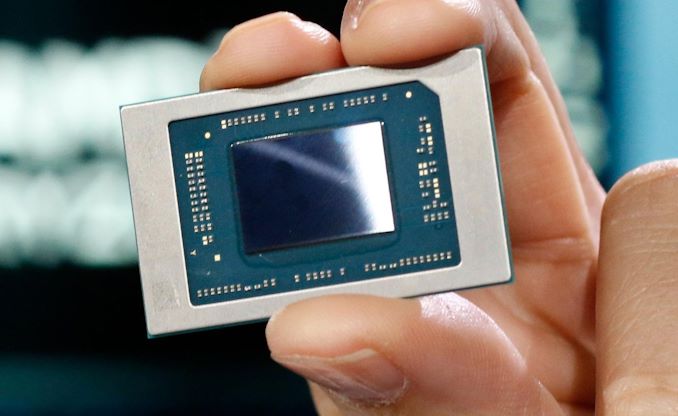 Alongside AMD's usual slate of financial figures as part of their quarterly earnings call, the company also offered a brief update on the state of the next-generation Ryzen Mobile 7040HS "Phoenix" CPUs. After initially being slated for a March arrival – and then pushed back to April – the laptops are finally launching. According to AMD, the first systems should start arriving at retailers in the next few weeks.
First detailed during AMD's CES 2023 keynote, the Ryzen Mobile 7040HS series (codename Phoenix) is AMD's first mobile-focused, monolithic die CPUs based on the Zen 4 architecture, and will be their flagship silicon for mobile devices for 2023. Besides incorporating AMD's latest CPU architecture, Phoenix also adds into the mix an updated RDNA3 architecture iGPU, and for the first time in any AMD CPU, a dedicated AI processing block, which AMD has aptly named the Ryzen AI. All of which, in turn, is fabbed using TSMC's 4nm process – making it the single most advanced piece of silicon out of AMD yet.
AMD Ryzen 7040 Mobile CPUs
'Phoenix' on 4nm
AnandTech
C/T
Base
Freq
Turbo
Freq
GPU
GPU Freq
L3 Cache
(MB)
TDP
HS-Series 35W - 54W
Ryzen 9 7940HS
8/16
4000
5200
RDNA 3
12 CUs
3000
16
35W - 54W
Ryzen 7 7840HS
8/16
3800
5100
RDNA 3
12 CUs
2900
16
35W - 54W
Ryzen 5 7640HS
6/12
4300
5000
RDNA 3
8 CUs
2800
16
35W - 54W
During a post-call Q&A with the press and analysts, AMD representatives offered an update on the state of 7040HS series processors, and the laptops they powered. According to AMD, the 7040HS series chips began ramping in Q1 – contributing to AMD's client revenue for the quarter – and are now shipping to OEMs. As a result, AMD expects the first systems to hit retailers in the next couple of weeks.
If nothing else, the extended launch timeline underscores the difference between how AMD and arch rival Intel communicate product launches – and what they count as shipping. Whereas Intel's massive client volume requires a large product ramp-up such that they'll ship mobile chips to OEMs sometimes months before anything is announced, AMD has in recent years been satisfied to announce new mobile hardware well in advance of system availability. As a result, whether it's intentional or not, most of the time AMD ends up defining a mobile launch as when chips are shipping to OEMs, rather than the availability of OEM systems. And that seems to be what has happened here.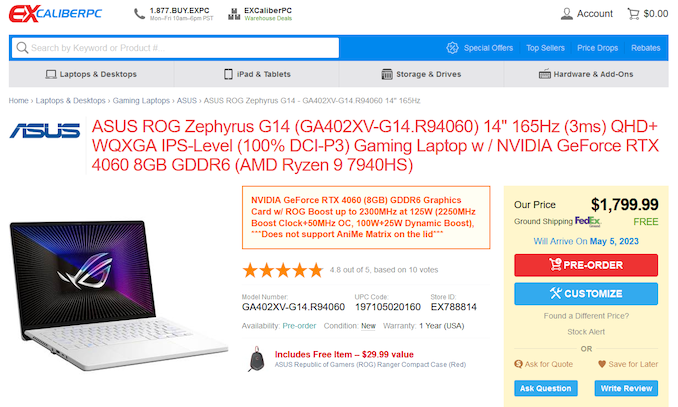 For our part, back on April 30th AnandTech did find a single US retail listing claiming to have a Ryzen 7040HS laptop in stock. However, that listing from EXCaliberPC, for an ASUS ROG Zephyrus G14, now reads as a pre-order, with the retailer expecting it in stock on May 5th. Assuming they do receive systems on that day, then this would put the arrival of the very first systems a bit ahead of AMD's latest projections – though still missing the previous claim of "OEM partners to launch the first notebooks powered by Ryzen 7040HS Series processors in April" by a week.
Ultimately, despite the delays in getting Phoenix out the door, AMD does have big plans for their first monolithic Zen 4 product. Besides serving as the cornerstone of their high-performance mobile offerings for the next year, Phoenix is also expected to be used in AMD's Ryzen Z1 processors for handheld PC game consoles. And an eventual Ryzen Embedded product using the silicon is practically obigatory. So Phoenix will indeed rise high at AMD, eventually.
Update 4:30pm ET: And it turns out AMD's partners will have done one better than that. B&H Photo has an ASUS TUF Gaming A15 in stock, which is a Ryzen 7940HS-based laptop. So the first Phoenix laptops have indeed arrived, and sooner than AMD's most recent projections.