It's an odd introduction because the MSI Wind U230 is a newer model with older hardware built in. The K10.5-based ultramobile processors from AMD are starting to trickle onto the market, but MSI is opting to offer the U230 using an Athlon Neo X2 L335 based off the older K8 core. Despite the venerable core that debuted with the Athlon 64 so long ago starting to show its age, it's still at least a reasonable alternative to people who don't want to suffer with Atom's "just enough" performance along with integrated graphics that get worse with each progressive generation (at least the GMA 950 could drive an HDMI port).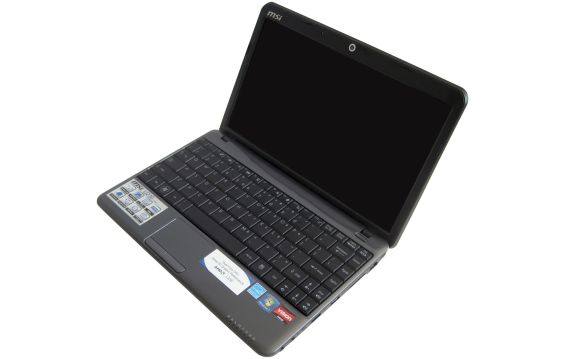 MSI's Wind U230 comes with specs that may seem somewhat familiar to those of you who read our review of the most recent Acer Ferrari One (a line with an unfortunate history of underpowered AMD hardware at exorbitant prices):
MSI Wind U230 Specifications
Processor
AMD Athlon Neo X2 L335
(1.6 GHz dual core, 65nm, 2x256KB L2, 800 MHz HyperTransport, 18W TDP)
Chipset
RS780M northbridge & SB750 southbridge
Memory
1x2048MB DDR2-800
Graphics
ATI Radeon HD 3200 Integrated Graphics
Display
12.1" LED Glossy 16:9 WXVGA (1366x768)
Hard Drive(s)
Seagate Momentus 5400.6 320GB 5400 RPM
Optical Drive
N/A
Networking
Realtek Gigabit Ethernet
802.11bgn WiFi
Bluetooth 2.1 + EDR
Audio
HD Audio (2 speakers headphone and mic jacks)
Battery
6-cell, 11.1V, 5200mAh, 58Whr
Front Side
Speakers
Left Side
AC power jack
VGA
Exhaust vent
HDMI port
USB 2.0
Right Side
Headphone jack
Mic jack
2x USB 2.0
SD/MMC reader
Ethernet jack
Kensington lock
Back Side
Battery
Operating System
Windows 7 Home Premium 32-bit
Dimensions
11.71" x 7.49" x 0.55~1.22" (WxDxH)
Weight
3.3 lbs (with 6-cell battery)
Extras
Webcam
Bluetooth
Warranty
1-year standard warranty
Pricing
$479 Online

MSI's U230 brings to the table the hardware we've come to expect from AMD's last generation Congo platform. AMD's original ultramobile left a lot to be desired, but a 1.6GHz dual core processor coupled with the capable ATI Radeon HD 3200 integrated graphics shores up the overwhelming majority of weaknesses in Intel's Atom platform. The K8 may be old kit, but it still features out-of-order execution and superior performance clock-for-clock against the Atom, and the Radeon HD 3200 is capable of doing very light gaming. More importantly, though, the HD 3200 brings full high definition acceleration to the table, an improvement only heightened with the release of Adobe's hardware-accelerated Flash 10.1.
The rest of the U230 is fully-featured, offering up a 320GB hard drive, wireless-n capability, Bluetooth, and Gigabit networking. MSI also makes the interesting and very consumer-friendly choice of opting to include a single 2GB DIMM for memory and leaving a memory slot free rather than installing a pair of 1GB sticks. That leaves the U230 open to upgrade later, and unlike smaller netbooks, the bottom panel of the unit also allows the user to change out the hard drive proper. And finally, because of its larger form factor, the U230 sports a bigger keyboard than netbooks have and a full 720p (768p) resolution screen instead of the scrunched down 1024x600 found on most smaller machines.
Of course, there's an exchange one must make for all this goodness. Even ignoring the price of the U230, which is competitive without being particularly hungry for success, the extra performance provided by AMD's Congo platform takes a heavy toll on heat and battery life compared to Atom-based netbooks. Atom and the accompanying GMA 3150 may not do a heck of a lot, but they can usually do that little bit for a solid eight hours on a standard 6-cell battery. Congo-based notebooks are lucky to hit half that, and they'll often run a heck of a lot warmer in the process.