Like the client version of Lion, Lion Server is now a download from the Mac App Store, and as with Lion client this means that there are some changes in the installation process.
A server upgrade install from Snow Leopard Server is performed the same way as a client upgrade install - fire up the App Store, download the installer, and let it do its thing. If you're running the upgrade from a Snow Leopard server, the App Store is smart enough to prompt you to buy the Server app if you haven't already. You can also convert any Lion client install to a server install by downloading the Server app from the App Store, and then running it - it will download and install some additional components, and the next time you reboot your Lion client, it'll be a server instead.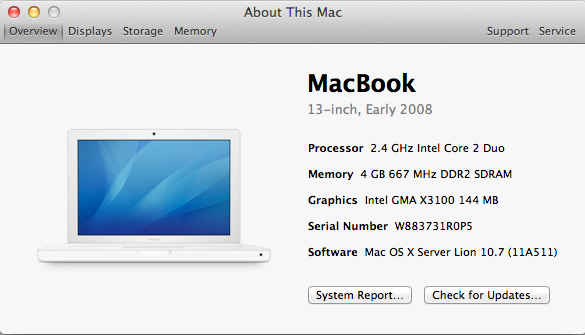 Don't make fun of my test server, okay?

Upgraders should note that OS X Server upgrades tend not to go as smoothly as their client counterparts, and the App Store reviews for Lion Server indicate that this hasn't changed - if you haven't already backed up all the data that's important to you (including a full-disk backup of the hard drive, if you can), make sure you do it before you upgrade. I would recommend doing a clean install if you can, but your mileage may vary - just know that the more you've customized Snow Leopard Server, the more likely the upgrade is to break something.

Interestingly, Lion Server removes Snow Leopard Server's requirement that the software be installed on a desktop Mac system - if, for whatever reason, you want to use a laptop as a server, you can do it without any workarounds. I would generally recommend against this except in light-use or home-use scenarios, since slow-spinning 5400 RPM drives and higher heat are going to give you less-than-stellar performance in workloads that require lots of disk usage - the ability to install Lion Server on a laptop is more useful for remote management of a desktop server, which we'll talk a little bit about in the next section.