So, you've installed Lion Server, and you're ready to get started - go ahead and launch the new Server program (hereafter referred to as Server.app, for brevity's sake).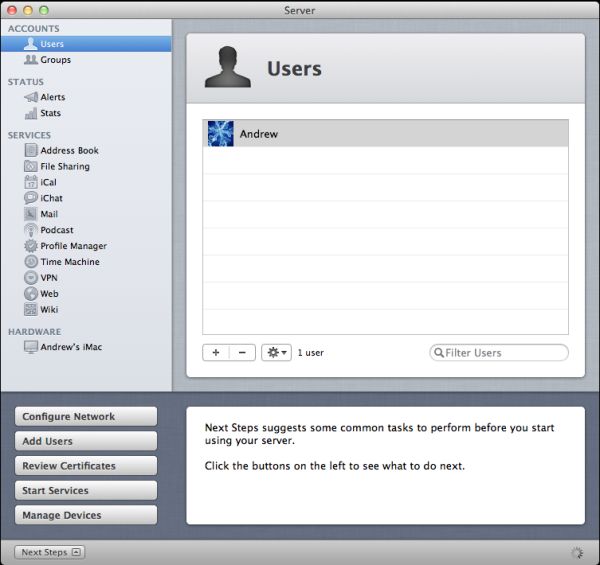 Server.app is more or less a replacement for Server Preferences, the dumbed-down administration interface that came with past versions of OS X Server. Server.app is a much better tool for novices and experienced administrators alike, and strikes a decent balance between functionality and usability. However, if you've had experience with previous versions of the software, you may be a little horrified right about now - where are all the services? The advanced configuration options?
If you're one of those people, don't get too worried yet - you can restore most of your lost functionality by installing the
Server Admin Tools
from Apple's support website. This will install Server Admin, Workgroup Manager, the System Image Utility, Server Monitor, Podcast Composer, and XGrid Admin, all of which expose most of the functionality you're used to in a familiar way.
Of these, Server Admin is the most important, since it has historically provided the most information and control over your different services, but even its importance has been lessened in Lion Server - it now provides access only to services that Server.app doesn't manage, rather than advanced configuration setting for all services (if you've still got Snow Leopard servers to manage, don't worry - Lion's Server Admin can still manage all services on a Snow Leopard server just as before).
My main gripe with Server.app is that it doesn't offer access to everything OS X Server can do - OS X Server without the Server Admin Tools is a much less functional product. People wanting to expose all of OS X Server's functionality will have to use both apps, and as such I'll do my best to cover both Server.app and the Server Admin Tools in this review.