Introducing the Alienware M18x and NVIDIA GeForce GTX 580M
Historically, whenever NVIDIA or AMD launched a new mobile powerhouse GPU, AVADirect has been on hand with a high-end Clevo notebook ready to put its best foot forward. Yet lately NVIDIA and AMD have been playing such a rapid game of oneupsmanship at the top of the chain that it seemed silly to bring the Clevo X7200 back in again, and we wanted to see if we could find the high end hardware elsewhere.
Thankfully our needs happened to coincide with Alienware's, and our rep was able to pull some strings and get us two M18x units back-to-back. Today we present to you the first of a two-part series where we can first examine NVIDIA's GeForce GTX 580M (both as a single GPU and in SLI) as well as Alienware's M18x proper, with a second part focusing both on the AMD Radeon HD 6990M (again as a single GPU or in CrossFire) and a face-off between these two top-of-the-line mobile graphics solutions.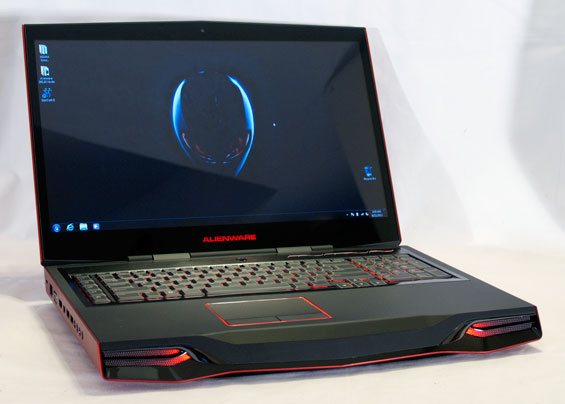 What we really have on the slab today are two different pieces of hardware (four, actually, if you count our special bonus contestant...more on those in a bit.) First, we're finally rounding out our coverage of Alienware's current lineup with the biggest one of them all, the monstrous M18x. Alienware's M17x R3 is a little bit more svelte than its predecessor, and that's due to Alienware deciding to shift the dual-GPU solutions into this new, bigger model. At first glance it looks basically identical to the other Alienware units we've reviewed recently, but there's a little more to it.
The second piece of hardware we're checking out is the recently refreshed NVIDIA GeForce GTX 580M. The 580M is basically the GF114-based refresh of the GTX 485M, finally rounding out NVIDIA's mobile 500 series. With it comes two upgrades, one major and one minor: a clockspeed bump (minor) and support for Optimus (major.) Unfortunately with the SLI configuration, Optimus goes by the wayside and Alienware opts for using mux-based switchable graphics in the M18x to keep battery life up.
Yet NVIDIA's awfully proud of Optimus. So proud, in fact, that they gave us access to a GTX 580M-based Alienware M17x R3 for battery life testing. We'll be including those results on the battery life page, but suffice it to say, they're impressive. That's our third piece.
Finally, the last piece is a true rarity: both of our Alienware M18x systems come equipped with an Intel Core i7-2920XM. Alienware includes three different BIOS settings for the overclock (though you can also tune it yourself) and we went with the highest one for our testing, the one they dub "Level 3." After all, if you're going to buy a thousand dollar, overclockable mobile processor, what sense is there in just running it at stock, especially when the vendor makes it that easy to get more juice out of it? Here's the full rundown of the M18x review hardware.
Alienware M18x Notebook Specifications
Processor
Intel Core i7-2920XM
(4x2.5GHz + HTT, 3.5GHz Turbo, 32nm, 8MB L3, 55W)
(Overclocked to 3.5GHz, 4.2GHz Turbo)
Chipset
Intel HM67
Memory
4x4GB Hynix DDR3-1600 (Max 4x8GB)
Graphics
NVIDIA GeForce GTX 580M 2GB GDDR5 in SLI
(2x384 CUDA cores, 620MHz/1240MHz/3GHz core/shader/memory clocks, 256-bit memory bus)
Display
18.4" LED Glossy 16:9 1080p
SEC5448
Hard Drive(s)
2x Seagate Momentus 750GB 7200-RPM HDD
Optical Drive
Slot-loading Blu-ray/DVDRW Combo (HL-DT-ST CA30N)
Networking
Atheros AR8151 PCIe Gigabit Ethernet
Intel Centrino Ultimate-N 6300 802.11a/b/g/n
Bluetooth 3.0
Audio
IDT 92HD73C1 HD Audio
Stereo speakers with subwoofer
S/PDIF, mic, and two headphone jacks
Battery
12-Cell, 11.1V, 97Wh
Front Side
N/A (Speaker grilles)
Right Side
ExpressCard/54
Slot-loading optical drive
MMC/SD/MS Flash reader
2x USB 2.0
eSATA/USB 2.0 combo port
HDMI input
Left Side
Kensington lock
Ethernet port
VGA
HDMI
Mini-DisplayPort
2x USB 3.0
S/PDIF, mic, and two headphone jacks
Back Side
AC jack
4x exhaust vents
Operating System
Windows 7 Home Premium 64-bit
Dimensions
17.17" x 12.68" x 2.13" (WxDxH)
Weight
~11.93 lbs
Extras
3MP Webcam
Backlit keyboard with 10-key and configurable shortcut keys
Flash reader (MMC, SD/Mini SD, MS/Duo/Pro/Pro Duo)
Configurable lighting
Warranty
1-year standard warranty
2-year, 3-year, and 4-year extended warranties available
Pricing
Starting at $1,999
Price as configured: $4,924
Starting at the top we have one of the two parts of the review system that you can't get anymore: the Intel Core i7-2920XM. At stock, the i7-2920XM is a quad-core, Hyper-Threaded processor running at 2.5GHz nominal clocks with 8MB of L3 cache and capable of turbo'ing up to 3.5GHz on one core (3.2GHz on all four). Yet when you hit "Level 3" in the BIOS, suddenly it's screaming up to 3.5GHz on all four cores nominally and hitting 4.2GHz on a single, effectively making it faster than Intel's top of the line i7-2600K is at stock...on the desktop. Yeowch.
So why can't you get it anymore? Between the time when Alienware was seeding review units to the press and now, Intel gave the mobile i7 quad-cores a minor speed bump, and now you can only buy the upgraded chips...at the same prices as their predecessors. If you order an M18x with the i7-2960XM, you'll get a 200MHz bump in clocks at every step: it starts at 2.7GHz and turbos up to 3.7GHz on a single core (or runs at 3.4GHz on all four...like an i7-2600K.) There's a reason these top end chips are $900 upgrades, and it's a testament to Intel's Sandy Bridge architecture that you can get this kind of performance in a portable form factor.
Backing up the i7-2920XM in our review unit is 16GB of DDR3-1600, spread out across four 4GB SODIMMs, along with Intel's HM67 mobile chipset. Alienware also inexplicably includes two 750GB 7200-RPM Seagate Momentus hard drives, and in this review unit, they're not configured in RAID 0. Try and configure your own M18x and you'll run into the same nonsensical issue I had when I reviewed the M17x: Alienware offers these notebooks with two drive bays, but not a single SSD data + HDD storage configuration available. For the life of me I can't fathom why this is the case, and that's ignoring their usual fixation on RAID 0.
Of course the crown jewel of our review unit is the pair of NVIDIA GeForce GTX 580Ms in SLI. Outside of the support for Optimus (which isn't available here due to the SLI configuration), the GTX 580M is an incremental upgrade on the 485M: it jumps from the GF104 to the GF114, and with the slightly tinkered chip design scores an extra 45MHz on the GPU (with a corresponding 90MHz jump to the CUDA cores) while retaining the same effective 3GHz clock on the 2GB of GDDR5. I've found in testing the 580M that performance is roughly on par with a desktop GeForce GTX 560, making it more than capable of doing 1080p gaming on its own. In fact, the only game I've seen really put the screws to it (besides the poorly optimized Metro 2033) is Crysis 2 with the DX11 pack.