We're live at the AT&T Developer Conference keynote where CEO Ralph De La Vega is making announcements about the company's plans and new devices for 2012. Unfortunately our view isn't the greatest so we'll be rolling without photos for a while and updating later.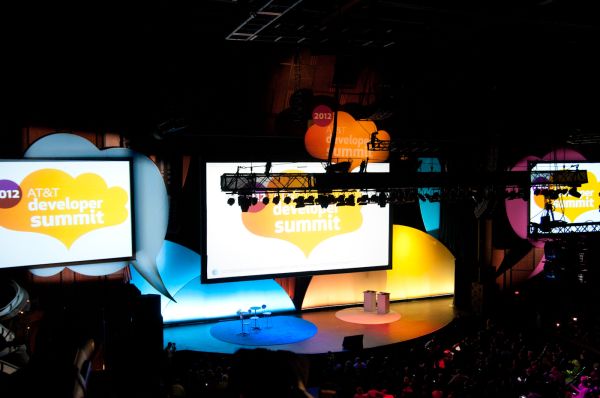 First off, AT&T announced a new set of payment APIs for Android which allow for payments to be made directly to the subscriber's AT&T account. AT&T demoed an HTML5 payment API implementation which worked natively on the HTC Jetstream tablet. The AT&T API access platform will require a $99 initial registration fee but allow unlimited access through 2012.
AT&T's CTO is talking about their HSPA+ and LTE networks, starting by reiterating that they believe their blend of HSPA+ and LTE is faster than other carrier's combinations of EVDO and LTE. AT&T is also making note of its move during its own LTE deployment to put the remote radio head (combination of both the radio and power amplifier) up closer to the antennas (on the mast), which reduces cable losses between the radio and power amplifier on the ground and antennas on the mast. This is something that has been an emerging trend during LTE deployments that AT&T is doing with its rollout - the tradeoff is of course that the architecture requires one RRH per band and per sector, and that replacing or servicing broken equipment is more time consuming. We haven't talked too much about LTE and RRH use, but it's an interesting thing to note specifically for LTE deployments. Interestingly enough Verizon has chosen to stick with a more traditional deployment.
AT&T cloud architect is its next subject, which is a developer cloud designed to be part of the AT&T hosting portfolio. AT&T no doubt hopes that it can use its position - close to the both AT&T wireless and landline subscribers - to deliver something unique.
Back to the subject of APIs, AT&T is talking about some of the unique services possible with allowing more developer access to their own network. Things like sign-on and using the subscriber's identity, network optimization, contextual services, and others. A good example of an AT&T API is visual voicemail on the iPhone, which saw 4.5 billion total transactions in 2011.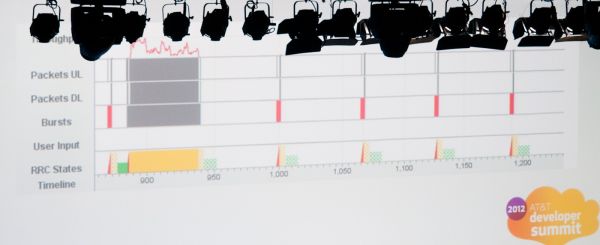 AT&T has also announced a new development and monitoring tool as well - ARO analyze viewer (Application Resource Optimization) - which allows developers to closely monitor the network connectivity states of devices. AT&T showed a visualization even showing the UMTS RRC states on a device. ARO now allows developers to get inside and view more about how the baseband is using radio resources. Starting today ARO is available today on AT&T's website, and they're open sourcing it.

PS Vita is the next major subject, which of course will have AT&T 3G connectivity. AT&T announced two no-term contracts specifically for the PS Vita: $14.99 gets you 250 MB, and $25 gets you 2 GB.
Ralph is back on stage talking about AT&T's LTE network, where speeds are designed for 5-12 Mbps on the downlink, and lower latency. LTE deployment is on track to be finished by the end of next year as well.
The smartphone lineup is next, with six new Android devices all on AT&T LTE. First is the Sony Xperia Ion with a 12 MP CMOS. Next are two Android devices on Samsung: the Galaxy S 2 Skyrocket HD with 4.65" SAMOLED HD display, and 1.5 GHz dual-core SoC (no doubt APQ8060), and next is the Samsung Galaxy Note with LTE. The Galaxy Note will be exclusively on AT&T and will come in black and white. Next up are the Pantech Burst, Pantech Element tablet, and Samsung Exhilarate, all with 4G LTE connectivity. The Bust and Exhilarate will be available for under $50 on contract. The Pantech Element is a waterproof tablet, and will be available with the Burst in a combo for $249.99 on contract. The Pantech Element comes with a UE Category 3 LTE modem and a 1.5 GHz dual core SoC (Snapdragon S3 - likely APQ8060).