In addition to the craziness going on over at the SilverStone suite, Lian Li had a mountain of new case designs on display. Most of them are smaller units (including one designed for Intel's new vertical form factor), focusing on Micro-ATX and Mini-ITX builds and not too dissimilar from the enclosures we've already tested.
Lian Li's Lancool series in 2012 will be using a steel frame with an all aluminum outer finish, and the enclosures themselves seemed remarkably staid for Lian Li designs. They continue to use the locking drive cage mechanism, but they also have toolless expansion slot fixtures that are remarkably sturdy.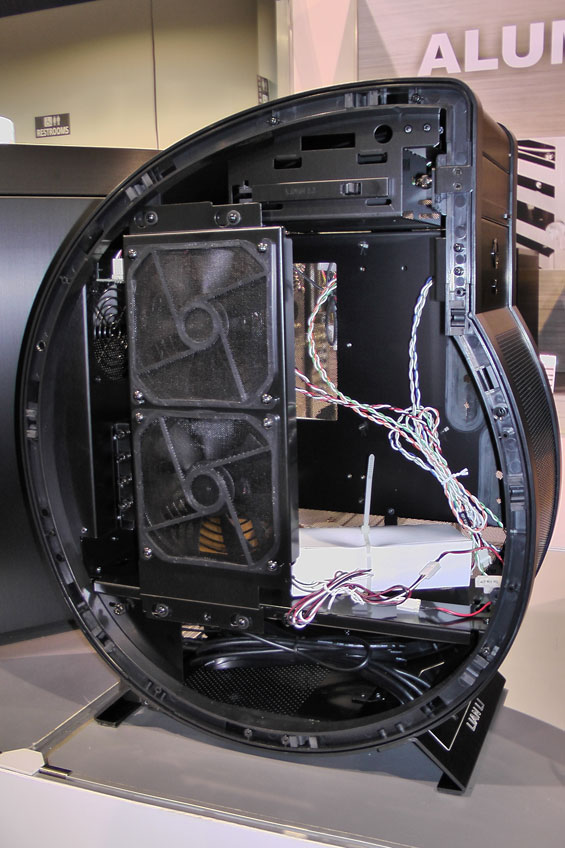 Their old seashell-style enclosure also got an upgrade, and the interior is surprisingly logical given the very unusual size of the enclosure. It supports a Micro-ATX board, with the power supply mounted at the bottom and 5.25" drive bays at the top; 3.5" and 2.5" drives are mounted next to the motherboard on the partition that separates the board from the power supply bay.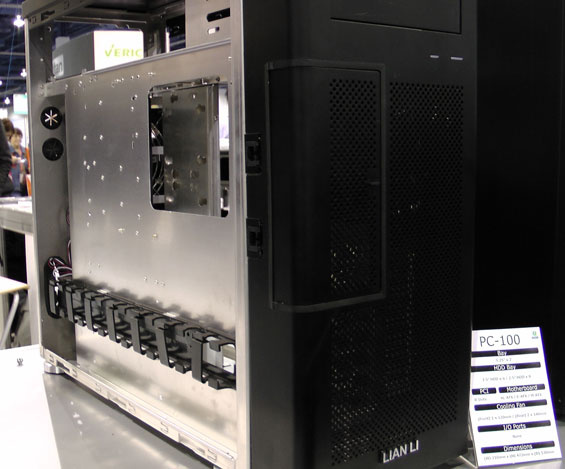 Finally, an especially unusual design involved flipping the motherboard 180 degrees laterally, placing the I/O cluster in the front of the enclosure. There's an opening in the front to allow the end user to access the I/O cluster, while video card and other expansion cables are actually routed through the case and out the back. It's an interesting choice, made more compelling by the pair of 120mm intake fans in the front that produce a directed wind tunnel out of the back of the case. We're hoping to get one in when it becomes available.