Late last year, before CES, we had the opportunity to check out Dell's then-upcoming entrant to Intel's nascent ultrabook market, the XPS 13. Dell has been refocusing their XPS line with an eye on sophisticated notebooks that straddle the line between the consumer and business classes, while at the same time emphasizing slimmer, more powerful machines. Thus, the XPS 13 seems like a natural fit both for their XPS line and for the ultrabook category.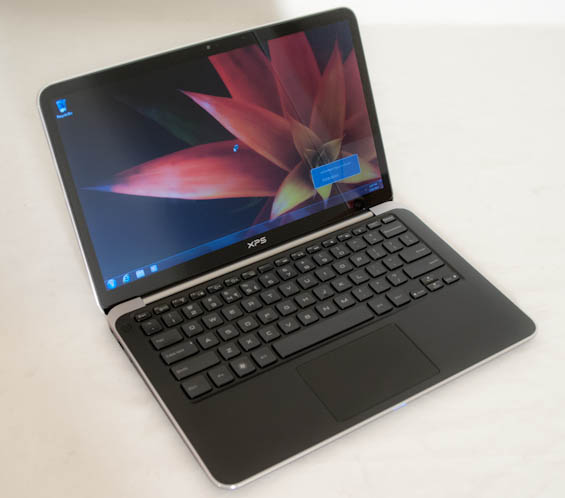 While manufacturers like ASUS, Toshiba, and Acer have been apt to more closely ape the Apple MacBook Air aesthetic that Intel is arguably appropriating for ultrabooks, Dell's XPS 13 is a different creature, and when we saw it in 2011 it felt like the ultrabook to wait for. Now it's here; was it worth the wait?
Internally, the Dell XPS 13 doesn't seem to have any more going on than any of the other Sandy Bridge-based ultrabooks. Dell will be updating the XPS 13 with Ivy Bridge as those chips become available, but it looks like with the delay we'll be enjoying our Sandy Bridge ultrabooks just a bit longer.
Dell XPS 13 Specifications
Processor
Intel Core i7-2637M
(2x1.7GHz + HTT, Turbo to 2.8GHz, 32nm, 4MB L3, 17W)
Chipset
Intel QS67
Memory
2x2GB integrated DDR3-1333
Graphics
Intel HD 3000 Graphics
(12 EUs, up to 1.2GHz)
Display
13.3" LED Glossy 16:9 768p
CMN1338
Hard Drive(s)
256GB Samsung mSATA PM830 6Gbps SSD
Optical Drive
-
Networking
Intel Centrino Advanced-N 6230 802.11a/b/g/n
Bluetooth 3.0
Audio
Realtek ALC275 HD Audio
Stereo speakers
Single combination mic/headphone jack
Battery
6-Cell, 11.1V, 47Wh (integrated)
Front Side
-
Right Side
Battery test button
USB 3.0
Mini-DisplayPort
Left Side
AC adaptor
USB 2.0
Mic/headphone combo jack
Back Side
-
Operating System
Windows 7 Home Premium 64-bit SP1
Dimensions
12.4" x 0.24-0.71" x 8.1" (WxHxD)
316mm x 6-18mm x 205mm
Weight
2.99 lbs
1.36kg
Extras
Webcam
SSD
USB 3.0
Bluetooth
Ambient light sensor
Backlit keyboard
Warranty
1-year limited
Pricing
Starts at $999
As configured: $1,499
Spec-wise, the Dell XPS 13 is nothing impressive for an ultrabook and nothing we haven't seen before. The Intel Core i7-2637M is a capable enough processor, sporting two hyper-threaded cores, 4MB of L3 cache, and a nominal clock speed of 1.7GHz (able to turbo up to 2.5GHz on two cores or 2.8GHz on just one core). Attached to it is Intel's HD 3000 integrated GPU with 12 execution units that can run all the way up to 1.2GHz. 4GB of dual channel DDR3 and Intel's QS67 chipset round things out.
The two more interesting points of the XPS 13 are the SSD and the notebook's connectivity (or lack thereof). Dell opts to use Samsung's 830 series SSD in an mSATA form factor, taking advantage of the SATA 6Gbps connectivity of the controller. Samsung rates the SSD for up to 500MB/sec in reads and 350MB/sec in writes, not stellar but in line with (or even a little better than) the SSDs used in some competing ultrabooks.
Unfortunately, Dell's XPS 13 features arguably sub-Apple MacBook Air-level connectivity. Just two USB ports (one 3.0, one 2.0), the headphone/mic combo jack, and a mini-DisplayPort jack are all you get. While I wasn't expecting wired ethernet (a feature that materializes only every so often on ultrabooks), Dell doesn't include the SD card reader that most other ultrabooks enjoy. You can also use an adaptor to go from mini-DisplayPort to HDMI, so you can probably split the difference on that one. Honestly it's the lack of a card reader that stings the most; this is something that can certainly be remedied by just buying a separate USB one, but when competing ultrabooks all integrate one, why eschew it here?
Thankfully, you do get USB 3.0 connectivity (always appreciated), and Dell includes an ambient light sensor that can be used to dynamically adjust screen brightness as well as detect when to turn on the keyboard backlighting. It's mostly adequate, but the lack of a card reader stings a little when many consumer and even prosumer level still and video cameras use SD cards.