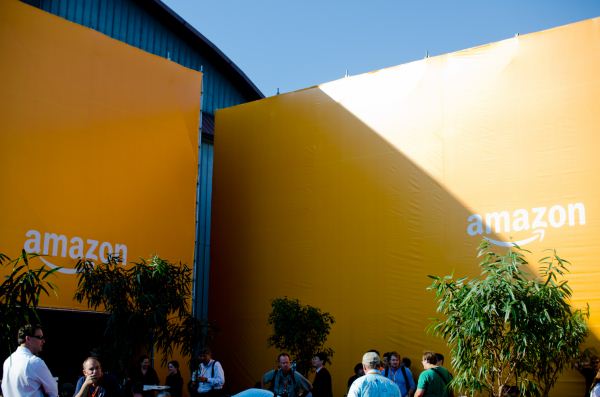 In about an hour and a half minutes I'll be updating live from Amazon's press event here in Santa Monica, CA, where it's expected the company will show off the next Kindle Fire, a separate tablet, a new Kindle e-reader, and perhaps even an Amazon smartphone. This, of course, takes place about ten months after the release of the original Kindle Fire, so it is about the right time to be hearing about the newest model.
As for the phone? Reports from The Verge state that it's coming, but may not make an appearance at the event here today. I'm hopeful it does, mostly because I'd love to see what Amazon is cooking up after I missed checking out their Seattle offices after staying in the city for a week.
Not to spur up too many rumors, but considering the massive changes to 7" tablets over the past year, scaling down from thick tablets like the Fire to thin, light devices like the Nexus 7 and a personal favorite, the Samsung Galaxy 7.7 is my biggest concern. Amazon's already had plenty of troublewith the Fire not playing well with Android apps thanks to Amazon's own app marketplace, which severely limits the number of apps available. One of the two saving graces - excellent pricing and Amazon Prime stream - is gone completely. So it should be interesting what the internet retail giant is planning.
Oh, where are my manners. You probably looked at the name and wondered, "who the hell is that guy? He doesn't write here." You'd be right if it were yesterday. But with Anand in New York after both Nokia/Microsoft and Motorola, and Brian traveled out after being on the road for what I can only assume is a dozen weeks, I'm helming the Amazon event. Just a brief note about myself before I get back to predictions and actually giving the play-by-play: I've been a tech and videogame journalist for over six years now, and have written about hardware for Tom's Guide, Total PC Gaming Magazine, Gizmodo, Destructoid, Ars Technica, IGN Tech, and Venturebeat. But if I have questions, I come here. As I told Anand when we spoke over the phone a few weeks back, AnandTech is one of maybe ten sites I trust entirely. I'll do everything in my power to live up to that standard.
Aside from the traditional Kindle Fire 2, Amazon's also expected to show off a second tablet. I don't have any idea why they'd do that unless it were a larger, 10" tab, and that doesn't fit the bill for a media tablet. The alternative is that it may be a Windows 8 tablet, which is strange and really out far in left field, but hear me out. If Amazon is really stepping into the hardware game, what better way to make a splash than to release a Win8 RT tablet alongside their own Fire, both of which will stream Amazon Prime video only through their special hardware. The obvious downside here is if that were to happen, anyone buying any other Win8 RT tablet wouldn't be able to watch Prime videos on it...and that may sound far-fetched, but it wouldn't be the first time a media network locked users out except if they pay extra for the service.
Looking at you, Hulu.
E-readers? We'll likely see a Kindle Touch that has a frontlight like the Nook Glow. Perhaps in a non-touch version too, with faster e-ink.
I won't speculate on the phone, because it may or may not make an appearance. But I'll be excited if it does.
Finally, for any Californians out there like myself, remember that September 14th is the last day to buy anything on Amazon without paying sales tax. Sales taxes in the golden state start promptly on the 15th. I've got another deadline looming for a laptop purchase, by the 8th, so I can get a free Xbox...I'd really like a Lenovo X230 or X1, but I'm unimpressed with battery life and can't find one to play with the keyboard. The ASUS Zenbook Prime's with Ivy Bridge look really very decent too.
Tune back in at 10:30 PST. Updates will be live and many.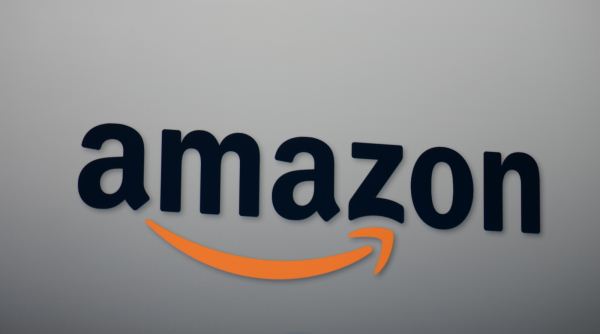 And we're starting!
"Last year, there were two dozen tablets that were on Amazon, and nobody bought them. That's because they are gadgets, not services." - Jeff Bezos, CEO of Amazon. Interesting statement, which makes sense, though I bet plenty of our readers beg to differ. "Hardware is a critical part of the service. Absolutely essential." No doubt about that.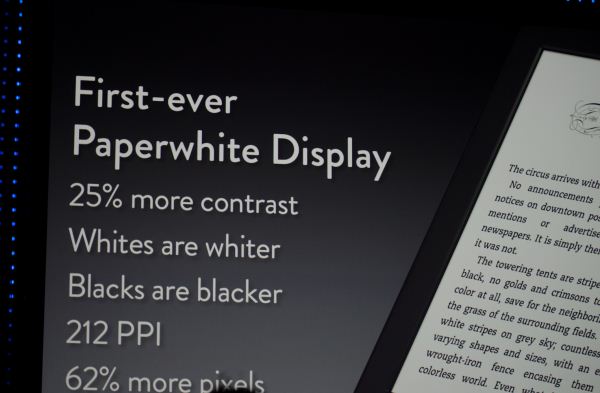 And, in a video that's supposed to be funny, customers (actors) talk about the new Kindle "Paper White", an e-reader with 25% more contrast from last year's Kindle Touch, with a 212 PPI display and 62% more pixels. It's 9.1mm thin and 7.5 ounces, with 8-weeks of battery life with the light. I'll have to take a look at the light technology a bit closer to see how much of a difference it makes, especially compared to the Nook Glow.
And when's it available? Today, right now...for $119. That's a surprisingly good price, but that's for the Wi-Fi version. The 3G model is $179, and starts shipping on October 1. And the standard Kindle (that is, no touch), is slightly upgraded as well. And it's now called the $69 Kindle, and ships on the 14th. It does not use the Paper White technology.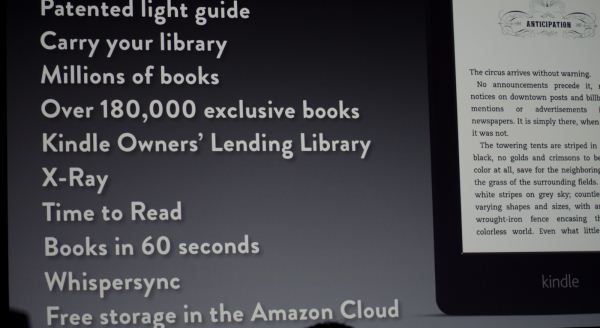 There's a lot of interesting tidbits, mostly on the software side, like X-Ray which throws in specific searches like for character placement in books or hundreds of fonts available. The hardware itself isn't a huge upgrade except for the Paper White lighting, which I'll see after the event in about an hour.
Upgraded Kindle Fire will ship on the 14th for $159, with an unnamed new processor, double the RAM (that's 1GB, the industry standard), and a 40% increase in performance. That's just the standard Fire upgrade.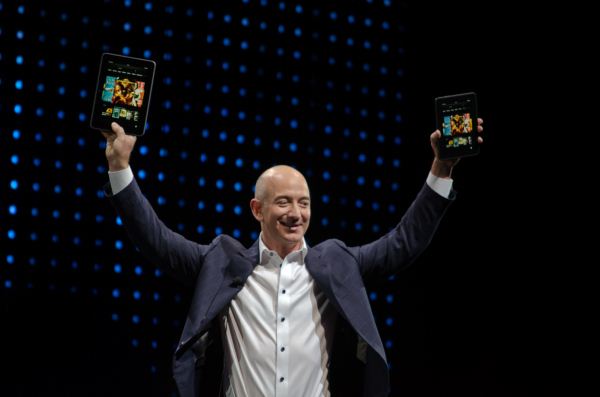 There's also a brand new Kindle Fire HD, which has a 1200p, 8.9" IPS display, running an OMAP 4470, which Bezos is showing as a better device than the Tegra 3 in terms of bandwidth and speed. It has a 254PPI display, and stereo speakers (which isn't a first, but Dolby Digital Plus is). Bezos also hinted at, because of the massive increase in size of apps to make them look good for the HD display, the space will be significantly boosted. We're still waiting to hear what that is.
A bit more on the display. There's no air packet between the glass, and it's only got two layers, which is quickly turning into the standard. It uses a polarizing filter for better viewing angles, but we'll have to see how well it works in a bit. It's also laminated, which will make images appear sharper. It may have more glare, but Amazon is listing a 25% drop in glare from the Fire.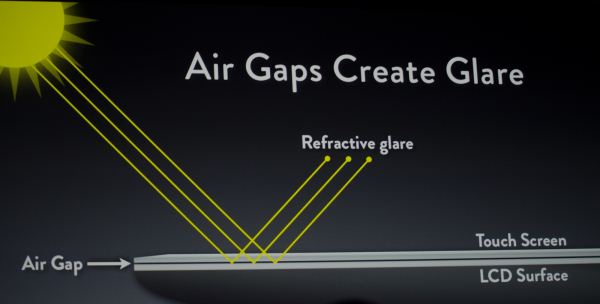 Now talking about Wi-Fi, and how 2.4GHz is very old and pervasive in the household but also packed to the brim. Anyone who has trouble with a wireless phone and plenty of network use knows this pain. The Kindle Fire HD will have two antennas, but also takes advantage of MIMO. Here's the long-story short. It'll ship with 2.4GHz, 5GHz, and MIMO. According to Bezos, that means a 57% bandwidth boost over the Nexus 7 and 41% over the iPad (2012).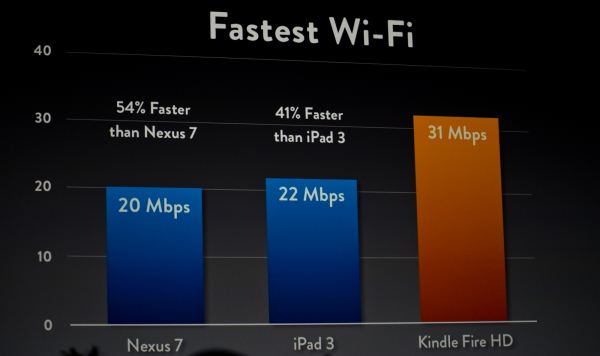 Onto storage. "8GB on an HD device is DOA. The Kindle Fire HD starts at 16GB of data." That's a good start, but expect to see 32GB and 64GB models as well, likely for $50 increments.
Bare with me, local Wi-Fi cut out and both AT&T and Verizon are horrible in this airport hangar. Though it does look like most of the hardware news is done; software like X-Ray for Fire, music, general use...nothing out of the ordinary. Also, if you guys have any questions, I am answering directly in the comments.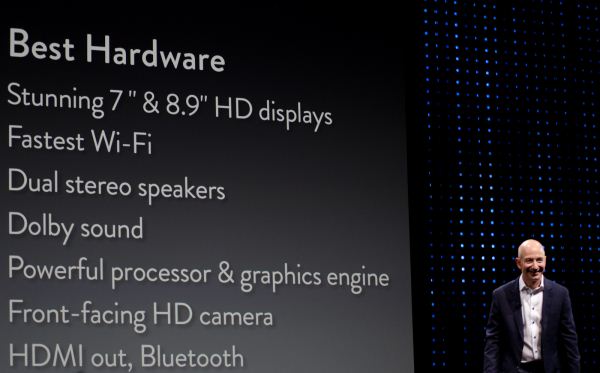 Finally, onto hardware. Both Kindle Fire HD units, the 7" and 8.9" models, will ship with the same Wi-Fi setup (2.4GHz, 5GHz, MIMO), stereo speakers, Dolby sound, the OMAP 4470, an HD front-facing camera (meaning 720p), and of course Bluetooth (likely 3.0, but I'll know once we get to play with the units).
The 7" 16GB model, the base version (which is HD) is still $200, just like last year's model, and ships on September 14th. The 8.9" model is $300 for the same 16GB, and ships November 20th. And the kindle Fire HD with LTE will ship for $500, utilizing all ten bands on two separate antennas for the 32GB unit. It looks like that's stuck on AT&T LTE, based solely on the logo. That's $50/year for 250MB/month, 20GB of cloud storage, plus a whopping $10 credit on the Amazon App Store. That ships on November 20, for order today.
Considering other data models, that is remarkably good. It competes directly with the iPad in terms of size, shape, and price, with way more options. I'll going to check them out now. Stay tuned for a full report!