Vizio used CES as the platform to debut the third revision to its PC lineup, which currently consists mostly of ultrabooks and all-in-ones. The first revision was the initial launch last summer, while the second revision brought touchpad updates (replacing the godawful Sentelic pads with better Synaptics units) and Windows 8. This third revision brings touchscreens and quad-core CPUs across the board to all Vizio systems, regardless of notebook or all-in-one.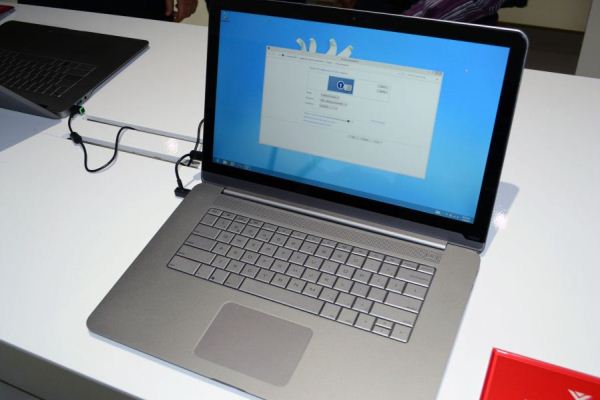 Vizio's notebook lineup is presently structured with a Thin+Light and a Notebook; the former is available in two form factors (14" 900p and 15.6" 1080p) with Intel's ULV processors, solid state storage, and integrated graphics, while the Notebook is 15.6" 1080p with quad-core IVB processors, Nvidia's GT 640M LE graphics, and a 1TB hard drive paired with a 32GB caching drive. Across the board, we see IPS display panels, fully aluminum chassis, and uniform industrial design.
The new Thin+Light Touch again come in 14" and 15" models, with either AMD A10 or Ivy Bridge i7 quads exclusively, with AMD dedicated graphics available with the AMD model. The dual-core and ULV parts are gone, and with nary a mention of the CN15 Notebook, it would appear that it has been killed off because of too much overlap with the Thin+Light Touch. Both quad-core CPUs and dedicated GPUs are available in the latter, so you're not losing much, though that means there is no longer an Intel quad + dGPU config on offer.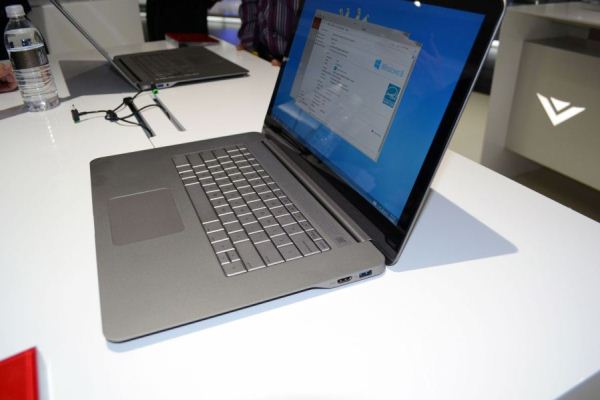 As can probably be surmised from the name, the Thin+Light Touch is available exclusively with a capacitive multitouch display. This adds a bit of thickness and weight to the chassis, but the 15.6" model is still 4 pounds (from 3.89lbs before) so it's not a huge amount. Other improvements include a much more structurally sound palmrest and interior, which results in significantly less flex in both the body as well as the keyboard. This is likely the most significant of the chassis-level upgrades, and fixes the last major flaw from the second revision notebooks. Battery capacity has been "nearly doubled" which indicates capacity should be close to 100Wh (the previous Thin+Light was 57.5Wh) with the hope of substantially improving battery life.
It seems like a pretty targeted generational update, with all of the pain points from the first two notebooks fixed. I think I'd still like to see some improvements in terms of ports on offer (2xUSB and no SD slot just isn't enough), but the gorgeous IPS display and nice industrial design make up for any remaining flaws. Price points are expected to be similar to the previous Thin+Light, and availability is expected to be in the early spring timeframe.
Vizio also had its All-in-One Touch series desktops at their suite in the Wynn, though these are not new products. Vizio updated the AIO series with touchscreen displays and Synaptics touchpads at the Windows 8 launch, and simply brought those to Las Vegas to complement their new notebook, tablet, and HDTV products on the show floor.